Blog
This blog is by Susan Berliner, author of the supernatural thrillers "DUST," "Peachwood Lake," "The Disappearance," "Corsonia," and the short story collection, "The Sea Crystal and Other Weird Tales." If you have any comments or suggestions, please contact me

Multitasking – March 21, 2018
Currently, I'm juggling three writing-related projects. First, I'm making corrections/
revisions in my doomsday manuscript, After the Bubbles, the first book of The Touchers series. Although the novel is much improved, it still isn't "finished."
Now that I've written my twelfth short story, I'm arranging the dozen tales into a workable order. Unlike The Sea Crystal and Other Weird Tales, these stories can't be presented in the order in which I wrote them. Why? Because I have two long tales—nearly novellas. One will lead off the book and the other will be the closing story. Also, I want to separate genres so that tales of horror, humor, sci-fi, time travel, etc. don't follow each other. It's like piecing together a jigsaw puzzle.
Lastly, I've written a little horror story for an online contest. I've completed and edited the first draft, but the story needs some fine-tuning.
*            *            * 
Change of direction – March 16, 2018
A few days ago, I wrote the first scene of a short story I intend to enter in a fun contest. But that night, I woke up realizing my opening didn't work: This is supposed to be a horror story and my opening was mild, not at all horrible.
So I changed direction, rewriting the opening scene to make it much more gory. This change doesn't impact the rest of the story since my premise (a gruesome twist) remains the same. But the new horror in the beginning makes this tale truly horrible.
*            *            *

Deleting the boring – March 11, 2018
Between power outages caused by Nor'easters, I've been editing the manuscript of After the Bubbles, the title of Book One of The Touchers series. As I've posted before, it's disheartening to find so many problems with this doomsday thriller, especially since I've been working on it for a zillion years.
A major issue is my tendency to end scenes with unimportant, unexciting, and often repetitive text that doesn't move the story forward. I've been crossing out these boring passages, which may be the result of having taken such a long time to write this book. Whatever the reason, I'm ruthlessly deleting those dull portions and, hopefully, improving the novel.

                                                        *            *            *
Frost bytes – March 6, 2018
Take it from me: Living in a house with no power in 20-degree temperatures is no fun. Thanks to Nor'easter #1 last week, I experienced frozen life from Friday night to Monday night. You can imagine how thrilled we East Coasters are that we've got Nor'easter #2 on Wednesday, which means many of us could easily lose power again.
During the outage, I wasn't able to get on the Internet because I don't have an iPhone. Why don't I have this wondrous communications device? Because I'm kind of a technophobe. In fact my hospitable daughter—who took our cold family into her warm home—chastised me for my phone-avoidance, calling me a kind of an "Amish person."
One thing I learned from my Antarctic experience (we slept in our unheated house Sunday night when the thermometer dipped to 45 inside) is that it's difficult to be creative (write, edit, etc.) when you are freezing. I got nothing done until I went to my daughter's house. There I was able to do a little work on my new freelance project.
I hope I—and my neighbors—don't have to relive this frozen tundra experience in the coming days. But if you don't see me online, you'll know why.
*            *            *
Contest creation – March 1, 2018
I've got a new contest on the website and this one is linked to my forthcoming doomsday novel, After the Bubbles, the first book of The Touchers series that I've been working on forever.
I've been holding off with this contest until now because I'd like it to coincide with the publication of the novel—and After the Bubbles isn't quite finished yet. However, I've just reserved a week with the graphic artist to work on the cover and am (sort-of) confident the book will be ready in late June.
Despite the topic, my new end-of-the-world contest isn't depressing; it's fun and simple. To check it out, please go to the Contest page.
*            *            *
The muse hits – February 24, 2018
I'd been thinking about entering a short story contest, but couldn't come up with a clever concept—until I took a shower yesterday morning. I don't know about everyone else, but I get some of my best ideas while showering—probably because no one bothers me there.
Now all I have to do is write this very short story (1,000 word limit). That's the next hurdle; all my stories are longer than 1,000 words so this little horror tale has to unfold quickly. But I'm looking forward to the challenge when I write the story, hopefully next week. Before that, maybe I'll get additional inspiration in the shower.
*            *            *
The dreaded apostrophe – February 19, 2018
If you read this blog, you know that each year at this time I write an apostrophe-related post because of many misspelled headlines in holiday sales ads.
But first, a short history lesson: When I was a child, in February we celebrated the birthdays of two presidents: George Washington's Birthday (February 22) and Abraham Lincoln's Birthday (February 12), with a day off from school for each holiday. However, in 1971, to provide 3-day weekends, a new holiday was created on the third Monday of February to honor Washington and in most states, Lincoln.
This redesigned February holiday has became known as "Presidents' Day," the apostrophe signifying that we celebrate more than one president (not President's Day, which would honor just one leader). It's also not "Presidents Day" because it's a "Day for the Presidents," which requires the possessive apostrophe.
Every year, I check newspapers, the Internet, and TV to see which companies have misspelled Presidents' Day in their ads. This February, I noticed a major improvement in the number of "President's Day" misspellings. I only saw a few smaller retailers like Corner Furniture in the Bronx, advertise a "President's Day Sale."
However, major companies still leave out the apostrophe. Shame on Dell Computers ("Presidents Day Deals") and Macy's ("Presidents Day Sale"), along with Hyundai with its prime-time TV commercial for "Presidents Day Sales Event."
There's a clever way for advertisers to avoid the apostrophe issue altogether: Change the headline wording. In the metro NY area, many car dealerships take this approach by offering a "Presidential Savings Event!" or "Presidential Price Bash" or "Presidential Weekend Specials!"
I'll look forward to next year's holiday headlines. (Notice the apostrophe placement because I'm just referring to one year.)
*            *            * 
Setting scenario – February 14, 2018
Most of my stories are set in the real world, but occasionally one of them involves a mythical place. That's the case with "Wrong Road," the story I'm currently writing.
Sometimes the location isn't important, but in a story like "Wrong Road," it's crucial. Since the protagonist travels from a real place to mythical Bench Corners, the real location has to be believable. This week, I researched roads and locations and changed a vague highway reference to Route 35 and chose Jamestown, Ohio, a small village near Dayton, as the character's home.
The story works better with Wendy traveling from a "real" place, even though she winds up in an unreal location.
*            *            *
Killing my darlings – February 9, 2018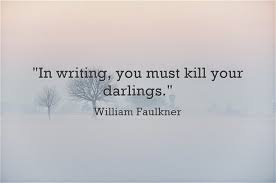 Like all novelists, I often have to kill off characters I like or even love. But my "darlings" are not just the characters I create—they're also the words themselves.
When I write material that I keep, I either like what I've written or rewrite the words until I like them. And when I'm editing a manuscript that I've read many times, I'm familiar with the words and fond of them. That's why it's so difficult to destroy those words.
I've just finished rereading The Touchers (Book One), the first part of my doomsday series and so far I've deleted nearly two thousand words because they're repetitive or unnecessary.
But now I'm making a big move—deleting an entire scene of nearly five hundred words. Why? Because words in a novel should either propel the action forward or develop characters and this scene does neither. It simply reviews the events of the previous scene without adding anything new. So goodbye precious words, aka my "darlings."
*            *            *
Dialogue deletions – February 4, 2018
"Dialogue...should eliminate the routine exchanges of ordinary conversation.
– Twitter quote
I retweeted the above quote because it's true: Dialogue is not conversation. Although the words people speak in books should mimic conversation, real speech tends to be rambling, repetitive, and include meaningless words and phrases like, "well," "you know," "um," and "er."
Dialogue should either further the action or provide insight to a character's personality. It doesn't need extraneous words. That's why I've been deleting snippets of my characters' dialogue in my doomsday manuscript, The Touchers (Book One). (See January 30th post)
As I write, my characters take over and speak their dialogue to me, which I then transcribe. But when I reread what they've said—and I've written—I often have to delete words because the characters talk too much, if like you know what I mean.
*            *            *
Word weeding – January 30, 2018
I'm currently editing my doomsday thriller, The Touchers (Book One). In addition to making major fixes (see January 25th post below), I've been weeding out unnecessary words—lots of them.
It's disturbing that a manuscript I've worked on for so many years still contains so many extraneous words—mostly in dialogue. Although we use unnecessary words in our conversations, characters' dialogue shouldn't mimic real speech. Here are some examples of my changes:
Before: "You're going to have to talk."
After: "You have to talk."
Before: "Erin, please go do your assignment."
After: "Erin, please do your assignment."
Before: "I'm going to write down everything we have to get and make a map of the layout of the store..."
After: "I'm going to write down everything we need and make a map of the store..."
Before: "I'm going to get a couple of big garbage bags..."
After: "I'll get a couple of big garbage bags..."
Before: "I just need enough time to be able to get inside the kitchen..."
After: "I just need enough time to get inside the kitchen..."
Before: "Do you think they could've walked through the woods?"
After: "Could they've walked through the woods?"
All this (and more)—and I haven't even reread half the book!
*            *            *
Backstory solution – January 25, 2018
In my last post (January 20), I wrote about an objective reader's analysis of the first book of my end-of-the-world series, The Touchers. One valid criticism was that I don't provide enough information about my heroine's boyfriend, Blaine. However, I wasn't sure which details I wanted to add—and where I wanted to insert them.
This morning, while taking a shower (a great place for ideas for me!), the entire backstory popped into my head: The two characters would talk about where Blaine was when the cataclysmic event occurred and how he was able to escape. I found a good place to add the 250 words, a quiet scene near the end of the book when Blaine and Erin are walking together. I think the backstory works—and now I'm onto the next fix.
*            *            *
The objective reader – January 20, 2018
Until now, my end-of-world series, The Touchers, has been read only by me and a few people close to me. This kind of subjective reading results in lots of praise and not much criticism. However, in order to improve these two books, I need objective criticism.
I've spent the past week reviewing a beta reader's analysis of The Touchers (Book One), and in most cases, I agree with the comments. The reader pointed out times where I've lost my narrator's voice (The series is told in the first person by Erin, a teenage girl); several plot issues; and a number of mistakes, both minor and major.
I've been working on The Touchers series for years—especially Book One, which has taken forever—and even though I've read this manuscript many times, I've missed lots of things. That's why, before a book is published, it has to be read by objective readers.
*            *            *

Plot problem – January 15, 2018
I'd just finished editing 11 short stories and patting myself on the back because they're in pretty good shape. However, shortly thereafter, I realized that the story I'd just finishing reading, "The Imposters," had a major plot problem.
"The Imposters" is about a young teen who realizes her parents have changed in a major way—not outwardly, but personality-wise—and it dawned on me, after all this time (it was the first story I'd written of this new batch) that my explanation for this change didn't make sense.
Today I thought of a way to correct the problem and started deleting dialogue and rewriting scenes, not thrilled at having to remove lots of good stuff. But as I was ripping this story apart, I came up with yet another way to fix it—a much easier solution that didn't involve rewriting half the story. In fact, my new fix required just redoing a few paragraphs. And I think my changes work.
*            *            *
Book talk – January 10, 2018
I love talking about my writing and today I had the opportunity to do so as a guest speaker at the Yorktown Rotary Club's weekly luncheon meeting in Kirby's Grill & Bar.
I always begin by explaining how I got the ideas for my first two novels, DUST and Peachwood Lake, since both were inspired by newspaper articles (the former a tiny Internet post and the latter a front page story in the Sunday New York Times).
My next three books, however, came entirely from my imagination—The Disappearance (time travel), Corsonia (mind-control), and The Sea Crystal and Other Weird Tales (a mixed bag of supernatural short stories—everything from humor to horror).
I also spoke briefly about the creative writing process—and then we ate lunch—delicious burgers. I could do this every day, the writing part especially. (I'd weigh 400 pounds eating the food!) And I will be attending the Rotary Club's next meeting because Larry Berliner will be the guest speaker. Photos from today's meeting are in Happenings.
*              *            *
Too much information – January 5, 2018
"Write out of the reader's imagination as well as your own.
Supply the significant details and let the reader's imagination do the rest."
--Patrick F. McManus
I thought of this quote, which I had seen on Twitter a couple of months ago and retweeted, as I edited my latest short story, "George's Mother." When I reread this tale about a woman who claims to be a man's dead mother, I realized I was giving the reader too much information—explaining clues that a competent reader should be able to figure out without my help.
I eliminated two unnecessary details: an early conclusion that is now implied and explained at the end of the story and an obvious clue that I had needlessly spelled out. Both these omissions improve the story, making it more challenging for the reader.
*            *            *
Save
Save
Save
Save
Save
Save
Save
Save
Save
Save
Save
Save
Save
Save
Save