*            *            *
Here's our group of authors and the librarian who organized the event: (l to r)
me; humor author, Larry Berliner; aspiring author, Jonathan Schwartz;
reference librarian, Mary Johnson; women's fiction author,
Barbara Solomon Josselsohn; financial author, Kolonji Murray.
Quite an eclectic group!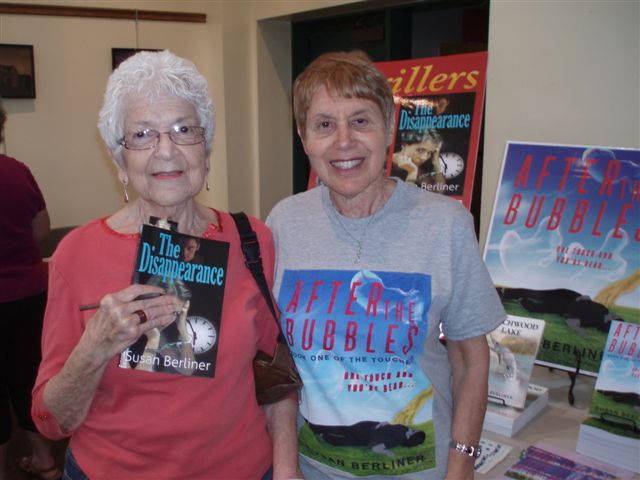 Elaine--a huge time travel fan--wanted a signed copy of The Disappearance.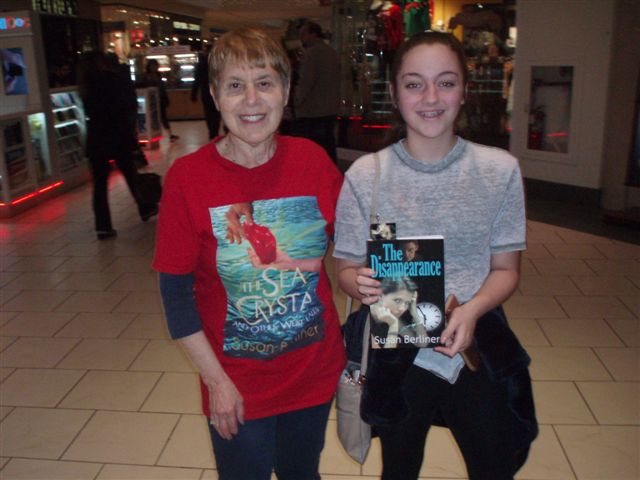 Julia, 12, needed a "challenging" book for school, so she chose a signed copy
of The Disappearance.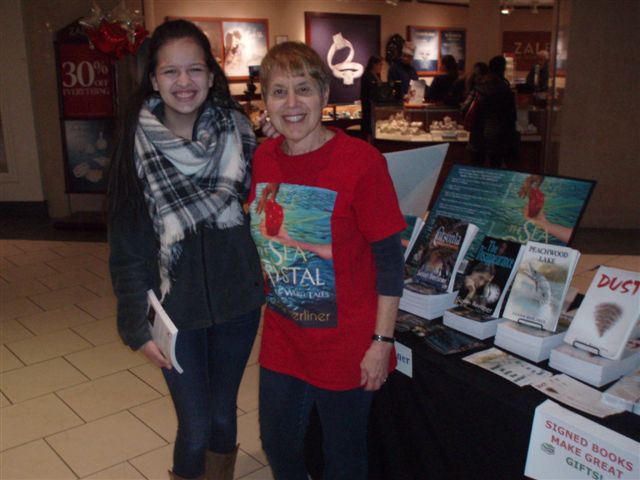 Bella purchased a signed copy of DUST for her 18-year-old sister, Gaby.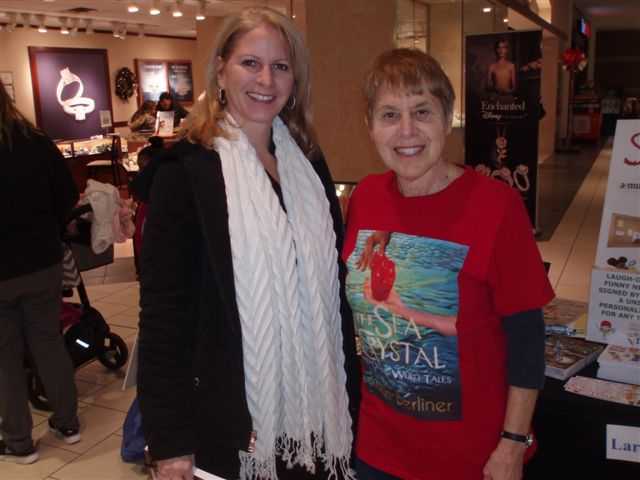 Susan chose a copy of The Disappearance for her mother, an avid reader.
T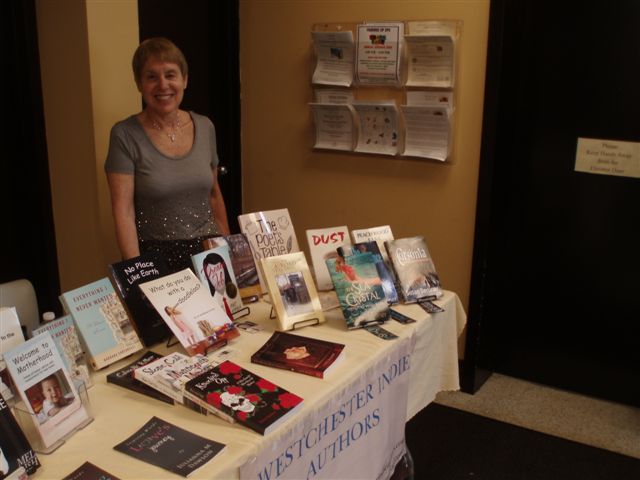 This year's event featured 10 Westchester authors and a wide variety of
genres--from novels and poetry to cookbooks, children's books, and memoirs.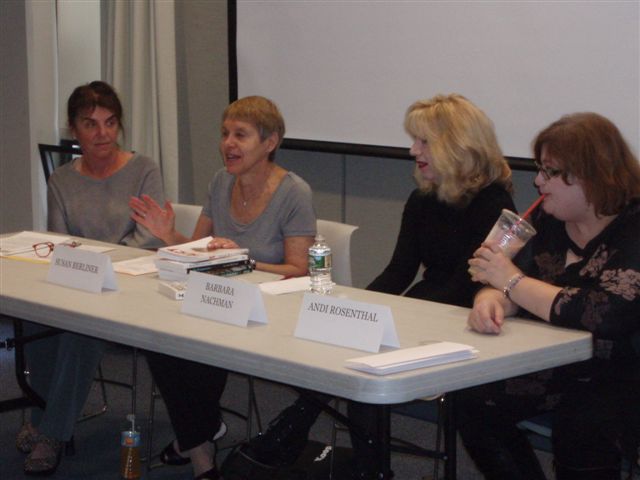 I was a member of two panels--a Fiction panel and the above panel, called
"From first draft to finished product --what's involved?" My fellow panelists
were (l. to r.) Barbara Santarelli, memoir author; Barbara Nachman,
fashion-themed murder mysteries novelist; and Andi Rosenthal,
historical novelist.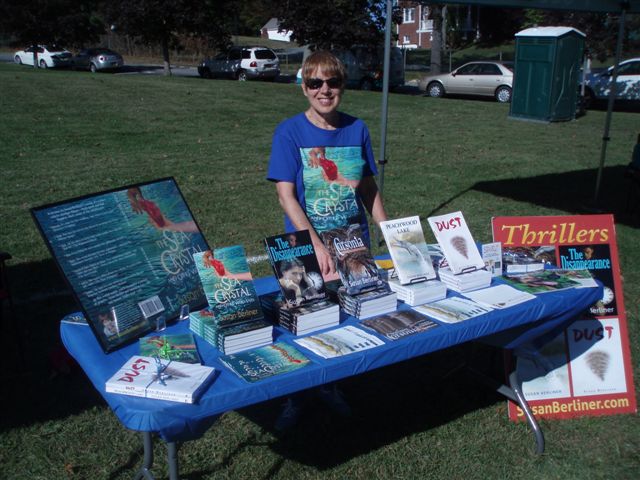 About 20 vendors lined up across the lawn of Hendrick Hudson High School
on Albany Post Road, a main thoroughfare.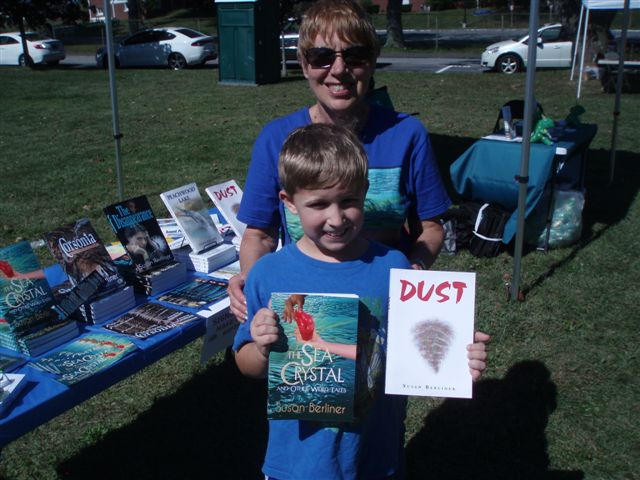 Samuel is just 9 1/2, but he's an excellent reader, so his dad wanted him to have
signed copies of DUST and The Sea Crystal and Other Weird Tales.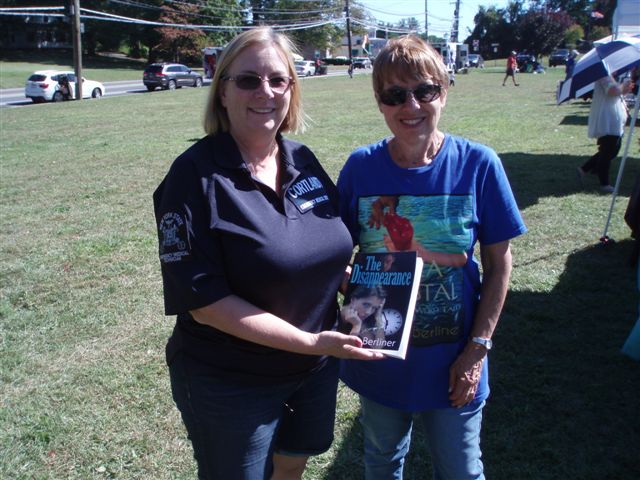 Patti was excited about reading her signed copy of The Disappearance during
breaks at work.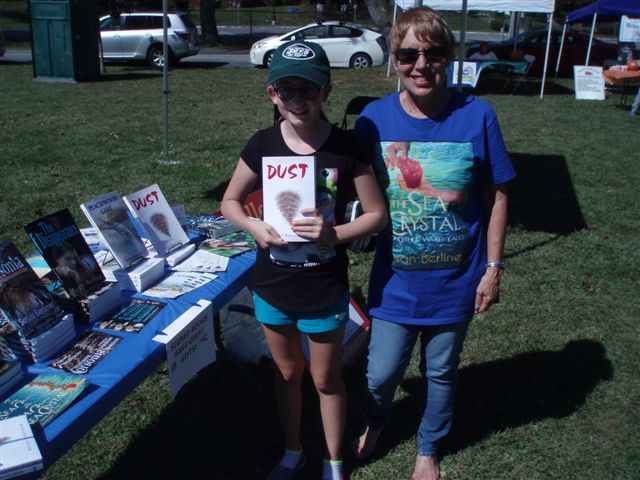 Castalia, 10, an unfortunate Jets fan like me, wanted to read DUST.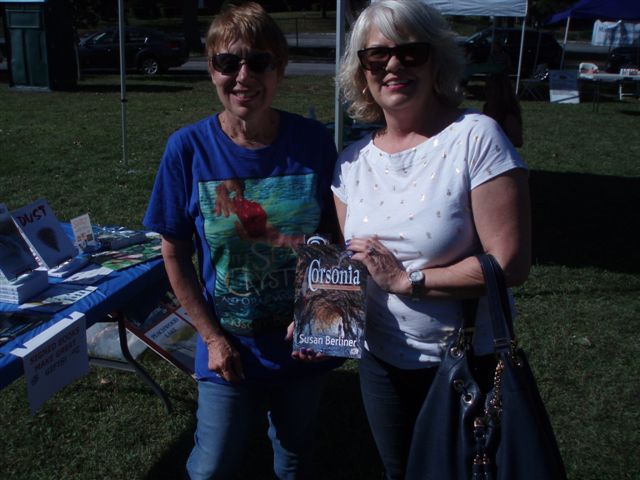 Saren chose a signed copy of Corsonia as a holiday gift
for her 21-year-old daughter, Chiara.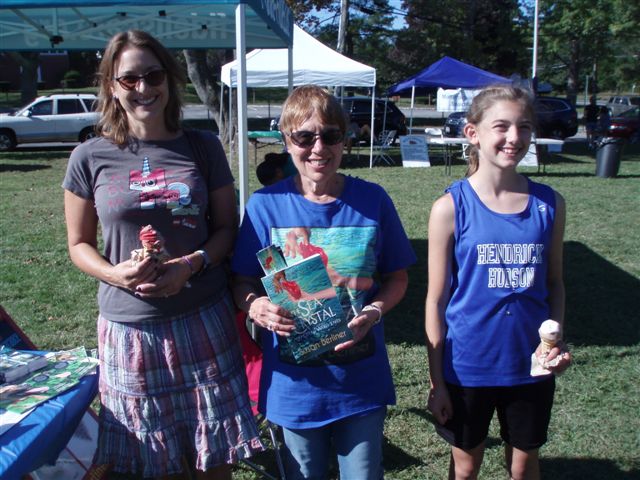 Zoe, 14, and her mom opted for a signed copy of The Sea Crystal and Other Weird Tales.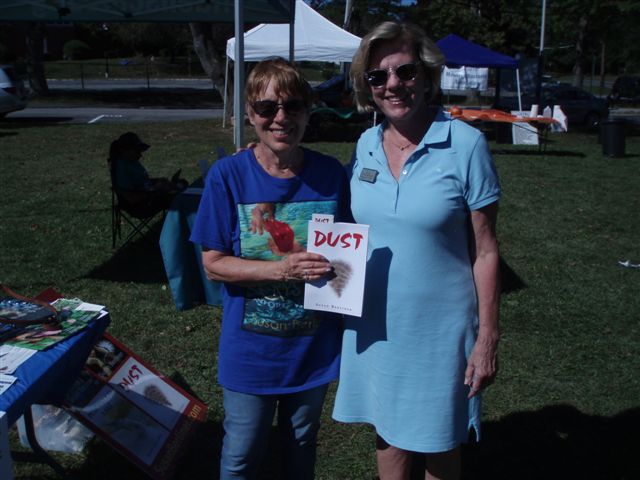 It's election season and Mary Breining, Receiver of Taxes for the Town of Cortlandt,
who is running for re-election, took a moment to purchase a signed copy of DUST.
On April 9, I signed copies of my books at the Mother Nature Spring Festival in
Cortlandt Manor, NY. Here are some photos: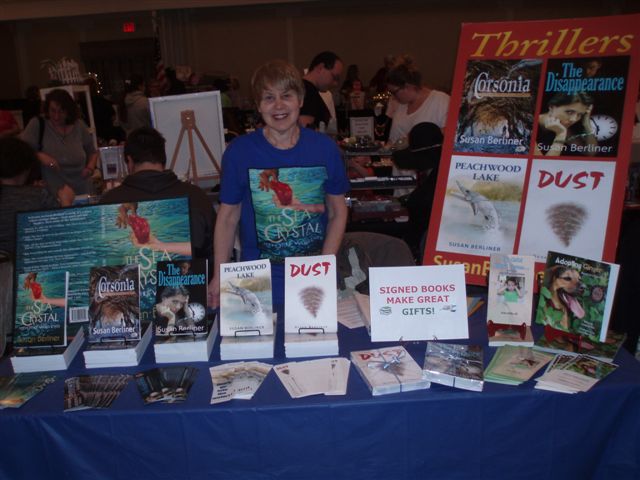 Although the event at the Cortlandt Colonial restaurant featured a variety of
interesting items for sale and fun activities for children, few people attended.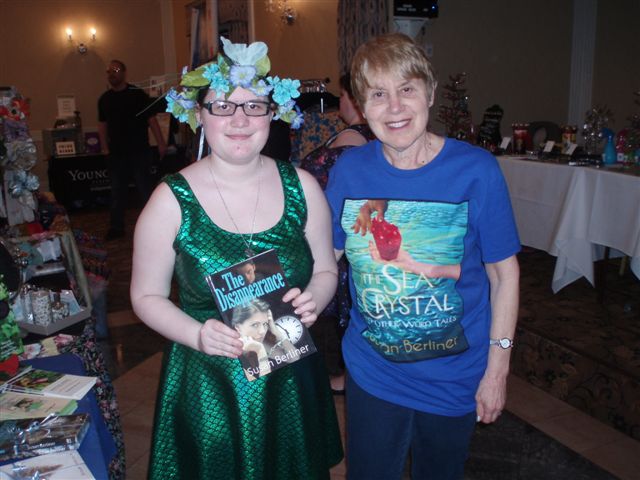 Fourteen-year-old Alyssa wanted to read my time travel thriller, The Disappearance.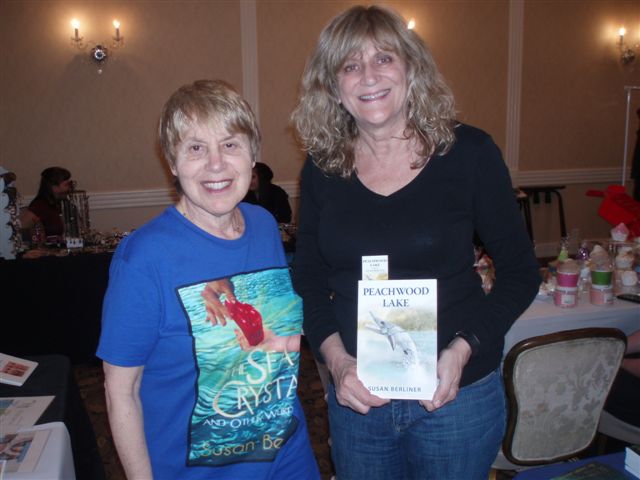 I had a surprise visitor! Dianne Paulet, the graphic artist who designed the cover of
Peachwood Lake, stopped by my table.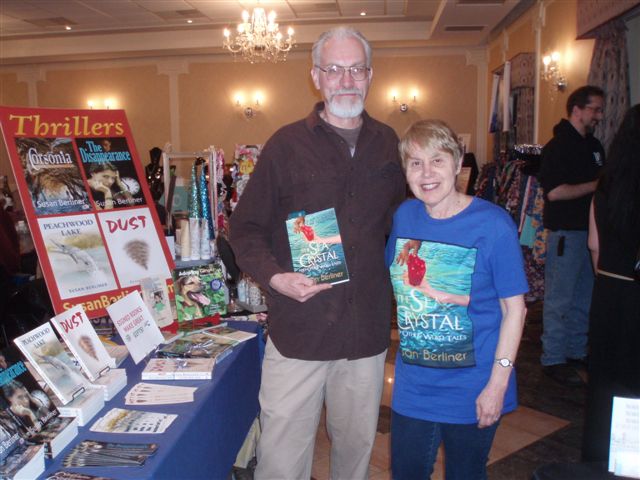 Keith, a "Twilight Zone" fan, chose a signed copy of The Sea Crystal and Other Weird Tales.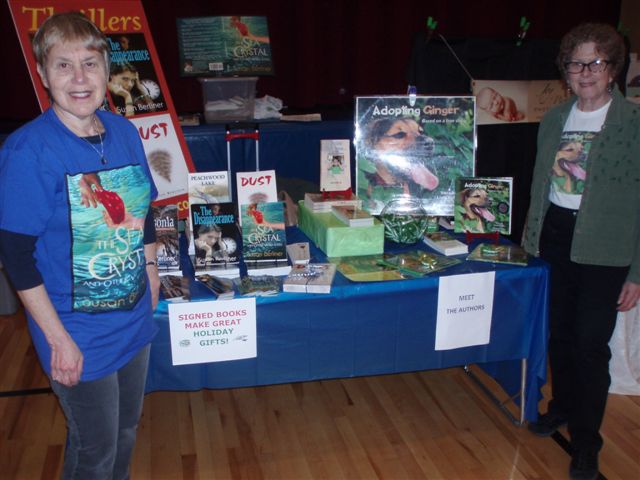 T
  This was a YIKES! & TYKES event so I shared a table with
children's and parenting author, Linda Griffin.
                                                                Mary Ann, Sue, and Gail, the event organizer.
*             *            *
This was a YIKES! & TYKES event so I shared space with Linda Griffin (right), author of
* * *
The sign outside the store announced the event.
* * *
In keeping with the "Locally Grown" theme, I had a mini book signing at the Yorktown Grange Fair in Yorktown, NY (my hometown) on September 11. It was a very mobile experience. Check the photos below and you'll understand.
Then my table was moved to the center of the tent, opposite Barnes & Noble, and an exhibitor took my former spot next to the cooking table. I was in a space all by myself. Sounds good, right? But only a few people even stopped at the table. This woman was one of the few to visit.
Finally, I moved to my final location, behind the Barnes & Noble table--and that spot was much better!
Soon I had another customer...
And another...

November 2 - http://www.fivemonkies.com/2009/11/special-guest-post-from-susan-berliner.html

November 11 - http://lorisreadingcorner.blogspot.com/2009/11/blog-tour-susan-berliner.html
November 13 - http://readbookswritepoetry.blogspot.com/2009/11/dust-by-susan-berliner.html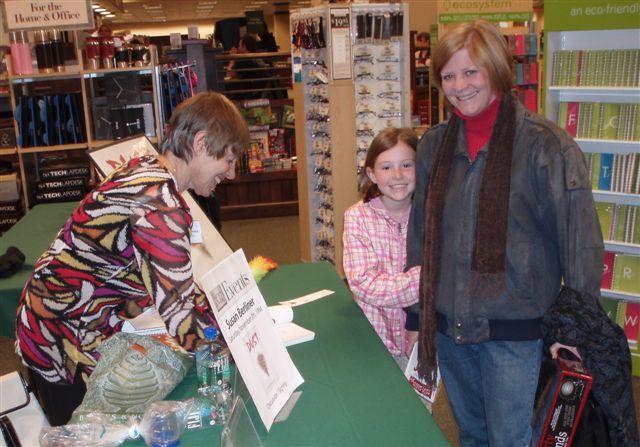 This was my last customer. As you can see, we were all very happy!
* * *
My talk at the Mahopac Libary on Wednesday, October 21 was more intimate and informal than the Hart Library talk last month where I stood behind a podium. Here, everyone sat around--or near--a large rectangular table. The casual environment led to more questions. Afterwards, I signed copies of DUST. Here are a few photos: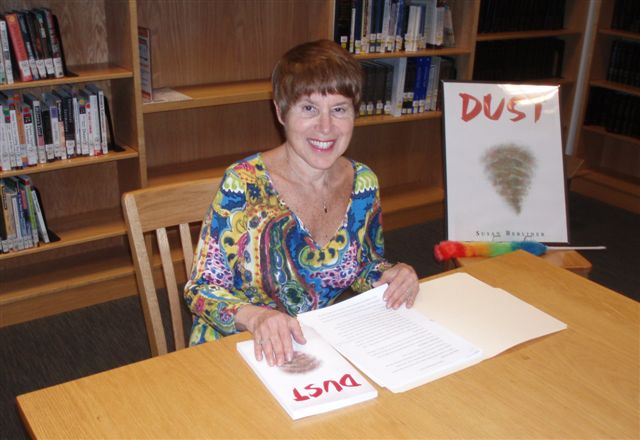 Setting up for the Mahopac Library talk.
A view of the long table.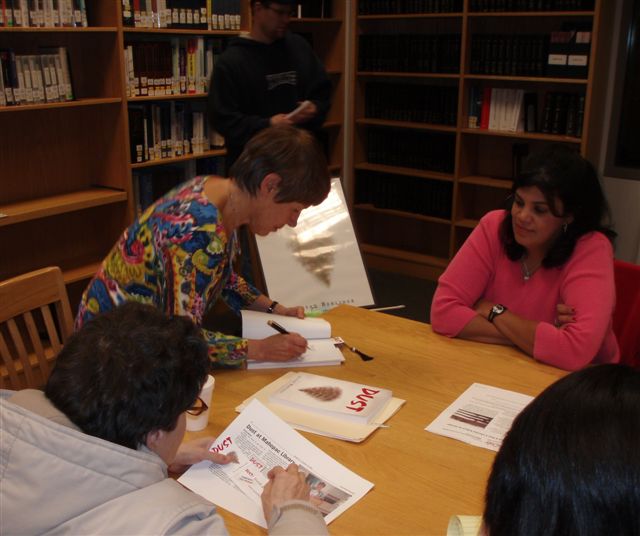 Signing a copy of DUST.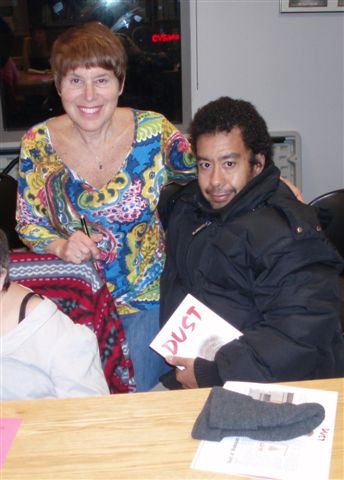 Another new DUST reader.
* * *
The article below is from The Putnam Examiner. It focuses on my inspiration for DUST and on my October 21 talk at the Mahopac Library. I love the first line!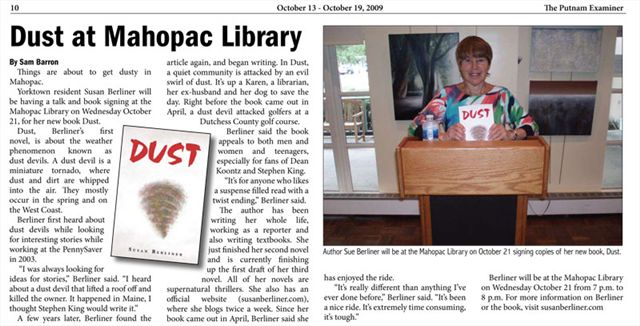 For a clearer version, here's the link (Scroll to page 10): http://www.theexaminernews.com/archives/putnam/PutnamExaminer10-13-09.pdf
* * *
I gave my first solo informational talk about DUST at the John C. Hart Memorial Library in Shrub Oak, NY on Saturday, September 12. Although I was very nervous before the event started, it turned out surprisingly well. People in the audience listened attentively and seemed to enjoy the talk. I'm posting a few photos below:
At the podium just before the Hart Library event.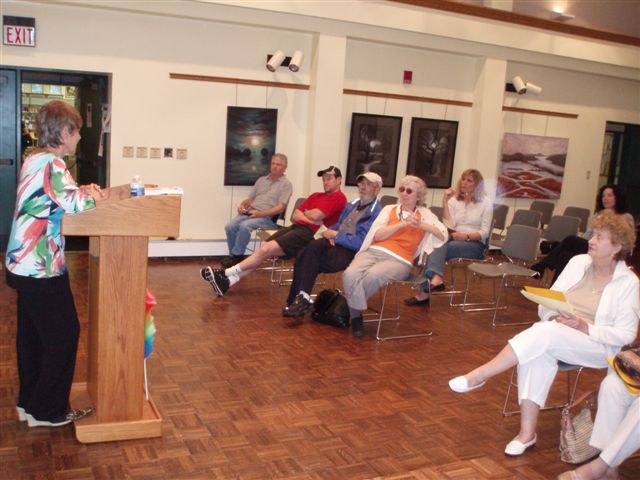 The audience seemed to be listening. (At least no one was sleeping.)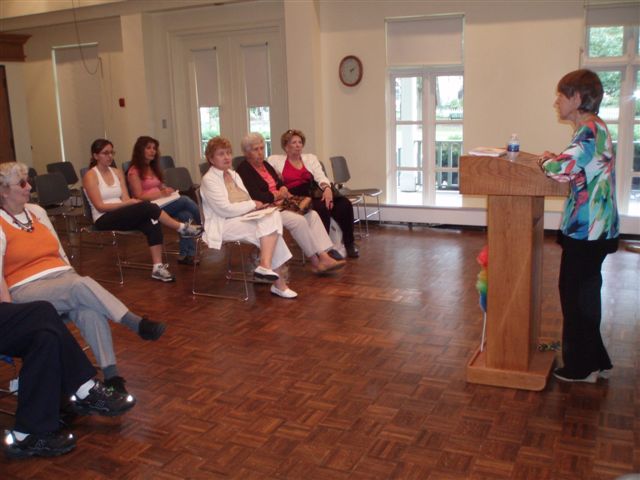 Another view of the audience at the library.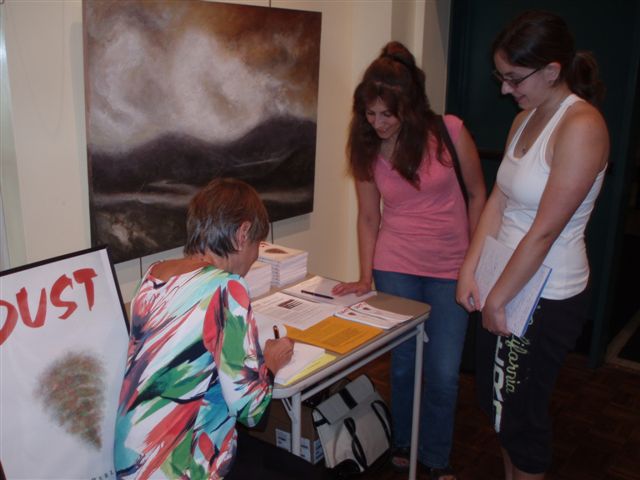 After the talk, I signed a copy of DUST for this mother and daughter.
* * *
The Authors' Panel/Book Signing at Lola's Tea House in Pelham, NY on August 22 was my first "speaking engagement" about DUST. It was a good learning experience. Afterward, people said the talk by all four authors on publishing-on-demand was interesting and informative. I just wish more people had attended! Here are a few photos from the event: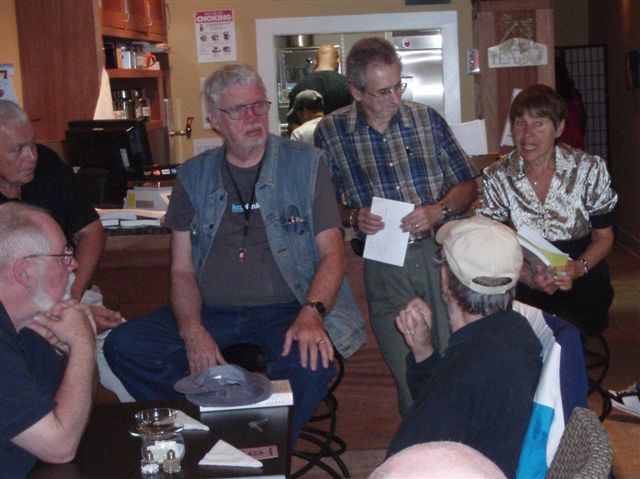 At Lola's Tea House (l. to r. from rear): Authors George Hopkins, John McMullen, Don Wortzman, and me, speaking.
I had my first book signing at Barnes & Noble in the Cortlandt Town Center in Mohegan Lake, NY on Saturday, July 25. Considering the weather (hot, sunny, and gorgeous--the best day of the summer), it was a success. I'm posting some pictures below: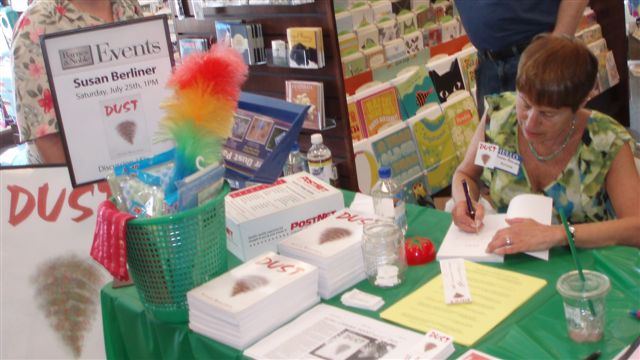 I'm signing a copy of DUST. Note the "Dust" Basket on the left. It was won by Gene Ehrens of Yorktown.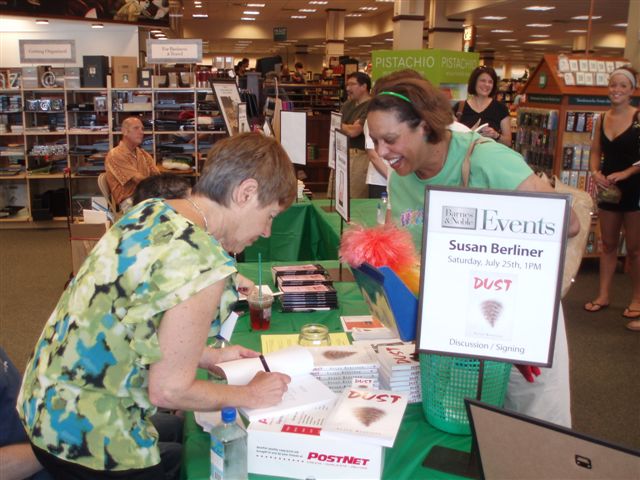 My first customer!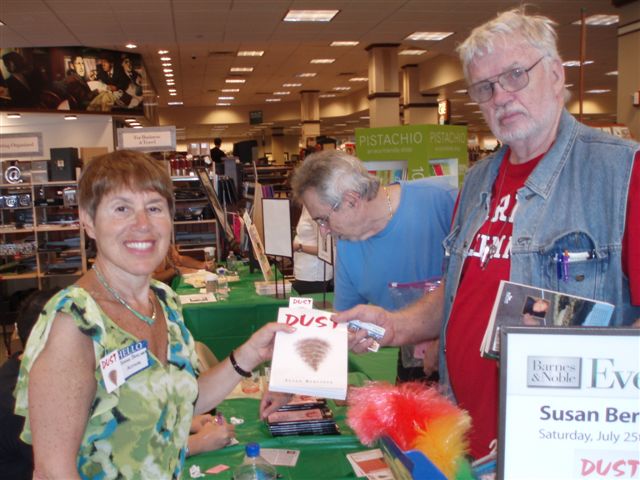 Another customer--a fellow writer!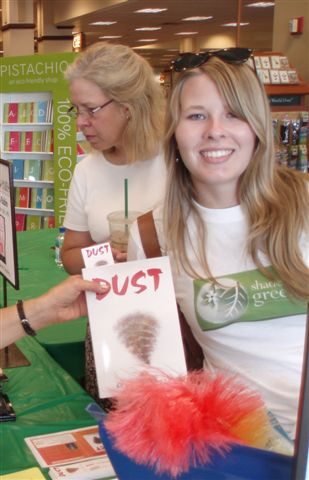 DUST is suitable for all ages. Mom purchased the book for her daughter.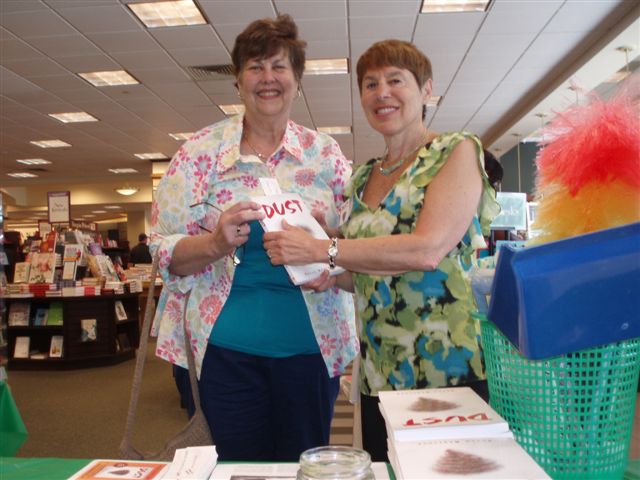 Marsha Smith was one of the first people to read DUST. She loved it! (Read her comments on the Reviews page.)
* * *
The first newspaper article about DUST was published on July 15, 2009. Here's the link:
http://www.ncnlocal.com/Apps/FullSize.aspx?articleid=6950
Save
Save
Save
Save
Save
Save
Save
Save
Save
Save
Save
Save
Save
Save
Save
Save
Save
Save
Save
Save
Save
Save
Save
Save
Save
Save
Save
Save
Save
Save
Save
Save
Save
Save
Save
Save
Save
Save
Save
Save
Save
Save
Save
Save
Save
Save
Save
Save
Save
Save
Save
Save
Save
Save
Save