Happenings
The events below relate to Susan Berliner, author of the supernatural thrillers "DUST,"
  "Peachwood Lake,""The Disappearance," "Corsonia," the short story collection,
"The Sea Crystal
and Other Weird Tales," and the new dystopian series, The

Touchers

:
"After the Bubbles"
and
"Soldier Girl."
Here are my upcoming summer events
:


Thursday, June 27, Thursday, July 25 & Thursday, August 29
Yorktown Heights, NY 10598


*            *            *
On June 8, I showcased my books at Festival at the Falls, a town-wide
event in Wappingers Falls, NY. For a change, it was a beautiful sunny day.
Here are a few photos:


 I shared a table near the Grinnell Library with author Larry Berliner. Luckily, a
nearby maple tree gave us some shade on the hot day.

Paul's daughter, Paula, purchased The Sea Crystal and Other Weird Tales
as an early Father's Day present.

Mary and Steve chose a signed copy of my mind-control thriller, Corsonia.
Debbie enjoys reading mysteries so she selected my time travel thriller,
The Disappearance.


*            *            *


On June 2, I participated in a Father's Day/Elks Club Fundraiser with Larry Berliner
at the Yorktown (NY) Elks Club. It was a small venue, off the main road,
and unfortunately very few people attended. Here come the photos: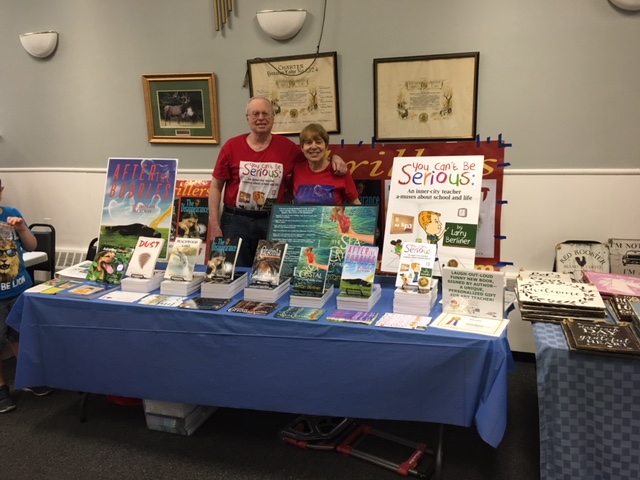 We had a large table--lots of room for our books--against the wall
  so I was able to hang my banner under the Elks' certificates.
When Linda, a fellow vendor, discovered Larry and I wrote the books,
 she wanted signed copies of The Sea Crystal and Other Weird Tales
and Larry's award-winning funny book, You Can't Be Serious:
An inner-city teacher a-muses about school and life.