Blog
This blog is by Susan Berliner, author of the supernatural thrillers "DUST," "Peachwood Lake," "The Disappearance," "Corsonia," the short story collection, "The Sea Crystal and Other Weird Tales," and the new dystopian novel, "After the Bubbles." If you have any comments or suggestions, please contact me.

Book talking (con't) - March 17, 2019
Yesterday, Larry Berliner, Linda Griffin, and I had our "Meet the Authors" book talk (see post below) and the event turned out to be different than the three of us expected. Here's what happened:
* Although our talk was outside the Book Nook at the edge of the Mall's Food Court, the Book Nook has been transformed into more of a Kid's Nook so we had nothing to do with that enclosed space. The Mall gave us a loveseat and stuffed chair from the nearby hallway, added a long table to display our books and posters, and arranged several Food Court tables and chairs so they faced us.
* No one sat in any of the chairs that faced us. However, many lunch patrons occupied seats near us, including a young girl's pizza birthday party. Since we had a microphone, those diners heard our talk whether or not they were interested in what we said.
* No one asked questions—probably because no one sat in the seats facing us. Maybe being close turned people off. If we do this again, we won't alter the Food Court seating setup.
* We did sign books. Despite not having a real audience, several people visited our display table—and some bought books. This surprised us because the event was a talk, not a book sale. Last week's event was a book sale and we didn't sell any books. You just never know...
To see photos of the event, please check Happenings.
*            *            *
Book talking - March 12, 2019
If you read this blog, you know I love talking about writing and especially, talking about writing my novels and short stories. That's why I'm looking forward to Saturday, March 16, when I'll join Larry Berliner and Linda Griffin for a "Meet the Authors" event from noon thru 2 pm at the Jefferson Valley Mall in Yorktown Heights, NY.
Larry, Linda, and I will sit outside the Book Nook (near the Food Court) to talk about our publishing journeys and the writing process. We'll also read excerpts of our work, answer questions--and hopefully, even sign a few copies of our books.
This is a casual event so listeners will be able to eat lunch while we talk. We're really looking forward to interacting with local readers!

*            *            *   
Rewriting the story - March 7, 2019
I've been working on a short story about an Alexa-like device, called "FRIENDr." After writing more than 4,000 words, I stopped because the story wasn't moving forward: It was spinning around like a hamster on a wheel. But I really like the premise so rather than dumping the story, I'm rewriting FRIENDr.
I kept the first part except for a few small changes. I'm also rewriting one character and adding another in the hope that these moves will add drama. I envisioned this story as a thriller and to this point, it's not at all thrilling. In fact, it's totally boring.
I hope my rewrite will work. Right now, it's too soon to know.
*            *            *
Those many changes - March 2, 2019
I just received another critique of Soldier Girl, Book Two of The Touchers. This reader does an excellent job of identifying when my characters behave inconsistently.
He pointed out Erin's boyfriend Blaine's "too cutesy" attitude during danger, Erin's lack of empathy to some of the deaths, and an example of her wimpiness. I thought I had toughened my heroine after the first critique (see January 16 post), but obviously I missed one incident.
Other suggestions included mentioning the dire conditions at the beginning of the novel and adding details about some of the minor characters.
I've already made the simple changes and I'll work on the other revisions as I reread the book. Eventually, this novel will be finished—but not yet.
*            *            *
Letting the book sit - February 25, 2019
In my February 10th post, I wrote about the benefits of letting a piece of writing sit. As Patricia McArdle said, when you read the work again, "the inconsistencies, the gaps and the missed connections will jump right off the page..."
This strategy worked earlier with my short stories and it's working now with my novel. I'm rereading Soldier Girl, Book Two of The Touchers, and in the first five chapters I've already noticed two serious problems. Both issues involve inconsistencies with the setting.
The first is the location of the army base's parking lot. At the beginning of the novel, I mention that the lot is surrounded by buildings. However, in later chapters the buildings are lined up behind each other.
The second issue involves an army mission with two tanks, one behind the other. At first, Tank One is behind Tank Two, but later in the chapter it's in front of the other tank.
I've identified the problems. Now comes the hard part: fixing them.
*            *            *
Avoiding the book - January 20, 2019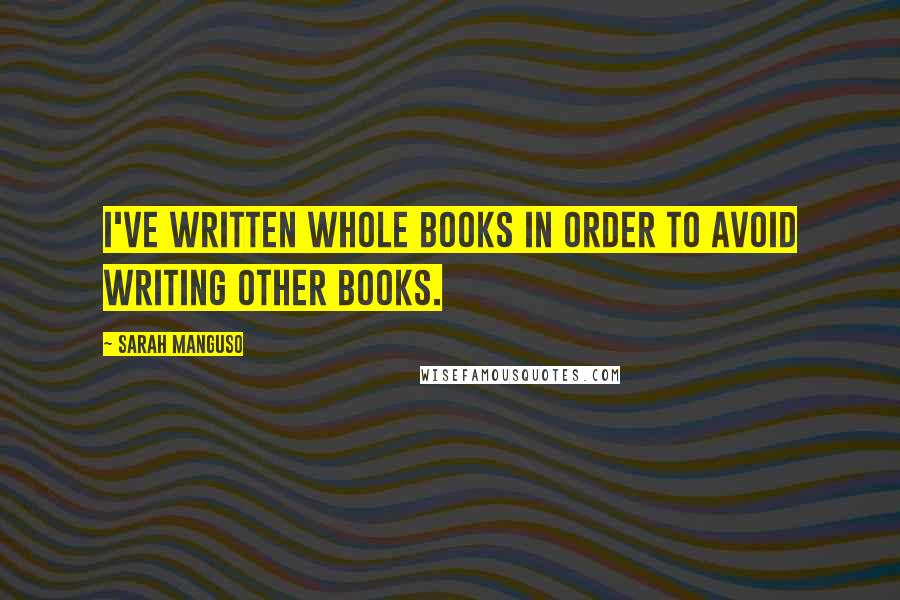 I certainly identify with Sarah Manguso. The first four novels I wrote (DUST, Peachwood Lake, The Disappearance, and Corsonia) each took me about a year to write and edit. Then came The Touchers.
I wanted to write a doomsday novel told in the first-person by a teenage girl. When I started The Touchers in 2011, the first draft took me forever—and when it was finally written, I discovered that it wasn't finished. I had to write a second novel to complete the story. These two books became After the Bubbles (published last year) and Soldier Girl (to be published this spring).
Writing these two thrillers was like pulling teeth. My narrator, Erin, a 15-year-old girl, annoyed me at times, making it difficult to work on the novels. That's when I did the same thing as Sarah Manguso: I wrote other books. In fact, I produced two collections of short stories. The first, The Sea Crystal and Other Weird Tales, was published in 2016 and my second collection is nearly finished.
Some books, like my Touchers series, are just more difficult to write than others. Short stories? For me, they're fun and easy to write.
*            *            *
The tricky apostrophe – February 15, 2019
It's that time again: Each year before the long holiday weekend, I write an apostrophe-related post citing the misspelled headlines in holiday sales ads.
I'll begin with a short history lesson: When I was a child, we celebrated the February birthdays of two great presidents: George Washington on February 22 and Abraham Lincoln on February 12, with a day off from school for each man's birthday. However, in 1971, to provide 3-day weekends, a new holiday was created on the third Monday of February to honor Washington and in most states, Lincoln.
This redesigned February holiday has became known as "Presidents' Day," the apostrophe signifying that we celebrate more than one president (not President's Day, which would honor just one man). It's also not "Presidents Day" because it's a "Day for the Presidents," which requires the possessive apostrophe.
Every year, I check newspapers, the Internet, and TV to see which companies misspell Presidents' Day in their ads. Although I've noticed an improvement in the number of "President's Day" misspellings, they still occur. A double-page ad by the Outlet, a furniture/bedding store, touts a "President's Day Super Sale" in New York's Daily News and on the Internet, Michaels, the crafts store chain, is running a "4 Day President's Sale."
And major companies still leave out the apostrophe. Shame on two repeat offenders from 2018: Dell Computers with a newspaper ad for "Presidents Day Early Deals" and Hyundai with a prime-time TV ad for a "Presidents Day Sales Event."
Some advertisers avoid the apostrophe issue altogether by changing headline wording. In the metro NY area, car dealerships often take this approach. This year, I've seen newspaper ads for a "Savings of Presidential Proportions" and a "Presidential Door Buster."
Will the holiday headlines improve next Presidents' Day? Check back in February, 2020.
*            *            *
Let it sit - February 10, 2019
"After you've finished a piece put it away and don't look at it for a while.
When you take it out and read it again, the inconsistencies,
the gaps and the missed connections will jump right off the page…"
—Patricia McArdle
About a month ago, after arranging my thirteen short stories into a satisfactory order (separating genres, lengths, first person/third person, etc.), I did what Patricia McArdle advises: put the book aside without looking at it while I edited my doomsday novel, Soldier Girl (Book Two of The Touchers).
Now a trusted reader is critiquing my doomsday novel and I'm rereading the collection of short stories. Although I've only read four, I'm already finding problems.
For example, I found an error in a time travel tale concerning a car accident on a city highway. The crash happens when a truck driver swerves to avoid a car zooming through a red light. But when I reread the story, I realized this scenario doesn't work because the highway wouldn't have lights. I rewrote the line so the truck driver swerves to avoid hitting a drunk's car that shoots in front of him.
I had read this story many times and never realized the mistake until now. When you reread a piece after letting it sit, you see it with new eyes.
*            *            *
The write business - February 5, 2019
It's tax-filing time, which means I had to compile a list of expenses and profits for 2018 for my one-woman publishing operation.
Usually my freelance work (writing test passages for ELL students in Texas) gives my income a boost. However, last year I had very little freelance work. As a result, my earnings for 2018 were a bit less than my costs.
Even in years where I make a profit, it's never much because being an independent author isn't a lucrative career. But writing novels and short stories is lots of fun and I highly recommend the "job." Just don't expect to get rich.
*            *            *
What's happening? - January 31, 2019
As we plow through winter, I'm thinking spring (or at least March) in terms of book events. And this week, I've confirmed two interesting programs.
Save A Life, on Sunday, March 3, is a valuable educational event for high school students. This year's program, sponsored by the Alliance for Safe Kids (ASK), features motivational speaker John Morello, who will offer an interactive presentation on mental wellness. At this event, I'll be sharing an Exhibit Hall table at Yorktown High School with authors Larry Berliner and Linda Griffin.
Then on Saturday, March 16, I'll be co-hosting a "Meet the Local Authors" event, again with Larry Berliner and Linda Griffin. Our YIKES! & TYKES & YUKS team will be at the Book Nook (near the 2nd floor Food Court) of the Jefferson Valley Mall in Yorktown Heights to discuss our books as well as the writing process. We'll read excerpts of our work, share writing experiences, answer questions, and sign copies of our books.
For more details about these two events, please check Happenings. It's going to be a fun-filled March!
*            *            *

Redundancies (continued) - January 26, 2019
As I reread Soldier Girl, Book Two of The Touchers, I continue to find (and eliminate) unnecessary words. Here are some of my latest catches:
* No one talked very much on our ride back to the base.
   No one talked much on our ride back to the base.
   ("Very," a weak adjective, is useless here.)
* The surviving seven...weren't given any new assignments.
   The surviving seven...weren't given new assignments.
* "But they couldn't check in the sky for flying ones,"
   "But they couldn't check the sky for flying ones,"
* Most of the windows were smashed and two of the front doors were wide open.
   Most windows were smashed and two front doors were wide open.
   (Two sets of extra words!)
More to come, I'm sure—I've reread less than one-third of the book!
*            *            *
Killer tagline - January 21, 2019
"One touch and you're dead..."
That's the tagline in my doomsday series, The Touchers, which includes After the Bubbles (Book One) and the soon-to-be-published conclusion, Soldier Girl (Book Two). In these thrillers, monsters—known as touchers—kill people just by touching them.
In this new contest, I'm asking readers to use my tagline to create end-of-the-world scenarios by substituting another method of annihilation instead of death by touch.
How would you destroy the world? "One _____ and you're dead..."
Want to enter? If so, check the Contest details here.
*            *            *

Revising again - January 16, 2019

A valued reader, who's also an editor and novelist (the best combination!), just finished critiquing Soldier Girl, the sequel to After the Bubbles. In addition to finding a number of typos, the reader alerted me to several problems with the novel—some minor, but a few major.
One important issue: My teen protagonist, Erin, is much too wimpy at times—closing her eyes when she thinks she's about to die, rather than taking action or at least watching what's happening.
The reader also noted instances where characters don't behave as they should­—(e.g. react to pain). Again these are things I didn't realize until now.
It's important to have an objective reader evaluate your novel, even if you think the book is practically finished. Chances are, you'll discover that you need to make changes.
*            *            *
Outline opinion - January 11, 2019
"I outline. I have to know the beginning and the end...
it's hard enough to find the right words each day;
if you don't even know what's going to happen,
it seems twice as hard."
— Colson Whitehead
Colson Whitehead's comments about the benefits of outlining make a lot of sense. It's probably easier to write fiction if you know what's going to happen. Nevertheless, I don't outline.
Of course, I know the beginning when I start writing a story or novel. I also know my main characters and have an idea of what's going to happen—but often that's all I have—an inkling.
As I write, my characters take over the action and guide me through the story, often moving the plot differently than I expected. Usually, but not always, they steer the action in a good direction. If the story starts going haywire, I backtrack and rewrite that part. (Even if my characters are the actors, it's still my book, and I'm the director.)
I understand why some authors need to outline, and as Whitehead says, maybe it is twice as hard to write without outlining. But to me, it's not as much fun. I discover the story along with my characters and I want the suspense of not knowing the ending until I have to write it. That's my entertainment.
*            *            *
Shower power - January 6, 2019
I don't know about other authors, but I do some of my clearest literary thinking while in the shower. That's where many of my perplexing problems with stories or novels in progress are solved.
It happened again yesterday morning. In the shower, I had an "Aha!" moment when I realized a description I'd written in the beginning of my new short story, "FRIENDr," which I didn't understand at the time, made perfect sense. The reasoning must have been lurking in my subconscious, just waiting to be released.
After I figured it out, I wrote a scene in which the main character learns why she received a gift wrapped in Christmas holiday colors (green and red) in March.
It's fun to uncover the secrets in my brain!
*            *            *
Writing resolutions - January 1, 2019
Happy New Year! I begin each year with my writing resolutions so, without further ado, here are my goals for 2019:
1. I resolve to finish editing Soldier Girl, Book Two of The Touchers, so I can publish the doomsday novel in early spring. This two-part series has taken an extraordinarily long time to write and edit. I'm really looking forward to completing the second book.
2. I resolve to finish editing my second collection of short stories. The thirteen stories are written and somewhat edited. Because these are short stories—not novels (although two are nearly the length of novellas)—this task isn't as daunting as Resolution #1. But editing is still time-consuming. I'm hoping to publish this short story collection in 2019.
3. I resolve to continue writing short stories. I've written one new story and have several ideas for other tales. Now I just have to write them.
Have a wonderful 2019—and happy writing!
*            *            *