Blog
This blog is by Susan Berliner, author of the supernatural thrillers "DUST," "Peachwood Lake," "The Disappearance," "Corsonia," "After the Bubbles" and "Soldier Girl," and two short story collections: "The Sea Crystal and Other Weird Tales" and "George's Mother and Other Weird Stories." If you have any comments or suggestions, please contact me.


Thank you, Google! - May 6, 2021
On Tuesday, something strange happened with my Amazon ads. Instead of getting my daily 2,000 - 2,500 impressions (the times these ads are shown to viewers), my ads appeared 18,448 times. And nearly all the impressions were from 2 of the 50 ads, both for the "short story" category: George's Mother and Other Weird Stories (12,375) and The Sea Crystal and Other Weird Tales (4,891).
To figure out what happened, I needed someone to buy a book. But with so many impressions, I got 10 clicks (many more than usual)—all for my short stories—and 1 sale. After printing a report, I was able to identify the buyer's search term. It was Seventeen Syllables and Other Stories. Revised and Updated with four new stories by the late Japanese-American author, Hisaye Yamamoto. Although the book was published in May of 2001, this expensive paperback ($28.95)—no e-book listed—was a "top-seller" on Tuesday, #425 of all Amazon books sold.
Yamamoto's award-winning stories deal with first- and second-generation Japanese-American conflicts, prejudice, and internment during World War II. Her tales have little in common with my weird, fanciful ones.
Nevertheless, George's Mother and Other Weird Stories was the first ad and The Sea Crystal and Other Weird Tales was the fifth ad on the Seventeen Syllables and Other Stories page.
But what drove all that traffic to this book? A twenty-year anniversary, perhaps? No. I couldn't find any special mention of the short stories anywhere.
Today, however, I googled the author's name and here's what I found: To celebrate the beginning of Asian-Pacific American Heritage Month, Google made Hisaye Yamamoto its Google Doodle on Tuesday. I had seen the drawing of her face on Google's home page, but hadn't realized who she was.
My Amazon impressions are back to their normal low numbers, Yamamoto's short story collection's "top seller" status is quickly fading, and both my ads no longer appear anywhere on her Amazon page. But I solved the mystery—and Tuesday was great fun.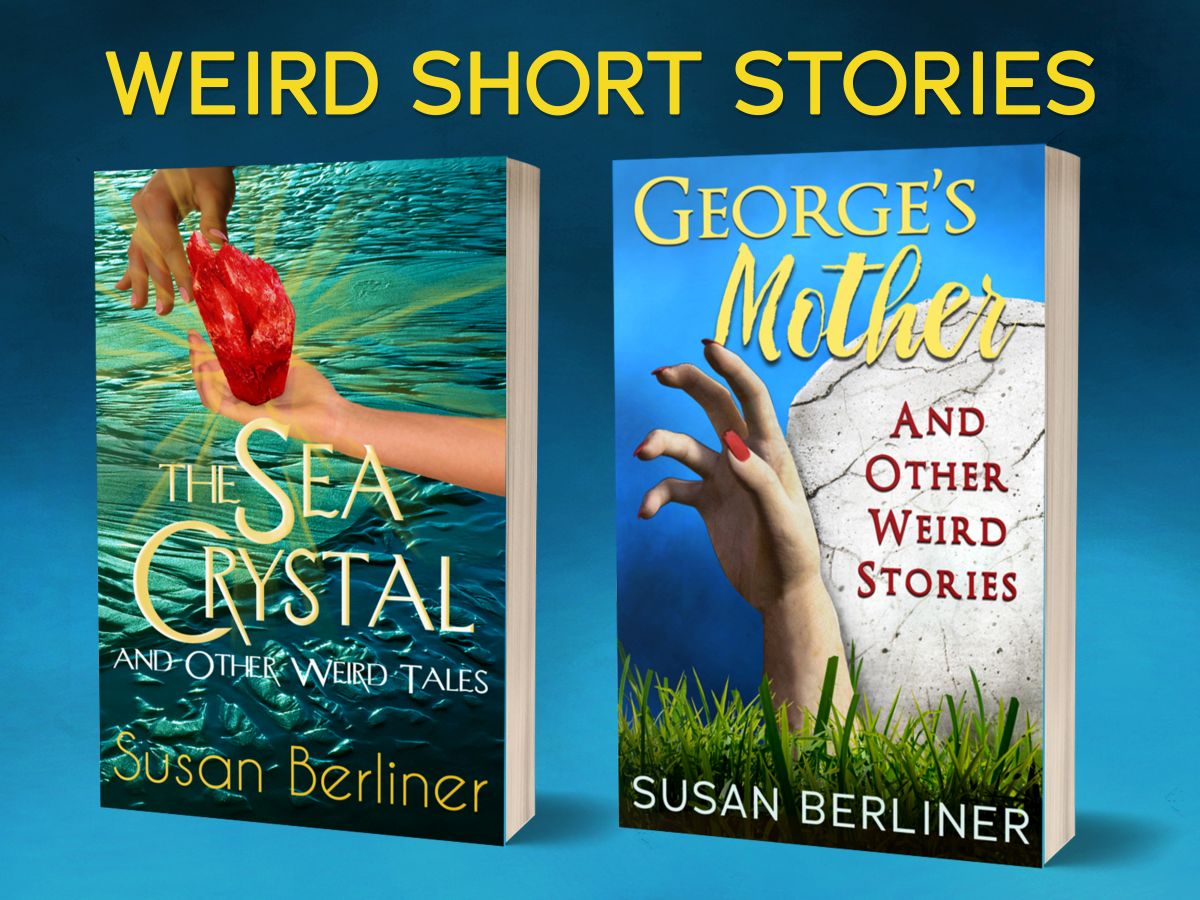 * * *
Pet project - May 1, 2021
I thought I was finished writing autobiographical stories for Doing the Write Thing so I could concentrate on editing the book. However, last night I realized I had yet another tale to tell—about my pets. Although I've had no dogs or cats in my life, my family has owned parakeets, fish, and lots of rodents—guinea pigs and hamsters.
So this morning I wrote "Pet Project"—or "Pet Parade" (I'm not sure which title I like better) about the animals I've lived with. Then I talked to my daughter, who reminded me of the time one of her hamsters unraveled the sleeve of a shirt she planned to wear to school and turned it into a fluffy bed.
I hope I'm finally done with creating new stories so I can return to editing this book.
* * *
Revising again - April 26, 2021
It's disheartening. As I reread the stories comprising true events from my life, which I'm titling Doing the Write Thing, I keep finding more and more stuff that needs to be revised. Sometimes it's just a word. But more often it's a phrase, sentence, or entire paragraph that needs improvement.
Right now these 28 stories are separate files, but I really want to put them all together. That would be encouraging because the result would at least look like a book. But it's not happening yet. I still have to read all the stories again and again and again...
* * *
Doing the Write Thing - April 21, 2021
After reading through my autobiographical tales again, I'm still making many revisions. The good news is I haven't found new stories I need to write so maybe the first draft phase of this book is finished.
These short essays are different than my fiction writing and, unlike my husband Larry's funny memoir (You Can't Be Serious: An inner-city teacher a-muses about school and life), I'm trying to write truthful tales. However, I can't remember everything that happened and some of my memories have proved to be wrong. Nevertheless, I'm hopeful readers will enjoy Doing the Write Thing and for me, these stories are a way of preserving incidents from my life.
* * *
Switching gears again -  April 16, 2021
I've put my dystopian novel, The Resolve, aside for now and I'm editing my true-life story collection, Doing the Write Thing.
I don't know if strangers will be interested in reading about events in my life, but I needed to write these stories because they kept popping up in my head. Also, transcribing these incidents was a way to make them permanent. Some of the stories are from events I recorded, like jury duty and my job as a reporter. Others are solely from memories so they're less precise.
It's a lot of material to edit and although I've read the stories numerous times, they're not ready for publication. But I'm persistent. I'll work on them until I feel they're done—however long it takes.
* * *
Reviewing the situation - April 11, 2021
I've almost finished rereading and editing the first 25,000 words of my post-Covid dystopian novel, The Resolve. I don't like to reread the first draft of a work in progress, but I'm having trouble figuring out where this book is going so I needed to review what I've done.
I'm still not sure what's happening with this novel. I like the concept and much of the story. However, the characters are moving too slowly. They have to travel cross-country and their trip is taking too long with not enough action. After I finish rereading, I hope I have some brilliant ideas.
If not, I'll put the novel aside for a time and continue to work on my true stories. There's always something to do.
* * *
False memories - April 6, 2021
This week, I wrote a little nonfiction story about my childhood acting "career." But when I finished, I realized I'd forgotten the names of many of the plays—and my roles—in them.
However, I knew I still had most of my play scripts. After looking through the papers on my desk and closet, I found lots of stuff, and even got rid of some. But I didn't find the plays. Finally I looked in the logical place: my file cabinet under "Plays," and there they were.
Although these papers are more than sixty years old and many pages are crumbling, I was able to find much of what I was looking for. I remembered one of my weirdest lines, as an elderly houseguest in a murder mystery, almost perfectly: "Poisoned the vichyssoise—how distressing!"
And I recalled my entrance word-for-word as the real Easter Bunny. I marched into the TV studio with a basket of eggs, saying, "Happy Easter, everybody!"
"Sorry," the receptionist says. "There's no call for rabbits today. The show has been cancelled."
"Cancelled?" I moan. "But that's impossible."
However, some things I didn't remember, like playing a fairy named Starlight. But I have that booklet with the part and lines circled.
And something I thought happened, never did. I purposely performed a lousy audition for a part I didn't want so I could be the princess in a play called The King's Creampuffs. I remembered not getting the part as a punishment and playing the lesser role of the queen. It was a lesson to me to always try my best.
But I did get the princess role. All these years I've fostered a false memory.
* * *
Weak tweak - April 1, 2021
As I edit the nonfiction stories about my life, which I hope to turn into a book, I'm finding that many of them have weak titles, weak beginnings, or weak endings. That's a lot of weakness!
As a result, I'm trying to tweak the stories to give them more pizzazz. I've fixed a few, but there's much more to be done. However, I do like my tentative title for the book: Doing the Write Thing.
* * * 
Remembering a dear friend - March 27, 2021
As I write this post, there have been 545,273 deaths attributed to Covid-19. Although I know people who've gotten the virus, no one I knew had died from it. Until now.
On Wednesday, my close friend, Linda, succumbed to this horrible disease. She'd had one dose of the Moderna vaccine, but it wasn't enough to save her. Sadly, Linda's pre-existing conditions made her especially vulnerable.
I met Linda when we were both about twenty. I was a bridesmaid at her wedding and she attended mine. (I didn't have bridesmaids, but her husband was an usher.) We gave birth to our children at nearly the same time. Then, a few years later, we drifted apart.
After I published my first novel, DUST, Linda emailed me, saying how much she enjoyed the thriller and suggesting we get together again. So, after a 30-year hiatus, we reconnected.
Linda became one of my biggest fans, reading each of my books and offering encouraging words. A former college English professor and an excellent writer herself, she had been working on a memoir about her family.
For the past decade, I saw her often. Even during the pandemic, Larry and I got together virtually with Linda and her husband every other Saturday to play the word game Catch Phrase.
Rest in peace, Linda. I will miss you.
* * *
Freelance phase - March 22, 2021
I keep thinking of new nonfiction stories to write. My latest tale is about the years between full-time jobs when I freelanced both as a sales rep and as a writer.
I sold educational filmstrips, workbooks, and nursing videos for an entrepreneurial couple who operated a business from their home in nearby Amawalk. They were wonderful people to work for.
I also sold display ads for a Mount Kisco magazine publisher who was horrible to work for: His publications never came out on time—and he never had enough money to pay his employees.
As a writer, I wrote reading passages for standardized tests, created school activity guides, and later wrote teacher's guides for Reader's Digest. (I did the puzzles and vocabulary and my husband, Larry, wrote suggested questions for teachers.)
In addition, I was a freelance reporter, covering Yorktown's town board, planning board, and zoning board meetings for the North County News, a weekly paper owned by the PennySaver, which later hired me full-time. While that job ended my career as a sales rep, I continued to create (and still create) freelance educational material in addition to writing my books.
Makes me tired remembering all those jobs!
* * *
The dating game - March 17, 2021
In the last post (March 12), I wrote about my new short story called "When Susan Met Harriet," which is about how my husband, Larry, and I met. That story led to my latest true tale about our early dates.
The second and third times Larry and I went out together were memorable too. On our second date with one of Larry's best friends, I knew the guy's girlfriend. On our third date, with his "mature" friends, a married couple...I'll just say we never went back to that Bronx bowling alley.
* * *
"When Susan Met Harriet" - March 12, 2021
In the nonfiction stories I've written (or transcribed) about my life, I realized there's a gap: Although my husband is mentioned in many of the events, I never explained how we met.
So today I wrote that story, titling it, "When Susan Met Larry."
"Why didn't you call it, 'When Larry Met Susan'?" my husband asked.
"This is my story," I explained. "You can reverse the title for your book."
When my son heard my title, he said, "You should call it, 'When Susan Met Harriet.'"
He's right and I am changing the title. Why? To find out, you'll have to read the story.
* * *
Character assassination - March 7, 2021
Today I wrote a scene in my dystopian post-Covid novel, The Resolve, in which I killed three characters. Two of them were villains, but one was a good person I was sorry to lose.
Why did I do it? Because I can. That's the power of a novelist, the ability to play God and be able to write anything I want to. Just as I can create characters, I can also destroy them and this morning I felt the need to eliminate those three people.
I'll reread today's scene tomorrow and if it didn't work, I can always bring one or more of the characters back from the dead. But I don't think I will. Rest in peace...
* * *
 Description decisions - March 2, 2021
I'm editing my reporter's journal, adding descriptions for people I worked with at the men's wear/textile trade publication, Daily News Record, (DNR), fifty years ago. But it's been difficult work.
Although I remember mostly everyone, I don't want to write insulting descriptions, especially for people who are no longer alive, which includes most of the senior editors. I also don't want to be repetitive. How many men can I describe as "tall and lanky" and how many women can I call "attractive blondes"?
Since I'm better at writing dialogue than I am at describing people, it's taking me a long time to get this right. But I'll keep working until I'm satisfied.
* * *
And the ideas keep coming - February 25, 2021
I keep thinking of more autobiographical stories and this week I've written two of them. The first tale, "Skating Adventure," happened when I was twelve or thirteen and went ice-skating with my cousin—without any of our parents. It was a fun day until I spent all my money and couldn't go home.
The second story, titled "My One-Year Teaching Career," describes my first job. It was a tough time in my life because I'd always wanted to be a teacher until that horrendous experience. However, after that year, I became a newspaper reporter, the beginning of my life-long writing career.
I don't know if I'm going to publish these true stories because they may not interest other people. But since they interest me, I'm going to keep writing them.
* * *
Acronym action - February 20, 2021
In transcribing my diary as a retail reporter for the men's wear and textile trade publication Daily News Record (DNR), I found many unexplained acronyms. Although I knew what the abbreviations stood for in 1971, it's now fifty years later and I've forgotten many of them.
And tracking down these acronyms wasn't easy because many of the organizations no longer exist. I remembered the most important ones like MRA (Menswear Retailers of America) and NRMA (National Retail Merchants Association) and I found a few others—Genesco's RAM division (Retail Apparel for Men) and MAC (Men's Apparel Club)—in my saved news clippings.
But some acronyms were almost impossible to decode. What was BAMA? All current references were linked to the University of Alabama, nicknamed "BAMA." However, through Internet sleuthing, I discovered a wedding announcement in the early 1970s in which the mother of the bride was described as a director of BAMA (Boys and Men's Apparel Association).
I uncovered yet another acronym's meaning through a donation by a member to the Smithsonian Institute: NAMSB = the National Association of Men's Sportswear Buyers.
It took time, but I, "Sherlock" Berliner, eventually figured out all the acronyms. Persistence pays.

                                                                                            * * *
The dreaded apostrophe – February 15, 2021
Each year at this time, I blog about the many misspelled headlines in holiday ads.
First a short history lesson: When I was a child, we celebrated the birthdays of two presidents: George Washington's (February 22) and Abraham Lincoln's (February 12), with a school vacation day for each birthday. However, in 1971, to create 3-day weekends, the government established a new holiday on the third Monday of February to honor Washington and, in most states, Lincoln.
This redesigned February holiday is called "Presidents' Day," with the apostrophe signifying that we're celebrating more than one president (not President's Day, which would honor just one leader). It's also not "Presidents Day," because it's a "Day for Presidents," which requires the possessive apostrophe.
This year, because of the Covid pandemic there are fewer ads, thus fewer misspellings.  Nevertheless, some advertisers continue to use "President's Day." In New York, Atlantic Chevrolet/Millennium Chevrolet in Long Island offers "President's Day Weekend Savings!" and Abstract Security Systems promotes a "President's Day Special" for security camera installations.
More companies, including major ones, still omit the apostrophe in their headlines. Shame on repeat offender Dell Computers ("Presidents Day Sale In Honor of Your Business A-Game"), LaZyBoy ("Presidents Day Sale: Buy Direct and Save up to 50% Off"), and MattressFirm ("Presidents Day Sale").
Since this isn't a normal year, perhaps Presidents' Day headlines will improve in 2022. I'll be watching next February.
* * *
Central casting types - February 10, 2021
As I proofread my reporter's journal from 1971 (all 14,000+ words), I've been thinking of the many people I worked with fifty years ago and some of them seem like characters from central casting. Here are three examples:
* the crotchety old pipe-smoking editor who constantly criticizes everyone's work for tiny, unimportant details (like crossing out words and not indicating capital letters).
* the young female reporter whose every comment involves sex. Fortunately, this woman didn't work for my newspaper, Daily News Record (DNR); she worked for another Fairchild publication, Men's Wear magazine.
* the company snitch, who reports all happenings to the boss—and despite not working hard or well, is never criticized or fired.
Don't most large companies have these three types of people? I've got to find a way to use them in my fiction writing.
* * *
Smart subconscious - February 5, 2021
I love when I write something that doesn't make much sense at the time, but makes perfect sense later. Here's an example from earlier this week:
I wrote a scene in The Resolve, my post-Covid dystopian thriller, in which a character who is hiding, finds an apple, eats it, and puts the core in her pocket because she doesn't want the bad guys to see the fresh core. The incident seemed unimportant until I wrote another scene a few days later in which that character throws the core at one of the villains, hitting him in the eye.
So that's why I wrote about that apple core, I realized. This kind of self-entertainment is what makes writing fiction so much fun.
* * *
Decisions, decisions - January 31, 2021
I'm almost finished transcribing my 50-year-old journal, covering eight months as a young reporter for the men's wear and textile publication, Daily News Record (DNR), except for a few things I omitted because I thought they weren't important. However, as I typed, I realized incidents involving a new hire, a company snitch, and a crotchety older editor had more relevance than I'd remembered.
Other than adding those details, I have to decide whether or not to include some last names. Thus far, I've used first names (or first names and the first letter of a surname) to identify nearly everyone except well-known executives like John Fairchild, James Brady, and artist Van Smith (see January 11, 2020 post), who became semi-famous for designing makeup and costumes for John Waters' films.
However, I'm torn about using the full names of other real-life characters, especially older people who are no longer alive. While it would help my narrative, I don't want to be disrespectful.
 * * *
Road not taken - January 26, 2021
The Resolve, my dystopian post-Covid thriller, is evolving into a road-trip story as my main characters travel from the East Coast to Utah.
Unlike many authors, I don't enjoy doing the necessary research for my books. Nevertheless, I have to figure out the secondary roads (not highways) my characters take on their lengthy journey. But I don't want to do it now. I'd rather write. As a result, I've got lots of lines that read like this: "Ange and Tyler took Route ? to Route ?"
When I complete the first draft, I'll have to consult a map—and watch videos of various roads—to replace my multitudes of question marks.
* * *
Missing the clues - January 21, 2021
As I transcribe my reporter's journal from 1971, I've reached Friday, April 23, an embarrassing time for me and the staff of my trade publication, Daily News Record (DNR). That's the day we discovered two of our coworkers, Kathie and Jerry, were getting married the following day.
We considered ourselves smart newspaper people who supposedly could sniff out stories in the men's wear and textile industries—and we were also major gossipers. Yet somehow we missed the many clues. When we finally started putting the pieces together, the bride was already on vacation and the groom was finishing his work and preparing to leave.
The first clue was from a woman who called to speak to the bride. When she was told Kathie was on vacation, the woman asked, "Isn't she getting married tomorrow?"
Our secretary then remembered getting a recent call for Kathie that an apartment was available and a reporter answered a call that the groom's International Driver's License photos were ready (even though Jerry claimed to have "nothing" planned for his vacation).
When we checked Kathie's calendar, we found this early April notation: "Dresses should be in" and three stars (* * *) covering the page for Saturday, April 24th.
Only one person in our office knew about the upcoming marriage: the associate editor. Since both reporters worked in the Apparel Department, he had to approve their four-week vacations being taken at the same time.
It's been nearly fifty years since Kathie and Jerry's "secret" wedding. I hope they're both still alive, still together, and planning a joyous April celebration.
* * *
Meeting the Mets - January 16, 2021
As I transcribe my 50-year-old reporter's journal, I'm up to April 6, 1971. That's the day I spent at Shea Stadium, covering what people were wearing at the Mets' season opener for the men's wear trade publication, Daily News Record (DNR).
I was thrilled with the assignment because I was (and still am) a huge Mets' fan and lived in Flushing, Queens, just minutes from the ballpark.
That morning, I took a cab from my Greenwich Village office to the ballpark with two coworkers: Ki, a young woman reporter for our "sister" paper, Women's Wear Daily (WWD) and Sal, the photographer who was taking pictures for both publications.
First we attended Mets' owner Joan Payson's private party so Sal could take photos of Beautiful People for Ki's WWD story. Then the three of us walked around the stadium so Sal could snap photos of the male Opening Day attendees for my feature article.
Unfortunately, the weather was cold and rainy so no one was well-dressed. Then as I attempted to accompany Sal to the field to take pictures of the players, I was stopped and told that, even though I had an official press pass—signed by Mets management—I was not allowed on the baseball field. Why? Because I'm a woman.  
Ironically, I was allowed in the dugout so I did get to meet the Mets—including coach Yogi Berra—and the photo of Yogi in DNR includes part of my face behind him.
During the hour-long delay before the game started, I sat in the Mets' dugout helplessly watching Sal run around the field snapping photos of whomever he wanted—without any direction from me.
At that point, Ki had gone back to the office to write her story, but I stayed because my article wasn't running until the day after and I had specific people I wanted Sal to photograph, like Ron Swoboda, one of the heroes of the 1969 Mets championship team who now played for the Montreal Expos so I wanted a photo of him returning to Shea in his new uniform. But in that pre-cellphone era, I had no way to relay that information to Sal.
However, mostly because of Mrs. Payson's party, Sal did take pictures of lots of well-known attendees. My two-page story, titled "A sure sign of spring?" includes photos of announcer Howard Cosell; Mets manager Gil Hodges; Mets players Tom Seaver, Art Shamsky, and Gary Gentry; New York City Mayor John Lindsay, and the U.N. Ambassador who threw out the first pitch—and later became the 41st president: George H.W. Bush.
When the opening ceremonies finally began, I remained at ground level, forced to stand off the field by the gate. Then during the abbreviated game, because I wasn't allowed in the press area, I sat in the stands with newspaper photographers.
When the game ended after 4 1/2 innings with the Mets (and pitcher Tom Seaver) beating the Expos by a score of 4-2, the friendly photographers invited me to join them at a buffet in the Press Room. But when I tried to enter, I was told women weren't allowed. By this point, I was furious with the gender discrimination—something I'd never encountered.
After writing my story the following day (I did get to go home early), I phoned the American Civil Liberties Union to ask about taking action against the Mets for their policy against women. But the ACLU said the matter was too minor for them to pursue.
Although I eventually got an over-the-phone apology from the Mets, I never got anything in writing. These days, when I see women reporters traipsing everywhere on ball fields and even interviewing players in locker rooms, I remember my frustrating long-ago experience at Shea.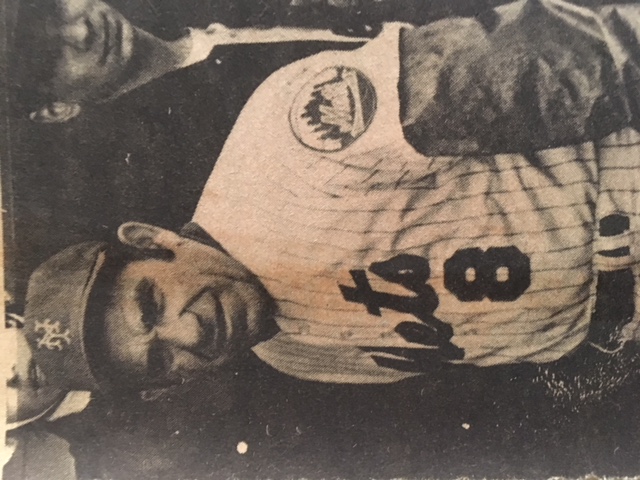 * * *
Remembering (and not remembering) - January 11, 2020
As I transcribe incidents from my 50-year-old newspaper reporter's journal (see January 6 post), I remember most of the people I worked with at Daily News Record (DNR). But I don't remember everyone.
One of the people I don't remember is a kooky artist named Van Smith. According to my journal, Van was so weird that I'm surprised I've forgotten him. After rereading the things I wrote, I was curious to find out what happened to him so I googled his name—and discovered he became somewhat famous.
After leaving Fairchild Publications in 1971, Van worked as a costume designer and makeup artist for all of John Waters' films from 1972-2004 (including one of my favorites, Hairspray). During that time, he created the face of drag queen actor, Divine, whose makeup has been described as a cross between Jayne Mansfield and Clarabell the clown.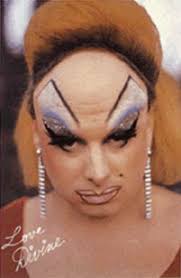 Sadly, Van passed away in 2006.
* * *

Newspaper notes - January 6, 2020
I keep thinking of nonfiction stories to write and I've just rediscovered a major source. Fifty years ago, as a young retail reporter for the men's wear and textile publication, Daily News Record, (DNR), I kept a diary.
I thought I wrote this journal for only one-month, but when I reread the jottings, I discovered I had noted my daily work experiences for eight months. And, in my opinion, much of what I wrote is entertaining so I'm transcribing the best parts into a long story.
I remember some incidents and most of the people involved, but of course I've forgotten many things that happened. However, since I have a written record, I'm able to transcribe exactly what occurred. That's the great benefit of keeping a journal.
* * *
Writing resolutions - January 1, 2021
Every year at this time I blog about my writing resolutions so here are my literary ambitions for 2021:

1. I resolve to finish writing The Resolve, my post-coronavirus dystopian thriller. I've written about 20,000 words (some of them good). But I've got no clue about how The Resolve will be resolved.

2. I resolve to keep writing nonfiction short stories. I recently found two 50-year-old diaries with lots of good stuff so suddenly I've got enough material for a book, which I may or may not publish. But I need to write the stories in order to evaluate them.
3. I resolve to write more strange tales and publish another collection. I've written six supernatural short stories since publishing George's Mother and Other Weird Stories. I need to write six to eight more.
4. I resolve to learn how to use Mailchimp so I can create a mailing list. Unfortunately, although I watched the company's training videos, the tech stuff is too difficult for me. I'm hoping to work with a tech maven when the pandemic ends, hopefully later this year.
Happy New Year—and happy writing!
* * *