Blog
This blog is by Susan Berliner, author of the supernatural thrillers "DUST," "Peachwood Lake," "The Disappearance," "Corsonia," "After the Bubbles" and "Soldier Girl," and two short story collections: "The Sea Crystal and Other Weird Tales" and "George's Mother and Other Weird Stories." If you have any comments or suggestions, please contact me.


Missing the clues - January 21, 2021
As I transcribe my reporter's journal from 1971, I've reached Friday, April 23, an embarrassing time for me and the staff of my trade publication, Daily News Record (DNR). That's the day we discovered two of our coworkers, Kathie and Jerry, were getting married the following day.
We considered ourselves smart newspaper people who supposedly could sniff out stories in the men's wear and textile industries—and we were also major gossipers. Yet somehow we missed the many clues. When we finally started putting the pieces together, the bride was already on vacation and the groom was finishing his work and preparing to leave.
The first clue was from a woman who called to speak to the bride. When she was told Kathie was on vacation, the woman asked, "Isn't she getting married tomorrow?"
Our secretary then remembered getting a recent call for Kathie that an apartment was available and a reporter answered a call that the groom's International Driver's License photos were ready (even though Jerry claimed to have "nothing" planned for his vacation).
When we checked Kathie's calendar, we found this early April notation: "Dresses should be in" and three stars (* * *) covering the page for Saturday, April 24th.
Only one person in our office knew about the upcoming marriage: the associate editor. Since both reporters worked in the Apparel Department, he had to approve their four-week vacations being taken at the same time.
It's been nearly fifty years since Kathie and Jerry's "secret" wedding. I hope they're both still alive, still together, and planning a joyous April celebration.
* * *
Meeting the Mets - January 16, 2021
As I transcribe my 50-year-old reporter's journal, I'm up to April 6, 1971. That's the day I spent at Shea Stadium, covering what people were wearing at the Mets' season opener for the men's wear trade publication, Daily News Record (DNR).
I was thrilled with the assignment because I was (and still am) a huge Mets' fan and lived in Flushing, Queens, just minutes from the ballpark.
That morning, I took a cab from my Greenwich Village office to the ballpark with two coworkers: Ki, a young woman reporter for our "sister" paper, Women's Wear Daily (WWD) and Sal, the photographer who was taking pictures for both publications.
First we attended Mets' owner Joan Payson's private party so Sal could take photos of Beautiful People for Ki's WWD story. Then the three of us walked around the stadium so Sal could snap photos of the male Opening Day attendees for my feature article.
Unfortunately, the weather was cold and rainy so no one was well-dressed. Then as I attempted to accompany Sal to the field to take pictures of the players, I was stopped and told that, even though I had an official press pass—signed by Mets management—I was not allowed on the baseball field. Why? Because I'm a woman.  
Ironically, I was allowed in the dugout so I did get to meet the Mets—including coach Yogi Berra—and the photo of Yogi in DNR includes part of my face behind him.
During the hour-long delay before the game started, I sat in the Mets' dugout helplessly watching Sal run around the field snapping photos of whomever he wanted—without any direction from me.
At that point, Ki had gone back to the office to write her story, but I stayed because my article wasn't running until the day after and I had specific people I wanted Sal to photograph, like Ron Swoboda, one of the heroes of the 1969 Mets championship team who now played for the Montreal Expos so I wanted a photo of him returning to Shea in his new uniform. But in that pre-cellphone era, I had no way to relay that information to Sal.
However, mostly because of Mrs. Payson's party, Sal did take pictures of lots of well-known attendees. My two-page story, titled "A sure sign of spring?" includes photos of announcer Howard Cosell; Mets manager Gil Hodges; Mets players Tom Seaver, Art Shamsky, and Gary Gentry; New York City Mayor John Lindsay, and the U.N. Ambassador who threw out the first pitch—and later became the 41st president: George H.W. Bush.
When the opening ceremonies finally began, I remained at ground level, forced to stand off the field by the gate. Then during the abbreviated game, because I wasn't allowed in the press area, I sat in the stands with newspaper photographers.
When the game ended after 4 1/2 innings with the Mets (and pitcher Tom Seaver) beating the Expos by a score of 4-2, the friendly photographers invited me to join them at a buffet in the Press Room. But when I tried to enter, I was told women weren't allowed. By this point, I was furious with the gender discrimination—something I'd never encountered.
After writing my story the following day (I did get to go home early), I phoned the American Civil Liberties Union to ask about taking action against the Mets for their policy against women. But the ACLU said the matter was too minor for them to pursue.
Although I eventually got an over-the-phone apology from the Mets, I never got anything in writing. These days, when I see women reporters traipsing everywhere on ball fields and even interviewing players in locker rooms, I remember my frustrating long-ago experience at Shea.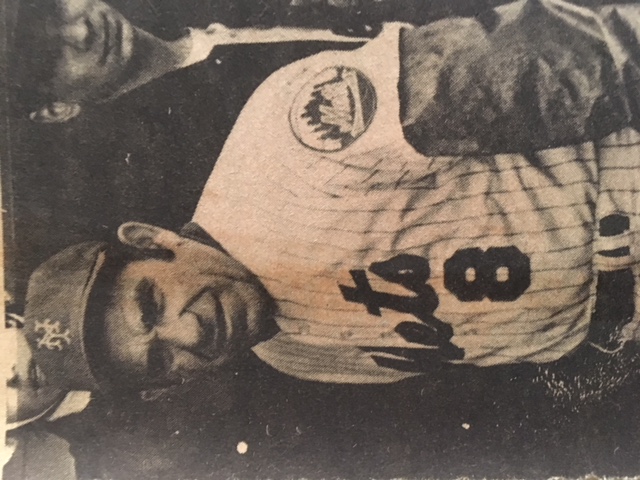 * * *
Remembering (and not remembering) - January 11, 2020
As I transcribe incidents from my 50-year-old newspaper reporter's journal (see January 6 post), I remember most of the people I worked with at Daily News Record (DNR). But I don't remember everyone.
One of the people I don't remember is a kooky artist named Van Smith. According to my journal, Van was so weird that I'm surprised I've forgotten him. After rereading the things I wrote, I was curious to find out what happened to him so I googled his name—and discovered he became somewhat famous.
After leaving Fairchild Publications in 1971, Van worked as a costume designer and makeup artist for all of John Waters' films from 1972-2004 (including one of my favorites, Hairspray). During that time, he created the face of drag queen actor, Divine, whose makeup has been described as a cross between Jayne Mansfield and Clarabell the clown.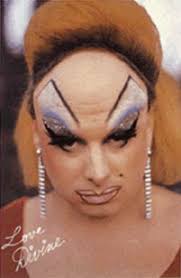 Sadly, Van passed away in 2006.
* * *

Newspaper notes - January 6, 2020
I keep thinking of nonfiction stories to write and I've just rediscovered a major source. Fifty years ago, as a young retail reporter for the men's wear and textile publication, Daily News Record, (DNR), I kept a diary.
I thought I wrote this journal for only one-month, but when I reread the jottings, I discovered I had noted my daily work experiences for eight months. And, in my opinion, much of what I wrote is entertaining so I'm transcribing the best parts into a long story.
I remember some incidents and most of the people involved, but of course I've forgotten many things that happened. However, since I have a written record, I'm able to transcribe exactly what occurred. That's the great benefit of keeping a journal.
* * *
Writing resolutions - January 1, 2021
Every year at this time I blog about my writing resolutions so here are my literary ambitions for 2021:

1. I resolve to finish writing The Resolve, my post-coronavirus dystopian thriller. I've written about 20,000 words (some of them good). But I've got no clue about how The Resolve will be resolved.

2. I resolve to keep writing nonfiction short stories. I recently found two 50-year-old diaries with lots of good stuff so suddenly I've got enough material for a book, which I may or may not publish. But I need to write the stories in order to evaluate them.
3. I resolve to write more strange tales and publish another collection. I've written six supernatural short stories since publishing George's Mother and Other Weird Stories. I need to write six to eight more.
4. I resolve to learn how to use Mailchimp so I can create a mailing list. Unfortunately, although I watched the company's training videos, the tech stuff is too difficult for me. I'm hoping to work with a tech maven when the pandemic ends, hopefully later this year.
Happy New Year—and happy writing!
* * *