Blog
Susan Berliner is the author of six supernatural thrillers ("DUST," "Peachwood Lake," "The Disappearance," "Corsonia," "After the Bubbles," "Soldier Girl"); three short story collections ("The Sea Crystal and Other Weird Tales," "George's Mother and Other Weird Stories," "Crash Effect and Other Weird Stories"); and a memoir ("Doing the Write Thing"). If you have any comments or suggestions, please contact me.


Event extent - March 23, 2023
It's officially spring and for the first time since the beginning of the pandemic, I'll be participating in several outdoor events. Unfortunately, some of the places where I've signed books in the past no longer have events. But there are still a number of available venues.
So far, I'll be signing my books this spring at three Hudson Valley locations: Carmel, Mount Kisco, and Wappingers Falls. I love participating in these fairs—providing the weather cooperates. And for the first time, I'll have access to a tent (as long as a good Samaritan helps set it up).
You can see my spring events here.
* * *
Getting past 300 - March 17, 2023
Mastering TikTok is such a puzzlement. Although I love publicizing my books on this social platform, I'm finding it impossible to reach 300 views, no matter what tactic I use.
During the past week, I tried two different types of videos: a book review and copying a BookTok trend. I reviewed The Midnight Library, a quirky supernatural best seller by Matt Haig. Then I tried the Grab a Book Challenge, asking readers to turn to a page 112 in a random novel to see if the first line a character says describes them.
While I did get more likes than usual on both of those videos, as of this writing, neither has reached 300 views. In fact, all my recent views are between 200 and 300 views. But BookTok is free advertising and maybe I some of the views will result in book sales.
* * *
Publicity matters - March 11, 2023
One of the toughest tasks for any indie author is spreading the word about his or her books (unless the author is willing to spend lots of money—and time) on advertising.
That's why free publicity is so wonderful. This week, I was delighted when my local weekly newspaper, the Northern Westchester Examiner, published an article about my new book, Crash Effect and Other Weird Stories.
You can read either the printed or the online version of the article. Hopefully, it made you want to read my books. :-)
* * *
Character Rescue Hotline - March 5, 2023
In last week's TikTok webinar for authors, an expert suggested "jumping on a BookTok trend" as a way to get more views.
So yesterday I tried that tactic—adapting an idea from one of the expert's videos. I pretended to be a phone operator, taking calls for a "Character Rescue Hotline." Although I thought my 40-second video was quite clever, the result was the same: 200+ views and not many likes.
However, it was lots of fun "acting" again, something I haven't done since childhood. And you know the best thing about the video? I was able to refer to my script, which made recording the video stress-free. In fact, I enjoyed the experience so much that I've come up with a second "Character Rescue Hotline" routine.
You can watch (and like) my videos on TikTok or on Facebook. 
* * *
TikTok tactics - February 27, 2023

This afternoon, I attended a "TikTok For Authors" webinar and the lecture reinforced much of what I know about this social media platform. Like many others, the two experts agreed that BookTok is much like a lottery: Every time someone posts a video, he or she has a chance of it going viral--so the tactic is to keep posting regularly. They also pointed out that even if a post doesn't get a million views, a few hundred views can still sell books.
The secret is to keep plugging away, be consistent, and go with trends, i.e. adapt the successful videos of other authors.
I'm still trying to be a TikTok star. Why? It's fun--and I enjoy the challenge. You can see (and like) my videos on TikTok or on Facebook.
* * *
Tracking TikTok - February 21, 2023
If you follow this blog, you know I've been trying to become a BookTok star for about a year. Although it hasn't yet happened, I enjoy creating short videos about my books and post them nearly every day.
It's fun thinking of new ideas for videos and hoping one of them will go viral. From what I've seen from fellow writers, that can happen at any time—so why not try?
Lately, no matter what I do, every video gets between 150 - 300 views. Even when I accidentally post videos without titles or hashtags, which I've done several times, those do as well as my fully-formed videos.
However, I have noticed one good thing: Last month, my paperback sales jumped considerably (for me)—and since I don't advertise paperbacks, those purchases are from TikTok videos.
You can see (and like) my videos on TikTok or on Facebook.
* * *
The dreaded apostrophe – February 15, 2023
It's time to blog about the many misspelled headlines in holiday ads. But first a short history lesson: When I was a child, we celebrated the birthdays of two presidents: George Washington's (February 22) and Abraham Lincoln's (February 12), with a school vacation day for each birthday. However, in 1971, to create 3-day weekends, the government established a new holiday on the third Monday of February to honor Washington and, in most states, Lincoln.
This redesigned February holiday is called "Presidents' Day," with the apostrophe signifying that we're celebrating more than one president (not President's Day, which would honor just one leader). It's also not "Presidents Day," because it's a "Day for Presidents," which requires the possessive apostrophe.
Last year, I didn't do an apostrophe post (because I was just starting TikTok) so the last time I checked Presidents' Day ads was in 2021—in the middle of Covid—and noted many fewer print ads. This year, there are barely any newspaper ads at all—and I read two New York City dailies.
One of the few print ads, however, comes from a repeat offender: Dell Computers touts a "Presidents Day Sale" with "Business-Boosting Deals."
Local car dealers are usually the businesses with the most misplaced apostrophes. With no car print ads to examine, I did find an online example: "President's Day Sales Event at Prestige Toyota."
I also found several online offenders, all major companies that continue to omit the apostrophe in their headlines: LaZyBoy boasts a "Presidents Day Sale" with "Bonus Deals," MattressFirm advertises a "Prezzzidents Day Sale," and Carfax touts "Best Presidents Day Car Sales in 2023."
Check your newspapers, magazines, computers, TVs, and phones and I'm sure you'll find many more apostrophe offenders.
* * *
Publicity matters - February 9, 2023
For an author--especially an indie author--free publicity about your books is a wonderful thing. Last week, Yorktown News, my local weekly, published an article about my new collection of short stories, Crash Effect and Other Weird Stories.
That gave me the opportunity to publicize my fame on several social platforms, most notably Facebook and TikTok. Although I'm not in the New York Times, a local shout-out is certainly helpful.
You can read the newspaper version (with a magnifying glass) on my Photos and Events page or you can see the online version here.
* * *
Moving backwards - February 3, 2023
I started writing my dystopian thriller, The Resolve, during the height of the pandemic. Since I spent so much time thinking about Covid, that virus seemed like a good idea for a doomsday novel.
However, after reviewing the 30,000 words I had written through last year—and trying to continue the story—I realized the Covid element wasn't working. The overall plot still works, just not the Covid part.
As a result, I have to redo a lot of the manuscript and throw away a bunch of stuff I've written, much of which I like. (I usually love many of the words I have to dump.)
So before I move forward again, I have to go backwards. The scenes with my villains are fine, but the Part 2 sections that involve my protagonists have to be completely rewritten. I've redone Chapters 1 and 2, but I still have to redo Chapters 3 and 4.
I'm really looking forward to Chapter 5 where I can finally write new material.
* * *
Review request - January 28, 2023
 "VERY CREATIVE AND ENTERTAINING. EACH STORY IS UNIQUE IN ITS PLOT WITH THEIR OWN
TWISTS AND TURNS. I ESPECIALLY LOVED 'CRASH EFFECT' AND 'THE INTERVIEW.'"
The above quote is from a 5-star Amazon review I received this week for my new book, CRASH EFFECT and Other Weird Stories.
I love getting a 5-star (or even a 4-star) review, but, unfortunately, it happens infrequently. The great majority of people who enjoy a book don't bother to write reviews, which takes time and effort. However, reviews are so important for authors—especially indie authors—because it shows potential customers that a non-bestseller can be a worthwhile read.
So here's my request: Everyone who reads a good book, please take a few minutes to write a brief review and post it on Amazon. You'll be doing me—and every other author—a huge favor.
* * *
Dean Koontz and me - January 22, 2023
My supernatural thrillers have been called "Dean Koontz-lite," which I take as a compliment because Koontz, a wonderful writer, is my favorite author.
Although I don't claim to be nearly as good a writer as Koontz, I often find similarities in my work and his. For example, I'm currently reading his novel, Elsewhere, which is about parallel universes and "the key to everything" and two tales in my collection of short stories, George's Mother and Other Weird Stories—"Wrong Road" and "The Key"—are about a parallel universe and a strange key.
In addition, Elsewhere's main characters—a father and his nearly 12-year-old daughter whose mother has deserted them—are similar to my 13-year-old heroine in Peachwood Lake, who lives only with her father because her mother has abandoned the family.
I love the Koontz connections!
* * *
It's all here - January 16, 2023
In December, I published Crash Effect and Other Weird Stories as both an ebook and a paperback. Then last week, I got everything else: my paperback copies, bookmarks, and poster. Here's what the bookmarks and poster--which features my three short story collections--look like:

a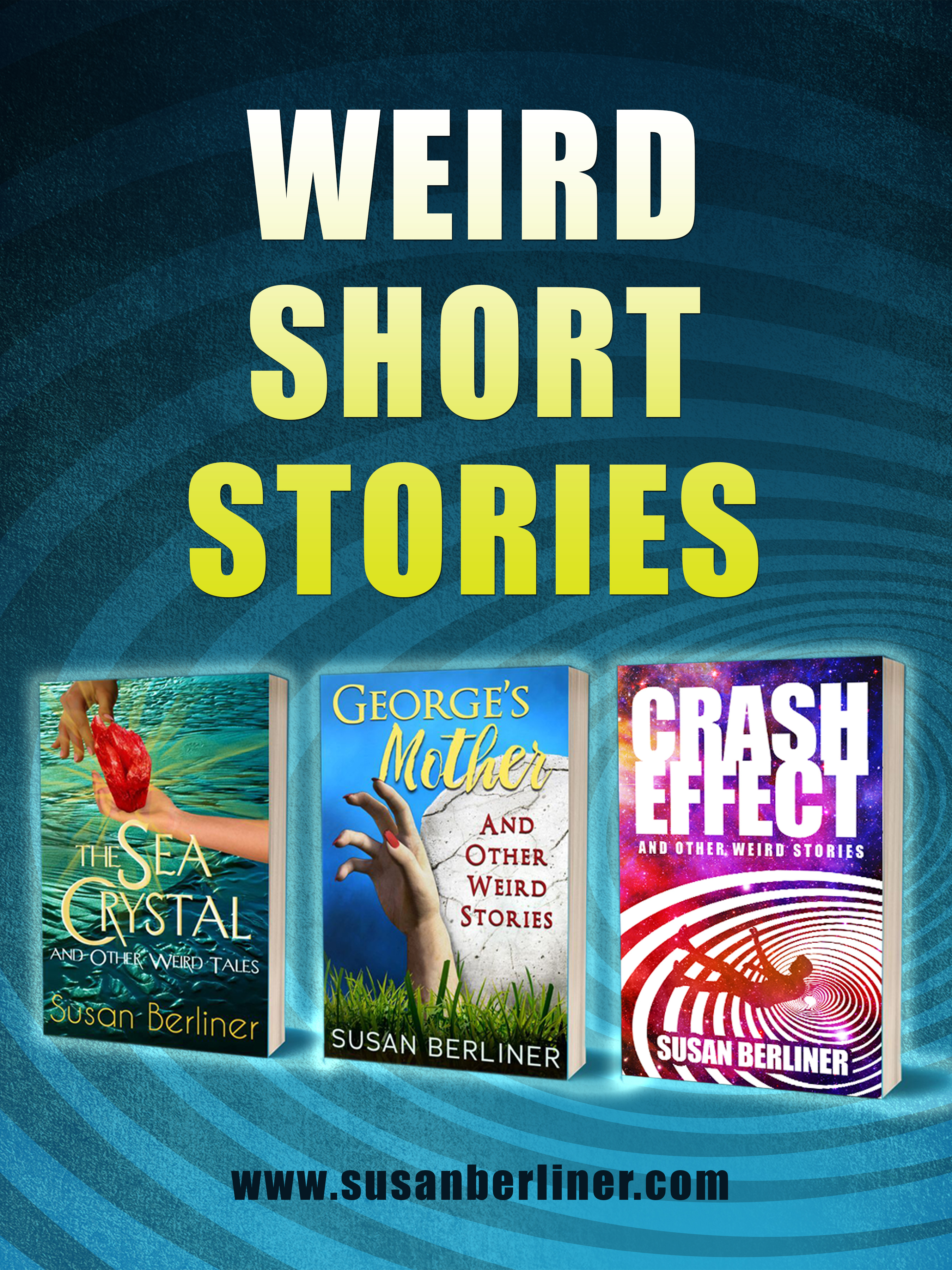 Now I need a book-signing event so I can display the poster, give out the bookmarks—and of course, sell the paperbacks.
* * * 
The reread begins - January 10, 2023
True to my first New Year's resolution (see January 4 post), I've begun rereading my post-Covid dystopian thriller, The Resolve. So far, I've read 80 pages and partially fixed a major plot issue.
Although I am editing as I read, I'm mostly trying to remember what I wrote, since I haven't looked at this manuscript in nearly a year. It's full of holes, missing geographic names and route numbers as well as other details. However, I need to know what's happened before I continue writing Part Two.
But at least it's a start. Another 90 pages to go before I can continue the adventure.
* * *
Writing resolutions - January 4, 2023
Happy New Year! Another year of writing means another set of resolutions:
1. I resolve to finish writing my post-Covid dystopian thriller, The Resolve (an appropriate title!). I began working on this book during the pandemic and have written 30,000 words (some of them good). I'm into Part Two, but stopped last February to finish Crash Effect and Other Weird Stories. However, before continuing, I have to resolve a major plot issue in The Resolve.
2. I resolve to finish my children's book, which I wrote more than ten-years ago after being inspired by a dream. It's a story about a flying car and, from what I read recently, scientists are now building flying cars. That means if I don't write this book soon, the topic might be true-life—not science fiction.
That's it, just two resolutions for 2023, but they're big ones so I hope I can achieve both. (I'd also like to be a BookTok star on TikTok, but I don't see that happening.)
* * *