This blog is by Susan Berliner, author of the supernatural thrillers "DUST," "Peachwood Lake," "The Disappearance," "Corsonia," the short story collection, "The Sea Crystal and Other Weird Tales," and the new dystopian series, The Touchers: "After the Bubbles" and "Soldier Girl." If you have any comments or suggestions, please contact me.

Fact vs. fiction - January 16, 2020
Lately, I've been writing short stories about my past—true childhood, college, work, and family incidents—that I think are interesting. A few, like "Growing Up 'W,'" are stories I've been meaning to write for a long time. But most are episodes I want to record for posterity—not a memoir, more like snapshots in words.
This week, however, I got an idea for a fictional story about a comic strip character who comes to life. As I started writing this tale, I realized it's much more fun writing fiction than writing a factual story. Why? In my true stories, I know exactly what's happened. In my fictional tales, I don't know what will happen until I start writing. That's when the characters take over and tell their story.
For me, writing non-fiction is work; writing fiction is entertainment.
* * *
Page count - January 11, 2020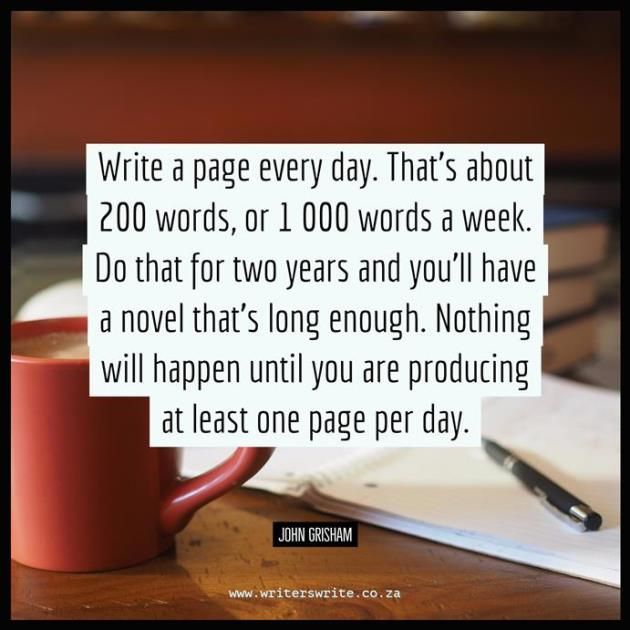 I like it when an author I read and admire advocates my writing approach. Here, John Grisham advises writers to produce one page a day—about 200 words—1,000 words a week. And that's what I do.
Grisham is correct: By writing this way, you will create a book. Using his method, I've produced six novels, one collection of short stories, and my second volume of short stories will be published in the spring.
Although there are no rules for writing fiction, this slow-and-steady approach works for me—and I'm sure it works for other authors too.
* * *
Review recap - January 6, 2020
"Just read Soldier Girl by Susan Berliner, the sequel to After the Bubbles and found it to be even better than the first. The tension permeates throughout the book. You never know when that shoe or toucher will drop...Ending was highly satisfying but sorry the story is over."
When the above 5-star review popped up last week on Amazon's Soldier Girl page, I was overjoyed. Many people tell me (or email me) that they've read and loved my books, but very few take the next step and post a review. It's not as if I don't ask readers to write reviews. I do—and people say they will, but that's where the matter ends.
It's hard to explain how important reviews are, especially for an independent author like me. It validates my books and lets readers looking for new novels know that the stories I write are worthwhile reads.
So if you've read and enjoyed any of my books—or a work by another author, even a well-known one—please take a moment to write a review on Amazon. It doesn't have to be long. A sentence or two is fine. Here's the link to my Amazon page.
Thank you!    
* * *                                           
Writing resolutions - January 1, 2020

It's 2020—a new year in a new decade—and time to list my writing-related resolutions. Here they come:
1. I resolve to finish and publish my second collection of short stories (George's Mother and Other Weird Stories) in early spring. Right now, I'm editing the thirteen tales and fine-tuning the blurb and introduction. I've also hired a new artist who has created a super cover that just needs some minor tweaking.

2. I resolve to keep writing stories. I'm writing real-life stories as well as fictional tales because I keep remembering incidents from my life that I feel the need to transcribe. Maybe my mortality is catching up to me, but I don't want these events­—that only I can write about­—to be forgotten.

3. I resolve to work on my children's picture book. When I first started writing supernatural thrillers, I had a dream about a flying car. I wrote a draft of the story and haven't done anything else with it. Perhaps this is the year to finish that book.
Happy New Year everyone!
* * *