This blog is by Susan Berliner, author of the supernatural thrillers "DUST," "Peachwood Lake," "The Disappearance," "Corsonia," the short story collection, "The Sea Crystal and Other Weird Tales," and the new dystopian series, The Touchers: "After the Bubbles" and "Soldier Girl." If you have any comments or suggestions, please contact me.


The book is done (sort of) - February 20, 2020
I "finished" editing George's Mother and Other Weird Stories and gave the manuscript to the formatter so, technically, the book is done.
But it's not really done. I still have to proofread the book completely through each round of formatting (usually at least five versions) to make sure everything is okay. And in the beginning, it never is.
I already got the first paperback version back and printed it out (I like to proof the hard copy) and just skimming—not reading—the pages, found a load of errors. But everything will be fixed, although it will take time. And it will take reading...and more reading. Then, sometime in March, George's Mother and Other Weird Stories will actually be finished.
* * *
That dreaded apostrophe – February 15, 2020
Each year at this time, I write an apostrophe-related post because of the many misspelled headlines in holiday sales ads.
Let's start with a short history lesson: When I was a child, we celebrated the birthdays of two presidents: George Washington's on February 22 and Abraham Lincoln's on February 12 , with a day off from school for each birthday. However, in 1971, to create 3-day weekends, a new holiday was created on the third Monday of February to honor Washington and in most states, Lincoln.
This redesigned February holiday is called "Presidents' Day," the apostrophe signifying that we celebrate more than one president (not President's Day, which would honor just one leader). It's also not "Presidents Day" because it's a "Day for the Presidents," which requires the possessive apostrophe.
Every year, I check newspapers, the Internet, and TV to see which companies have misspelled Presidents' Day in their ads. The good news: The number of "President's Day" misspellings continues to decline. This year, just a few newspaper advertisers—Carpet Depot ("President's Day Sales Start Now"), Rical Chevrolet ("President's Day Sales Event") and Star Toyota ("President's Day Specials") are guilty of this punctuation boo-boo.
But many companies, including major ones, still omit the apostrophe. Shame on repeat offenders Dell Computers ("Presidents Day Sale 2020") and Hyundai with its prime-time TV commercial ("Presidents Day Sales Event").
Some advertisers cleverly avoid the apostrophe issue altogether by changing headline wording. In metro NY, car dealerships often take this approach. This year, I've seen newspaper ads for "Presidential Savings" and "Presidential Door Buster."
Will Presidents' Day headlines improve next year? Check back here in February, 2021.
* * *
Editing results - February 10, 2020
After performing major surgery on two tales in George's Mother and Other Weird Stories (see Feb. 5 & Jan. 21 posts), I reread the manuscript again with fear: Would I find other serious issues?
Having just finished the reread, I'm pleased to report that I didn't have to perform any more operations. I just fixed a few typos, replaced or eliminated words, and fiddled with punctuation—minor stuff.
I'm hoping the next reread is the last before I send the book to the formatter. Fingers crossed!
* * *
Making the cuts - February 5, 2020
"I like the beginning and end of the story, but the middle drags."
That's the feedback I got from a valued reader about "Wrong Road," a short story in my new collection, George's Mother and Other Weird Stories. What to do? After rereading the story, I realized the reader was right: "Wrong Road" rambled at two points.
In the first instance, the protagonist, Wendy, is introduced to a character while he's at work. But that scene is unnecessary because she meets this man later that evening and accompanies him the following day—a better time for their conversation.
In the second instance, Wendy and the same man get together for lunch, which doesn't make sense in the story—something I'd been thinking about changing earlier. I got rid of that scene completely.
Because plot editing is difficult and time-consuming, I spent about four hours Tuesday rewriting the second half of "Wrong Road." But I eliminated more than 500 words and improved the story. My reader liked the changes and I do too.
Writing is so much easier than editing!
* * *
Typo trick - January 31, 2020
I've got a fun new contest based on "Hat Trick," one of the tales in my forthcoming book, George's Mother and Other Weird Stories, which will be published in early spring.
"Hat Trick" is a sequel to "The Repunzel Effect," a story in The Sea Crystal and Other Weird Tales. I hinted Deb would get into trouble with a sorcerer's hat—and of course, she does.
In this contest, we're pretending there's a one-letter typo in the word "Hat," creating a totally different magic trick-based story. It's easy to enter—and winners receive a $25 gift card or a signed copy of one of my books.
For complete details, please check my Contest page—and good luck!
* * *
Write ways - January 26, 2020
I write one page at a time—literally—
and don't go on to the next one until it is finished.
This habit comes from writing music.
– Anthony Burgess
From what I've read, Dean Koontz, one of my favorite authors, writes the same way as Anthony Burgess did, working on a page until it is completely done.
I don't write music—and I don't write books like Anthony Burgess and Dean Koontz. Although I generally produce just a short scene a day (one or two pages), I don't spend hours reworking the scene and the next day I write a new scene. When I finish my first draft, all those pages have to be edited over and over many times until they are done.
That's the beauty of writing fiction: There is no right or wrong way. All authors have their own methods of creating books, whether it's producing finished pages or producing unfinished pages that have to be edited. Whatever works is the "write" way.
* * *
Editing solution - January 21, 2020
I like to let a manuscript sit for a while because when I read it after a hiatus, I always find things to improve that I hadn't noticed before. That's what happened today when I picked up George's Mother and Other Weird Stories.
As I reread the first tale, "The Imposters," I realized I had hinted a minor character would be involved later—but the man never reappears. I'd used him to drive the young teen protagonist to a woman's house and learn about the girl's problem. I'd even given the man a short backstory.
After trying to figure out how to insert him into the tale at a later point, I realized I just needed the character as a quick link. Much as I liked the man, he didn't need a name, backstory, or participation in the plot.
So I eliminated about five hundred words, most of which were unnecessary, and had the girl deal directly with the woman—in a short, but clever, way. Then I inserted the bits of text I still needed into other parts of the story. Quite an improvement!

                                                                                       * * *
Fact vs. fiction - January 16, 2020
Lately, I've been writing short stories about my past—true childhood, college, work, and family incidents—that I think are interesting. A few, like "Growing Up 'W,'" are stories I've been meaning to write for a long time. But most are episodes I want to record for posterity—not a memoir, more like snapshots in words.
This week, however, I got an idea for a fictional story about a comic strip character who comes to life. As I started writing this tale, I realized it's much more fun writing fiction than writing a factual story. Why? In my true stories, I know exactly what's happened. In my fictional tales, I don't know what will happen until I start writing. That's when the characters take over and tell their story.
For me, writing non-fiction is work; writing fiction is entertainment.
* * *
Page count - January 11, 2020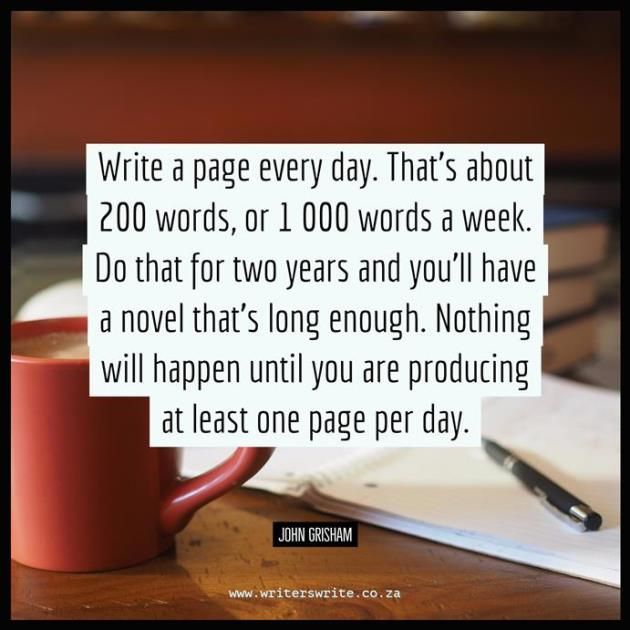 I like it when an author I read and admire advocates my writing approach. Here, John Grisham advises writers to produce one page a day—about 200 words—1,000 words a week. And that's what I do.
Grisham is correct: By writing this way, you will create a book. Using his method, I've produced six novels, one collection of short stories, and my second volume of short stories will be published in the spring.
Although there are no rules for writing fiction, this slow-and-steady approach works for me—and I'm sure it works for other authors too.
* * *
Review recap - January 6, 2020
"Just read Soldier Girl by Susan Berliner, the sequel to After the Bubbles and found it to be even better than the first. The tension permeates throughout the book. You never know when that shoe or toucher will drop...Ending was highly satisfying but sorry the story is over."
When the above 5-star review popped up last week on Amazon's Soldier Girl page, I was overjoyed. Many people tell me (or email me) that they've read and loved my books, but very few take the next step and post a review. It's not as if I don't ask readers to write reviews. I do—and people say they will, but that's where the matter ends.
It's hard to explain how important reviews are, especially for an independent author like me. It validates my books and lets readers looking for new novels know that the stories I write are worthwhile reads.
So if you've read and enjoyed any of my books—or a work by another author, even a well-known one—please take a moment to write a review on Amazon. It doesn't have to be long. A sentence or two is fine. Here's the link to my Amazon page.
Thank you!    
* * *                                           
Writing resolutions - January 1, 2020

It's 2020—a new year in a new decade—and time to list my writing-related resolutions. Here they come:
1. I resolve to finish and publish my second collection of short stories (George's Mother and Other Weird Stories) in early spring. Right now, I'm editing the thirteen tales and fine-tuning the blurb and introduction. I've also hired a new artist who has created a super cover that just needs some minor tweaking.

2. I resolve to keep writing stories. I'm writing real-life stories as well as fictional tales because I keep remembering incidents from my life that I feel the need to transcribe. Maybe my mortality is catching up to me, but I don't want these events­—that only I can write about­—to be forgotten.

3. I resolve to work on my children's picture book. When I first started writing supernatural thrillers, I had a dream about a flying car. I wrote a draft of the story and haven't done anything else with it. Perhaps this is the year to finish that book.
Happy New Year everyone!
* * *