Reviews - Dust
"Susan Berliner gives us an amazing mysterious supernatural story in 'Dust.' It intrigues and holds the readers' attention, while pulling them in and not letting them put it down. The characters are bold and full of life helping you feel everything they are going through. Susan is a bright and talented author and I will definitely read anything from her that comes across my desk." (4.75 of 5 stars)
Zollyanna, Night Owl Reviews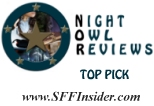 http://nightowlromance.com/V5/Reviews/Zollyanna-reviews-Dust-by-Susan-Berliner
* * *
"'Dust' by Susan Berliner...was an incredibly quick read that kept the reader wondering about the dust. Is it intelligent? Where does the dust come from? There's a vehemence in this dust that fills the story and makes the pages easy to turn...'Dust' is an excellent first attempt for this new author. I very much enjoyed this actioned scifi/mystery/thriller. There are elements of the paranormal in that the dust is out of this world, dangerous, and murderous. I was also intrigued by the relationship between Karen and Jerry...I'll be watching for the next book from this author..Look out Stephen King, this lady may be on your tail!"
Dottie Taylor, Tink's Place
http://myblog2point0.blogspot.com/2009/11/dust-by-susan-berliner.html
* * *
"'Dust' by Susan Berliner is an entertaining story of a sinister dust whirl wreaking havoc (and a few deaths) in a small community This colorful dust storm (shades of green, blue and red particles) likes to hurt unsuspecting individuals, and nobody believes Karen McKay when she points out this fact. It is up to her to try and stop the dust from harming more of her neighbors. This novel is a fast paced and pleasurable read."
(4 stars)
Grumpy Dan, Dan's Journal 
* * *
"Fast paced, with simple dialogue and great rapport between Karen and Jerry, 'Dust' is a fast read and entirely delightful. They might be divorced but they do seem to understand each other. I really liked the way they try to kill the live Dust by eliminating it through the elements. With an unpredictable ending, it manages to hold our interest. I read it at one go."
Gautami Tripathy, Everything Distils Into Reading
http://readbookswritepoetry.blogspot.com/2009/11/dust-by-susan-berliner.html
* * *
"'Dust' by Susan Berliner is a great short read. The book isn't very thick so it would be an excellent vacation read! I loved reading the book and have already passed it on to another friend whom I knew would enjoy it as well...Great Christmas gift for the avid reader in your home!"
Brandi Best, Fivemonkiesreview
* * *
"Susan Berliner has written a story that will be enjoyed by those fans of cozy mysteries. Although there are deaths, the violence isn't graphic or stomach-turning. The heroine, Karen, is a fresh character; a research librarian with a need for knowledge and the impetus to defeat evil where others might turn away. This book is recommended for mystery and thriller readers."
Sandra Kirkland, Booksie's Blog 
http://booksiesblog.blogspot.com/2009/11/dust-by-susan-berliner-r.html#links
* * *
"Thrillers are my favorite genre and having one that also involves supernatural happenings is a good thing. :) The approximately 200 pages reads quickly - almost a 'read in one sitting' book for me. Her writing style is easy going and the characters seem real as they find themselves in a perplexing and thrilling adventure. Could something like this actually happen?:)"
Valerie Mitchell, Sweeps4Bloggers
* * *
"This is an entertaining book that is not your typical supernatural book. Susan is a talented story-teller who has a very unique style that is unlike anything I've ever read before."
Bridget Hopper, Readaholic
* * *
"It was an easy read and I was able to finish it a few settings.  That doesn't mean that it's a fluff book.  On the contrary, Susan Berliner gets you thinking about things that happen around us.  Makes you wonder if there are evil dust clouds out there sabotaging us. I recommend this book if you are looking for a change of pace in your reading arsenal!"
Jenera Healy, Just Me
* * *
"I loved the way the author wrote this book, adding enough suspense to keep you on the edge of your seat, but not too much to turn away people who can't stand a lot of graphic violence. The characters are extremely well written and complement a story that is new and refreshing. I highly recommend this book to anyone who is looking for a good mystery but with a very new twist. Very well done!"
Tracee Gleichner, Review From Here
                                       * * *
"It's a short, quick read. More sci-fi than paranormal, which was what I was thinking it would be from the description. Really it reads a bit like an episode of 'Star Trek'...[Karen and Jerry's] relationship made me laugh, because it's SO my husband and I...Overall, fun read!"
(4 stars)
Britt Chapman, Confessions of a Book Habitue
http://bookhabitue.blogspot.com/2009/11/dust-by-susan-berliner.html
* * *
"Susan Berliner's first novel is filled with drama, laughter, and engaging characters. I immediately connected with Karen and Jerry, a unique couple faced with a mind-boggling swirl of colorful dust. Berliner is a master at evoking an immediate grasp of the many sub-characters that fall victim to this deadly force. Even in the short descriptions of these characters, I could sense their true personalities. I felt a strong attachment to their lives and ultimately their deaths. As a high school English teacher, I plan to use this captivating novel with my students this year. I give DUST an A+!"
B. Mott, Watertown High School English teacher, Watertown, NY
* * *
"Bravo! A wonderful first novel! I, a real Stephen King fan, enjoyed it very much. My 13-year-old daughter liked it too. I am looking forward to your next work."
M. Cole, Yorktown Heights, NY
* * *
"I thought the plot was very unique and quick moving. Of course, I am partial to books with librarians as main characters!"
C. Nuding, Librarian, East Fishkill Library, Hopewell Junction, NY
* * *
"Finished the book last night and loved it! It kept my interest all the time and I couldn't go to sleep until I read it to the end. Can't wait until your next one comes out!"
M. Smith, Yorktown Heights, NY
* * *
"Just wanted to let you know how much we enjoyed 'Dust.' Its fast-moving and entertaining plot - with all its twists and turns - kept us guessing all the way through. Thanks for a very enjoyable reading experience."
B. Thayer and family, Lafayette, CO 
* * *
"I wasn't sure 'Dust' was my 'cup of tea' when I purchased it as I'm more of a history/politics kind of reader. However, when I read the first chapter, I found myself quickly hooked. What I enjoyed is that it's a quick easy read. I especially like short chapters that allow you to take a break without being in the middle of a plot line. The story was unique as well with likeable characters. Early on, I decided I knew the ending...When that part of the story came about near the end, I thought, 'aha, I knew it!' Of course, you threw a curve ball and went in a direction I didn't see coming. Well done!"
P. Cardi, Bedford Hills, NY
* * *
"Exciting and gripping! Couldn't put it down. Had to keep reading to find out what happens. Would recommend to anyone who loves a good sci-fi/mystery."
M. & E. Weinstock, San Clemente, CA
* * *
" 'Dust' was a fun read - moved along quickly, kept my interest - all those great things you want in a book!"
K. Marder, Poughkeepsie, NY
* * *
"It's a good book. I can see teens who are into horror and suspense reading it."
M. Connelly, Teen/Reference Librarian, John. C. Hart Memorial Library, Shrub Oak, NY
* * *
"I really enjoyed 'Dust.' It kept my interest and I never suspected the ending. I gave my 93-year-old mother the book to read and she thought it was great. She said she couldn't put it down."
C. Lustig, League City, TX
* * *
"Wow! Loved the originality. It's fast reading, but I chose to read slowly towards the end - I didn't want it to end too fast. Enjoyed the book very much. When is your next book coming out?"
S. Zellman, Flushing, NY
* * *
"I read the book and it's really great! Thumbs up on the book!"
I. Kaswer, Poughkeepsie, NY
* * *
"I read 'Dust' last week while on a business trip to Utah and I really enjoyed it! I especially liked the relationship between Karen and Jerry and the fact that the dog was so helpful. While we are cat owners, I have a soft spot for dogs."
S. Tucker, Austin, TX
* * *
"Gotta say I'm not much of a reader. Matter of fact I haven't read a book in over a year. The other day I luckily came across a bookmark about 'Dust.' The concept seemed interesting to me so I decided to try it. Wow...The book turned out to be great! What I liked most was that I couldn't figure out the ending. Pure suspense. A lot of similarities to Stephen King. Can't wait till the movie version!"
I. Leonard, Deer Park, NY
* * *
"Loved it! It was easy to read, not full of technical jargon or foul language, multi-ethnic characters and enough character development to create an emotional response to the action, but not so much that it gets long-winded and an ever-present sense of humor. I think this book could entertain a wider age-group spectrum than most novels."
A.S. Adams, Dublin, CA
* * *
"I enjoyed the book very much. It was very hard to put down until I finished it."
J. Douglas, Hartsdale, NY
* * *
"As an ardent reader of science fiction and suspense novels, I was enthralled by the inventive and compelling storytelling ability of this new writer. 'Dust' is a don't-miss read for anyone looking for a well-written thriller."
B. Bender, Chestnut Ridge, NY
* * *
"I thought it was a GREAT read! I especially enjoyed the relationship between Karen and Jerry. I think I'll never look at harmless things - such as dust - in quite the same way!"
J. Brody, Jericho, NY
* * *
"I adored the book...You may think this is totally off the wall but I imagined Drew Barrymore and Gerard Butler as our heroine and hero!...It is a novel for the thinking reader...and really captured my attention and I loved the brief chapters because it allowed me to refocus my 'what is it?' scenarios while still keeping pace."
S. McDonald, Louisville, KY
* * *
"Loved the book! Kept me turning the pages and I couldn't put it down! Not many books have that effect on me!"
V. Mullen, Age 11, Putnam Valley, NY
* * *
"I loved your book...it really grabbed my interest from the first chapter and I finished it in a few days as I picked it up any chance I had time to read. I have to admit, crazy as it sounds, I now walk around the house cautiously looking for a swirl of dust."
K. Behan, Hopewell Junction, NY
* * *
"Read it in 2 days! Couldn't put it down! Can't wait until your next novel!"
M. Merkison, Brunswick, GA
                                          * * *
"I just finished 'Dust' and I enjoyed it so much I was sorry when it ended...Anyway - had to let you know I loved it and please let me know what else you've published or what's coming as I am definitely a fan!"
P. Davis, Coppell, TX
* * *
"I loved the book. I will never look at my dustbunnies in the same way again! It was a great read and very original."
D. Hills, Deepwater, MO
                                          * * *
"I just finished reading 'Dust' by Susan Berliner. It's a suspense/horror story; very good...It's definitely worth staying up till 2:00 a.m. to finish reading!"
J. Blankenship, Point Pleasant, WV
* * *
"I just finished 'Dust.' It was amazing! I spent the whole book rooting for Karen, Jerry and Benny and hoping they would find out how to stop the dust. The last chapter totally surprised me. Didn't see that coming. Can't wait to see what you put out next."
P. Lane, Bryant, AR
* * *
"I thought the surprise ending was EXTREMELY clever! Never saw it coming!"
M. Malecki, Pasadena, MD
* * *
"Fast paced, no confusing characters, no long drawn out unrelated to the story information. Well written. Think you've guessed the ending? Guess again. Loved this book."
S. MacKay, Rochester, NH