Reviews - Peachwood Lake
"This was an entertaining story that was a quick read for me. Kady is a young protagonist who is quick-witted, likable and sharp. She's a bit older than her years, but that is quite plausible given her past experiences...It was easy for me to get caught up in the story. This is a book about a small community struggling against an adversary that threatens the entire town, but it is also about a lonely young girl and some people who enter her life at a pivotal juncture who will ultimately help her to become more self-assured and confident. It is a marvelous coming of age horror story."
(4.5/5 stars - a top pick)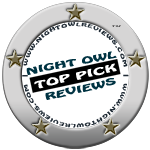 Laurie-J, Night Owl Reviews
*   *   *
"Peachwood Lake is another winner for new author Susan Berliner...Where else are you going to find a fish horror story that brings a young girl's life into focus? If you'd like a quick little read, a mixture of good YA, horror, and I have to say, fun combined (because Monique's wit and humor, her ability to see beyond the horror story, brings this story to life)...this is the story for you. I have no trouble recommending this book for the pre-teen/YA horror lover. Five out of five fairy kisses for this reader."
Dottie Taylor, Tink's Place
*   *   *
"An easy read with a good plot and well-defined characters, I warmly recommend Peachwood Lake for young adult readers of the horror genre." (4 stars)
Angie Edwards, Books4Tomorrow
*   *   *
"Susan Berliner's second novel is simply fun to read. The characters are engaging and the plot is suspenseful. Rather than the typical supernatural thriller, Ms. Berliner's 'monster' has a plausible, quasi-scientific explanation. It is a good coming-of-age story about the pivotal 13th summer of a young girl's life...Highly recommended and suitable for young adult readers."
P. Derevlany, Wynantskill, NY
*   *   *
"The writing is fast paced and extraordinarily readable. I finished it in one evening and one morning. The language is clear, and any technical information is explained in easy to understand terms. Susan's characterizations, like those in 'Dust,' are superb. I felt as though I could actually 'see' the individual characters, albeit with minimal descriptions. The dialogue is crisp and believable, and I loved the ending!"
L. Commodore, North Bellmore, NY
*   *   *
"Peachwood Lakeis neither your typical supernatural monster tale nor your standard coming-of-age story. Thirteen-year-old Kady Gonzalez watches in horror as her neighbor is attacked and killed by a strange, armor-plated fish in the middle of the normally peaceful Peachwood Lake. At first, no one believes her. But when the next person is attacked, and the next, people begin to take notice. While the town battles the strange killer fish, Kady is busy battling her own demons. Does she win the fight? Does the town? You'll have to read this fast-paced, easy-to-read, grab-you-by-your-shirt middle grade and YA story to find out the answers. A definite must read!"
L. Harrington, Yorba Linda, CA
*   *   *
"I like the author's writing style; she jumps into the story right away from the beginning of the book, and holds your interest throughout it. It also has a nice sub-plot about a teenage girl who gains confidence in herself...I read this book in two days, and I would definitely recommend it for anyone from teens on up."
R. Munroe, North Haven, CT
*   *   *
"LOVE LOVE LOVE IT! I read this in two days and found myself not wanting to put it down...This book sucked me in, I felt like I was 'there' and could visualize everything that was happening. It was like a movie...BRAVO! I would LOVE to see this on the big screen, would make a GREAT movie!"
H. Marts, Brandon, MS
*   *   *
"Susan Berliner's clear, crisp prose puts a sharp accent on this slightly supernatural mystery, keeping her readers in suspense in every chapter. Kady, the young heroine, is a realistic teenager, both brave and insecure at the same time. I particularly enjoyed her determination to solve the mystery of what lurked in Peachwood Lake and how it balanced with personal life. This mystery cleverly combines real life issues with fantasy, blending both into an entertaining story that will keep you turning the pages."
J.E. Dvorak, Jamesburg, NJ