Blog
This blog is by Susan Berliner, author of the supernatural thrillers "DUST," "Peachwood Lake," "The Disappearance," "Corsonia," the short story collection, "The Sea Crystal and Other Weird Tales," and the new dystopian series, The Touchers: "After the Bubbles" and "Soldier Girl." This page contains blog entries from January 7, 2016 - December 28, 2016.

That ugly first draft - December 28, 2016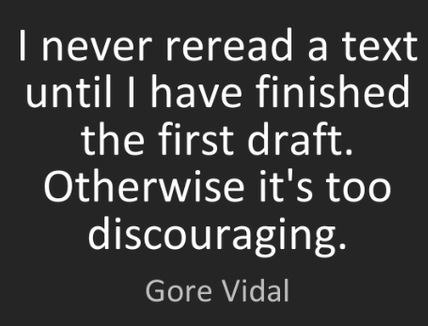 I don't like reading my first draft along the way either because it's almost always pretty bad. Each morning before writing, I always review and edit the scene I created the previous day, but sometimes I have to reread the whole ugly thing.
Since I only write for an hour each day, producing about 300 words at every sitting, after a while I tend to forget some important details. That's when I have to reread everything. Yes, it's a depressing task, but after many rounds of editing, the manuscript (hopefully) morphs into an acceptable novel.
*            *            *

Holiday gift surprise – December 24, 2016
Leading up to the holidays, I've been reminding everyone that books—especially autographed books—make great gifts. Although I signed some books for gifts at November and December events, I was disappointed that more people didn't choose books as presents.
Imagine my surprise when on December 23rd I got an email request from someone I didn't know for one of my books as a last-minute gift for her boss. When I called Patti, she told me she was a vendor who had participated at events with me and had purchased and read The Disappearance. Now she wanted a signed copy of Corsonia, for her boss, Linda, an avid reader.
Patti was willing to meet me in Yorktown or even to come to my home to pick up the autographed book. As it turned out, I was having dinner at a local restaurant with my husband Friday night (it was our anniversary) so I suggested she meet me there. And that's what Patti did. You can see the photo in Happenings.
Merry Christmas & Happy Hannukah!
*            *            *
Write or wrong? – December 20, 2016
I updated my Facebook status today with the following post: "I'm still not finished writing my short story, 'The Key,' but I may finally know the ending."
My post drew the following response from a friend: "I inwardly chuckle every time you mention writing toward your ending. I attended a writing course at our local community college, and [the instructor] claimed that no author could possibly be any good if they hadn't outlined their completed stories first, beginning to end. She was very adamant about this, no matter what arguments were put before her."
Some very good writers outline their stories; some very good writers don't. Outlining or not outlining has no bearing on whether or not a story is good. It's just one method of writing, although, according to Stephen King, outlining is a no-no: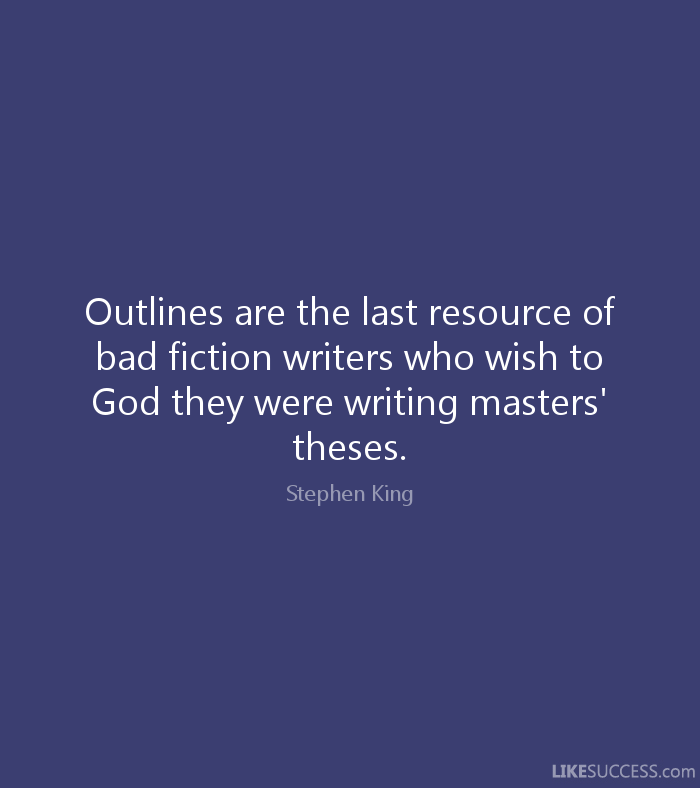 I don't outline because when I sit at the computer, the characters take over and I transcribe their action. As I've said many times, it's an entertaining way to write because I discover what's happening just like a reader would.
Unfortunately, my friend's creative writing teacher has a narrow view of how writers should write. She feels the need for "rules." Maybe she should see this quote, one of my favorites: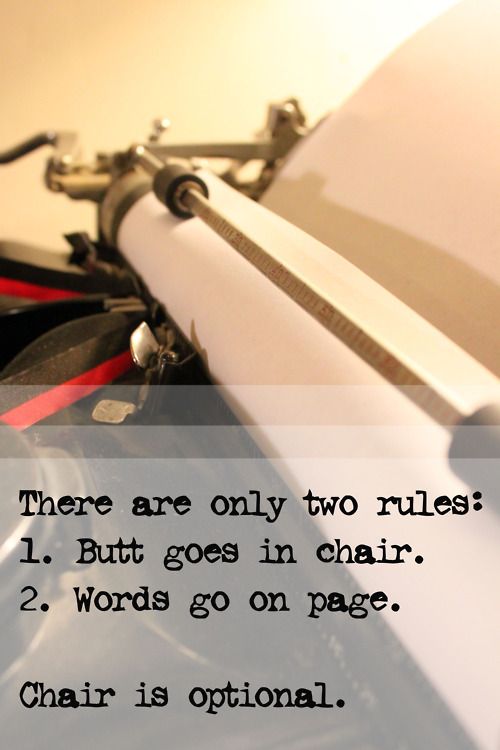 A tale of two stories (continued) – December 16, 2016
On November 18th, I blogged about writing two stories at the same time: "The Key," my own short story, and a short story I'm being paid to write for 5th and 6th graders.
As I explained then, the assigned short story requires specific criteria. My write-as-you-go method didn't work and neither did my paranormal ideas so I came up with a realistic story, figured out the entire plot, and outlined it. I haven't gotten feedback yet, but I do know the editors like it.
The other story is a paranormal tale about a man who gets a mysterious key. I've been writing this story for quite a while—it's over 3,000 words—and every time I think it's going to end, it doesn't. In fact, I still don't know how this story is going to end.
It's funny how different it's been writing these two stories. Writing the for-pay story was quick and simple; writing my own story is slow and winding as it keeps changing direction. But writing "The Key" is more entertaining because I don't know what's going to happen.
*            *            *

Signing summary – December 12, 2016
I've finished my holiday book signings and I really enjoyed this year's events, most of which were new for me. But it's hard to come up with any definitive conclusions. Events I thought would be wonderful weren't while others that I thought would be less successful turned out to be surprisingly good.
I figured the last few fairs would be the best because they were closest to the holidays, but that wasn't the case. Some of the earlier events were better. Of course, weather at this time of year is always a factor and my last event, an evening shopping boutique, was on a cold night, which curtailed attendance.
Here's my conclusion: It's impossible to predict which events will be good and which events won't be. Schools, churches, malls—the results varied. Some large events were good; some small events were good. Also an event that's good one year could be a dud the next year, and vice versa. But regardless of the results, participating in these holiday fairs—and signing books—is lots of fun.
*            *            *

Strange coincidence – December 8, 2016
I've been watching  "Timeless," a new time travel-themed TV series because I love anything related to that subject. In this show, three characters—a soldier, a historian, and a scientist—use a time-travel module to chase a villain who's trying to alter time. It's an entertaining show, although we rarely see where the time machine lands, a detail I'd like to know.
In the most recent episode, the trio travel to 1934 to intercept notorious bank robbers Bonnie and Clyde before the villain can grab a small gold key Bonnie wears around her neck.
Here's the coincidence: I'm in the middle of writing a short story called "The Key," which is also about a mysterious small key. The little silver key in my story even looks like the little gold key featured in this episode.
But that's where the similarities end. The TV show key, which Clyde stole from Henry Ford, has a Latin inscription "the beginning of all time and the end of all time." My key has nothing written on it. At the conclusion of the episode, the villain snatches the key and uses it to activate a contraption on the carmaker's mantle, revealing a mysterious scroll of paper. The villain unfurls the paper and reads the message, which we never see.
I haven't finished my story yet so I don't know how it will end—but I'm sure my little key won't open a gizmo on Henry Ford's mantle.
*            *            *

Research regrets – December 4, 2016
Many novelists love doing research for their books. Not me. I dislike spending time looking up information I need to know, probably because the task reminds me of schoolwork.
Even though I loved school, I never enjoyed researching term papers. And this type of research is similar. Part of my negativity is also because many of the topics I have to familiarize myself with are technical or scientific—complex things that are difficult for me to understand and/or I'm not interested in. For example, I've had to learn about mine toilet cars, electricity, flying an airplane, how fire hydrants work, and prehistoric fish. You get the picture.
Now I'm writing a short story called "The Key" and I've set the tale in a real place and taken the action to a real street. This means I have to find out what's on this street before I tweak the truth and make up strange stuff going on there. I'm not even sure why I decided to use a real place, but I did, and that means research. At least I won't be learning about mine potties.
*            *            *

Rewriting matters – November 30, 2016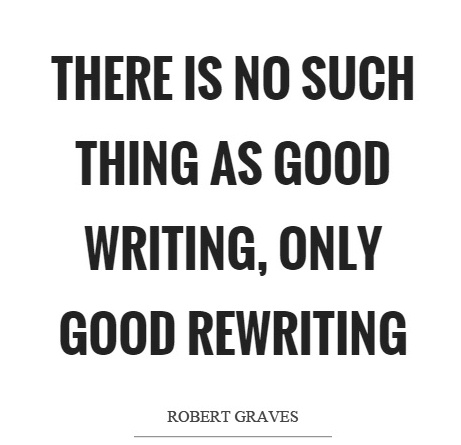 Good writing is overrated. Of course, it's necessary to have a viable idea and transfer the story from the brain to paper and/or computer. But most first drafts are pretty bad—I know mine are.
Then comes the hard part: editing the work. The "good rewriting" as Robert Graves calls it, takes much longer than the creative writing and requires both perseverance and talent.
I'm still editing my doomsday novel, The Touchers (Part Two) and on every page I find things to improve—a word, a sentence, and even a concept. As a result, the rewriting part is taking me forever. Still I keep plugging away, aiming to transform my shaky manuscript into a "good" book.
*            *            *

Book mall-aise – November 26, 2016
This time the location was perfect. At yesterday's Black Friday book signing event at my local mall, I had a large table near the main entrance, facing the escalator, and along the corridor leading to the new Dick's Sporting Goods store. Everyone could see the table and there was lots of traffic.
So why didn't I sign many books—not even half the number I had signed here last year? Again I had a Black Friday "sale," offering all my paperbacks at ten dollars each. I even wrapped a couple of autographed books together as gifts, something I'd seen a fellow author do, and taped a "Signed Books Make Great Gifts" poster to the table. I also had copies of Linda Griffin's award-winning book, Adopting Ginger, a great gift for children.
As you can see, everything looked great—so what went wrong?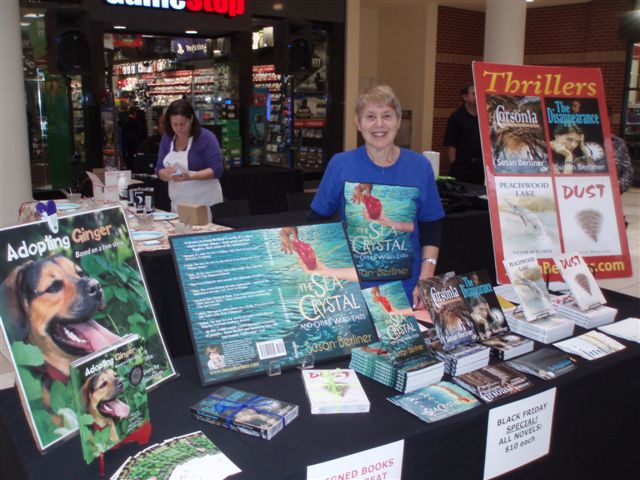 I think people don't read as much as they used to—and they don't look for books as gifts when they're mall shopping—especially in a mall without a bookstore. This mall used to have two bookstores, one near the main entrance and another upstairs. Now there's not even a newsstand. (Newspaper circulations and sales are down too.)
People didn't make eye contact with me. At least half were on their phones, talking or texting. The other shoppers stared straight ahead, as if wearing blinders. When I approached several and told them I was an author, signing my books, many were pleasantly surprised and looked at the table. And then a few even wanted signed books.
                                                                *            *            *
Writing advice – November 22, 2016
At an event last weekend, 15-year-old Joe chose a signed copy of DUST. Later that afternoon, the teen, an avid reader and short story writer, returned to my table to ask a question I've heard many times before: "Do you have any writing advice for me?"
The first thing I did was recite this writing quote, my all-time favorite: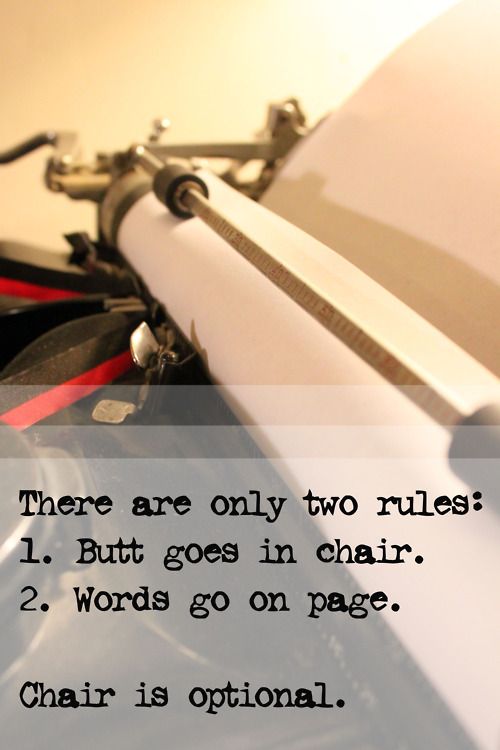 Then I gave him the one bit of advice I share because it's helped me: I suggested he pick a time to write each day and stick to that writing schedule. It's what I do.
Every morning before breakfast, I write for an hour—locking myself in the den, shades drawn, and removing the phone. An hour of writing doesn't sound like much, but the words add up. Although I only produce about 300 words a day, that equates to 9,000 words a month, and 100,000+ words a year—more than enough for a good-size novel.
*            *            *
A tale of two stories – November 18, 2016
Starting next week, I'm going to be doing something I've never done before—write two stories at the same time. Here's how it happened:
I've written nearly 1,000 words of "The Key," a tale about a man who receives a mysterious key, which I'll include in my next short story collection. Then on Friday night I got the go-ahead to write a short story for the educational writing program I'm participating in, thanks to an editor who loved The Sea Crystal and Other Weird Tales. (See October 25th post.)
I don't want to put "The Key" aside—although I probably could because I don't know what will happen next. But I'm already invested in the story and want to finish it. However, the other story is totally different; I already know what will happen. In fact, I know all the details because the story I'm being paid to write has to adhere to specific guidelines. When I tried to create a write-as-you-go tale, it didn't work—I had to plan the entire story.
I'm going to try to write both stories simultaneously and see if I can multi-task this way. It should be an interesting experiment.
*            *           *
Writing requirement – November 14, 2016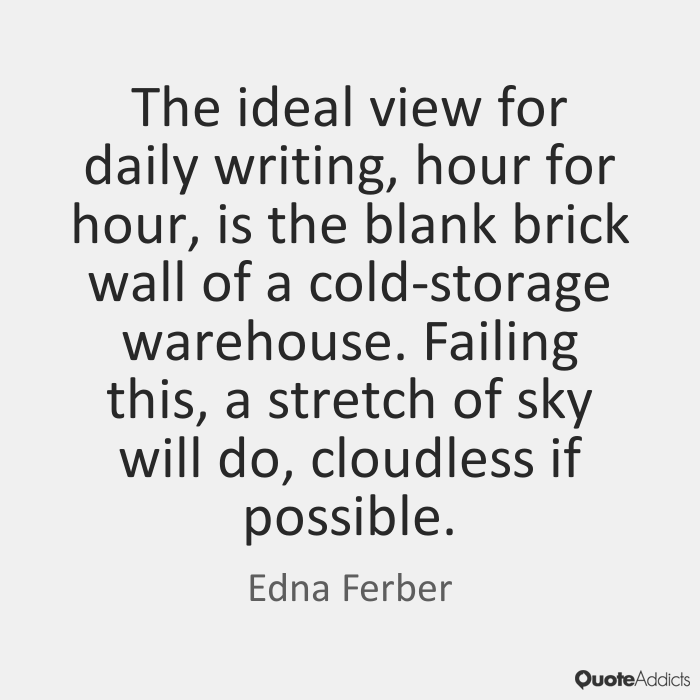 Creative writing, for me and many authors, requires complete concentration. That's why I love Edna Ferber's quote. I can picture her sitting in front of a window facing a brick warehouse while she wrote popular novels like So Big and Giant. 
Novelists have great imaginations so it's difficult for us to write when interesting things are happening in our line of vision. I don't have a view of a brick warehouse or a boring cloudless sky when I write. But I do lock myself in the den—with the shades down and the phone out—and forbid talking near the room during my daily writing time (about an hour). When I'm set, I turn off the Internet, open a Word document, sit at the desk, and write.
*            *             *

Editing update – November 10, 2016
I'm up to rereading and editing Chapter 20 of my end-of-the-world novel, The Touchers (Part Two). Since the book contains 29 chapters and an epilogue, I still have a lot more to do.
And this is just a general reread. I'm doing line editing and checking the timeline—but not correcting plot elements, like several character conflicts I've established, but haven't resolved. I have to either end these situations or eliminate them.
But I'm not doing the hard stuff right now. As Scarlett O'Hara says at the end of Gone With the Wind, "I'll think about it tomorrow. After all, tomorrow is another day."  
*            *            *

Event evaluation – November 6, 2016
Yay! The holiday buying season has begun. I write this because, at my event on Saturday, several people chose signed copies of my books as gifts. This was my first event this month—so maybe the calendar page has to turn to November before folks actively shop for Christmas and Hanukkah.
There was another good sign at the Holidays Artisan Fair in Croton, NY: A couple of people bought multiple books. I'm hoping that's because November shoppers spend money more freely than March or July shoppers. Whatever the reason, I hope the trend continues because I have many more book signings in November and December. (See Happenings for upcoming events and photos.)
*            *            *

Writing paradox – November 2, 2016
 "You don't know what you're going to write until you start,
and you can't start until you know."
—Tom Stoppard
Although the above quote by playwright Tom Stoppard seems like a paradox, it makes sense to me. Here's my interpretation:
Some novelists (myself included) don't know much about how our stories will develop until we start writing and we find out what happens as we go along. That's the fun of being a novelist—the not knowing. Often I don't know how a book or story will end until I write it.
To me, the second half of the quote "...and you can't start until you know" means you can't begin to write until you have an idea. Even though I may not know the entire story—and many of the details—I still need a general idea of what the tale will be about.
*            *            *
A tale of two events – October 29, 2016
As we begin the holiday book-buying season (or what I hope is the holiday book-buying season), I'm doing lots of events. In fact, this weekend, I participated in two.
One thing I've learned from these events is you can't predict the results. On Friday night, I participated in a charity sale, which very few people attended. Nevertheless, I did well because that small group of vendors and attendees included members of a local book club—and they all decided to read Corsonia, my mind-control thriller.
Then on Saturday, I participated in a crafts fair at the local mall. My table was situated in a great spot—on the upper level, directly across from the escalator. There was lots of traffic, but few of the shoppers were interested in books.
The moral? You never know what's going to happen at an event, even if you've participated in the same event before. But no matter the outcome, I enjoy these book-signing experiences. To see photos, go to Happenings.
*            *            *

Lucky break – October 25, 2016
Sometimes good things happen by chance. At a recent event, I sold a copy of my short story collection, The Sea Crystal and Other Weird Tales and, a few days later, received an email from the buyer that said: "I love it! Couldn't put it down. You are a terrific writer. I'm in awe."
Of course, the effusive praise made me feel great. But that email contained something else: a job offer. The emailer, an editor for a major educational publisher, asked if I was interested in writing supernatural short stories for fifth and sixth graders.
Yes, I was interested. So now, in addition to rereading and editing my doomsday novel, The Touchers (Part Two), and writing my own short stories, I will be paid for writing short stories for kids in school. Lucky me!
*            *            *

Telemarketing tactic – October 21, 2016
I'm switching to Andy Rooney mode to rant about an annoying new telemarketing ploy. Actually, this complaint is writing-related because it concerns a new kind of phone script.
As you know, many telemarketing calls are now recorded messages, probably because they're cheaper than using live people. But recently I've had two calls where the records sounded like live people because of sneakily inserted conversational bits into the spiel.
"Hello," one call started. "This is Josh Jerk from Customer Service of Winnerama. Can you hear me okay?"
"Yes," I said. "But I'm not interested."
"Great. You've won an all-expenses paid vacation..." As he babbled on, ignoring me, I realized he wasn't a telemarketer; he was a record.
I got another call yesterday that I let ring until I heard a message being left. "Hi," the woman said. "I'm sorry I missed you. Um...This is Isabella Idiot from Super Duper Energy and you can call me about great savings..."
"I'm not interested," I said, picking up the phone.
But as I expressed my lack of interest again and Isabella continued to blab, I realized I was talking to yet another record.
Note the clever script insertions: "Can you hear me okay?" and "Um..." I pride myself on hanging up immediately when I get a phone call from a record. But these two calls fooled me.
*            *            *

Ferry Festa findings – October 17, 2016
Overall, I really enjoyed my Ferry Festa experience, signing books with Westchester Indie Authors. We had a perfect weather day (60-degrees, sunny, very little wind) and the Dobbs Ferry (NY) street fair drew huge crowds.
However, there were a couple of negatives. This large event was poorly organized. When we arrived, we had trouble finding the location for our booth. There was no master list and, unlike other street fairs I've participated in, the vendor spaces were unmarked (e.g. Westchester Indie Authors - #89).
We were told only, "You're opposite Town Hall." And the volunteers (obviously not from Dobbs Ferry) didn't even know where Town Hall was. Then, when we found the building, there were several open spots opposite.
"Where should we go?" we called from the car.
"Go there," a woman said, pointing.
So we went there—and it must have been okay because no one questioned us about the location.
My other problem with Ferry Festa was its length: 1 pm – 8 pm. That's fine for the participating Main Street businesses, especially food shops. But that's a long time to be outside. It was delightfully warm in the sun, but much colder after sunset.
Still, I had a good time in my first vendor experience with Westchester Indie Authors, sharing a booth with authors Linda Griffin and Mel Parish. I liked offering a wide variety of books and, of course, I especially liked signing quite a few of my novels. (See Happenings.)
                                                         *            *            *

Major changes – October 13, 2016
After making revisions and corrections in the first book of my two-part doomsday thriller, The Touchers—including creating a timeline and street map—I'm now rereading the second book.
This manuscript, which I'm rereading for the first time, requires far more work. I've already had to redo much of the opening chapter. Since this book is a sequel, Chapter 1 is a recap and continuation of the final events in The Touchers (Part One). However, as I read, I realized the beginning pages lacked action so I added a brief enemy encounter.
I've also had to make lots of corrections and add many details—and I've only read 40 of the nearly 400 pages. Editing this book is a really big job!
*            *            *

Indie Author Day observations – October 9, 2016
October 8th was Indie Author Day, the first annual nationwide library celebration of independent writers. I participated in the event at the Eastchester Library with seven other members of Westchester Indie Authors (WIA). Our program included a four-hour series of informative panels followed by an hour-long digital gathering of all participating libraries for a national Q & A session.
Overall, it was a worthwhile experience. As a new member of WIA, I was impressed with the talented people in this small organization. They've written non-fiction books about suffragist leaders, Indian cooking, and European witches; volumes of poetry; and suspense and paranormal urban novels.
The three panels covered the topics of self-publishing, writing non-fiction, and fiction, and I participated in the latter one. We also had a spice demonstration and poetry readings.
Although the turnout was disappointingly low, the people who attended stayed for most of the sessions and were genuinely interested in our presentation. I think it would have been better if we had publicized the times of each panel discussion and demonstration. Perhaps then visitors would have come specifically for the sessions that interested them.
I didn't find the digital nationwide session very helpful; I'd heard most of the information before. But the idea of a day lauding independent authors is a terrific one—and I hope next year's celebration will attract a larger audience.
*            *            *
End of Watch review – October 5, 2016

Unlike many of Stephen King's books, End of Watch wasn't a page-turner for me. I loved the first book of the trilogy, Mr. Mercedes, and this third book is really its sequel. (The second novel, Finders Keepers, is more of a stand-alone story with Mr. Mercedes killer, Brady Hartsfield, almost entirely absent and hero, Bill Hodges, playing a key, but secondary, role.) I put End of Watch aside for long stretches without the urge to read it—and I know why.
It's not because the story wasn't gripping—it was. Brilliant psychopath Brady Hartsfield now has the ability to drive teens to suicide and retired detective Bill Hodges must stop him. The plot involves mind-control, a favorite theme of mine. I even wrote a novel, Corsonia, dealing with the subject.
Here's my gripe: Hodges is seriously ill. This is not a spoiler because we learn of his condition at the very beginning of the book—and we can't forget about it because he's in debilitating pain throughout. I'm okay with the murders, suicides, and gore—but a hero in constant agony? That was depressing.
When I finally got to the climax of the book, I whizzed through the remaining pages. But it took me weeks, not days, to read End of Watch.
*            *            *
Contest creation – October 1, 2016
I love creating contests! For twenty years, it was part of my job as promotion manager for a large chain of shoppers. Now I make up contests for my own website.
I want these contests to involve creative writing and relate to my books. They also have to be fun and easy so people will want to enter. I think my new contest achieves these goals. It's based on "Wordless," a short story in The Sea Crystal and Other Weird Tales in which everything a young man says sounds like gibberish.
This wordplay contest asks people to make up a definition for one the nonsensical words spoken by Ben and use it in a sentence. Winners will receive a $25 gift card to Barnes & Noble or a signed copy of one of my books. Details and rules are on the Contest page. I hope you'll agree that this is a fun contest and enter. Gleizah!
*            *            *

Signing season – September 28, 2016
I love participating in local events because it gives me the chance to meet new readers, talk to them about my books, and hopefully sign a few.
In October, I'm participating in four events. Here's a brief rundown:
* Indie Author Day on Saturday, October 8th from 10 am to 3 pm is an exciting new event—the first annual nationwide library celebration of independent authors. I'll be in panel discussions at the Eastchester Library with other members of Westchester Indie Authors. We'll be signing books too. (See September 19 post below for more details.)
* Ferry Festa on Saturday, October 15th from 1 pm to 8 pm is a huge street fair in the town of Dobbs Ferry. I haven't participated in this event before, but it sounds terrific since up to 15,000 people are expected to attend.
* Ladies Night Out on Friday, October 28th from 7 pm to 9:30 pm at the Grace Lutheran Church in Yorktown Heights is a charity event to benefit Relay for Life for the American Cancer Society.
* Halloween Shop & Treat on Saturday, October 29th from noon to 4 pm at the Jefferson Valley Mall in Yorktown Heights will feature many crafts vendors as we usher in the holiday shopping season.
Of course, I'll be participating in other events in November and December. I hope you'll put my books, or the books of other authors, on your holiday shopping list. Signed books are unique and wonderful gifts.
*             *            *
Eliminating unnecessary words – September 23, 2016
In rereading and line editing the first draft of my doomsday novel, The Touchers (Part One), I crossed out many extra words. Here are some examples:
* I love using the words "just" and "even"—but those adverbs popped up much too often.
* I changed "We moved as quietly as we could..." to "We tiptoed..." The meaning is identical—and the revision uses five less words.
* Dialogue should simulate conversation, but it shouldn't contain the extra words and expressions we use when we talk. As a result, I eliminated the following: "I guess," "well," "I mean," "kind of like," and "for sure." Although my narrator is a teenage girl, the book contained too many of these empty terms.
Now I have a more difficult job: fixing plot issues.
*            *             *


Indie Author Day – September 19, 2016
Autumn marks the beginning of the holiday shopping season. Since signed books make excellent gifts, I participate in many local fall events. Most are fairs or festivals, like the Fieldhome Fall Festival I'll be at this Saturday, September 24 in Cortlandt Manor. (See Happenings)
However, on Saturday, October 8, I'll be participating in an exciting new event—Indie Author Day, the first annual nationwide library celebration of independent writers.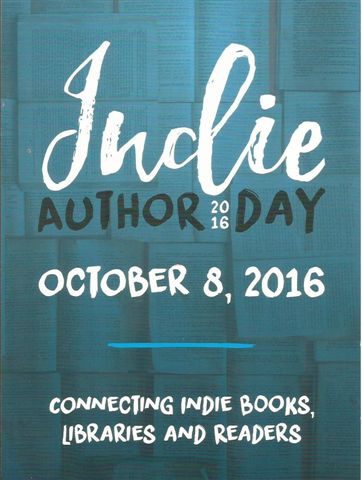 I'll be at the Eastchester Library with members of Westchester Indie Authors (WIA), the organization of independent authors that I recently joined. From 10 am to 2 pm, we'll host a series of informative panels for library visitors, discussing Self-Publishing, Fiction (I'll be on this one), and Nonfiction. There will also be a Spice Demo and Poetry Readings.
We'll serve light refreshments. And, during the event, books by the participating authors will be on display and available for signing and purchase.
If you're in the area, I hope you'll visit us at the Eastchester Library at 11 Oak Ridge Place in Eastchester, NY.
For more details, visit Westchester Indie Authors at https://westchesterindieauthors.com/
*            *            *

New short story – September 15, 2016
I'm multitasking again. While I continue to make corrections in my doomsday novel, The Touchers (Part One), I've begun writing the short story I detailed in my previous post.
The story (working title "The Actress") is already a bit different than I envisioned. The title character is furious over being offered a mother, not a grandmother, role. I'm looking forward to tomorrow's developments since writing this story is more enjoyable than correcting my manuscript. I'll do both, but creative writing is always the most fun.
*            *            *

Return of the muse – September 11, 2016
I can't choose the time when inspiration hits; it just happens. Last night, I woke up at 2 a.m. and couldn't fall asleep again. Among the many thoughts that entered my head during that time was an idea for a new story. And no matter how hard I tried pushing the idea away so I could sleep, I couldn't keep the story from developing.
It centers on an aging actress, a leading lady, who's insulted when she's offered a grandmother role. She bolts out of Hollywood and rents a secluded cabin, planning to stew there while she ponders her next move.
I think she's going to keep a diary of her time in the cabin—and I know something strange will happen to her. I've thought of several possibilities, and, of course, they all involve a supernatural element. I'll have to write the story to find out how the plot unfolds because I don't know the ending—and I can't wait to find out!
*            *            *

Eliminating unnecessary dialogue – September 7, 2016
Dialogue should emulate conversation. But although dialogue should sound like people talking, there's lots of repetition and babbling in "real" speech. The reader doesn't need the extra words we use—"well," "I guess," "I mean," etc.
I was reminded about extraneous dialogue this week while rereading my doomsday thriller, The Touchers (Part One) because I probably crossed out fifty unnecessary words. I think the problem is, when I write, my characters take over the action and speak their dialogue, which I then transcribe. Unfortunately, these chatty characters use lots of extra words. Well, I guess it's my job to delete them—if you know what I mean.
*            *            *
Outlining fiction - September 3, 2016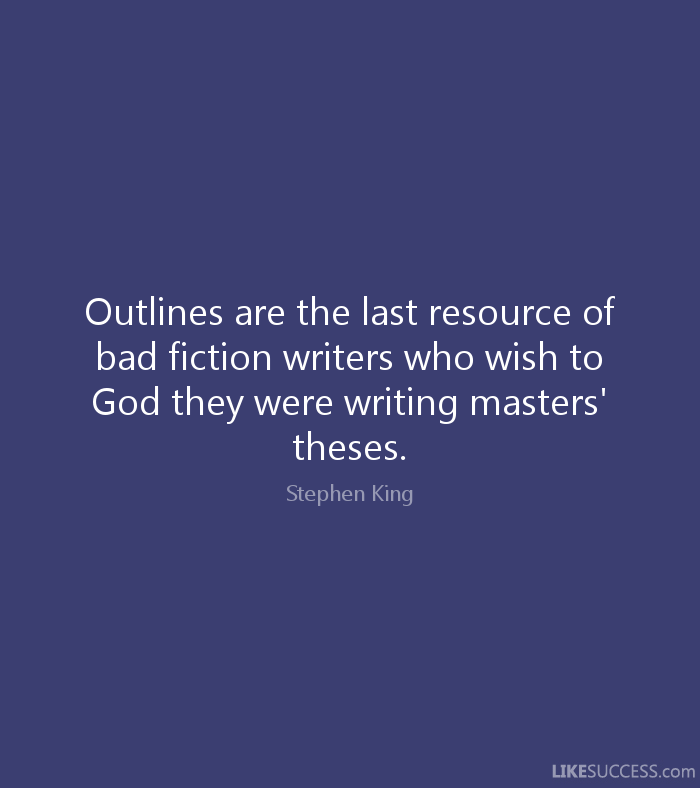 When I write non-fiction, I outline; when I write novels, I don't. Nevertheless, I think Stephen King's comment is rather harsh. Authors who outline fiction aren't necessarily "bad fiction writers." But they are missing a great joy of the craft: the thrill of not-knowing.
Here's why. When you outline a novel, you organize the entire plot, which means you know what's going to happen next. However, if you write the way Mr. King and I write, you sit at the computer and wait for the action to unfold. That's entertainment. Knowing the story isn't entertainment; in fact, it's a lot like work.
Although outlining fiction doesn't have to mean you won't write a good book, you certainly won't have as much fun as those of us who don't outline. Count me in for the fun.
*            *            *
The next step – August 30, 2016
I've written the first draft of my doomsday thriller, The Touchers (Part Two), including the epilogue. However, as I said in my previous post (August 26), I have lots more to do to before this book is "finished." Besides filling in the many blanks, I have details to add and characters and events to flesh out.
But before tackling that hefty job, I'm going reread the first book of this short series—The Touchers (Part One). Here's why:
It's already been a long time since I looked at that novel and I need to refresh my memory about the early details before editing Part Two. It's time for me to list all characters, places, and important events and start creating a town/city map. (I haven't yet decided if this story takes place in an unnamed town or city.)
As I'm doing this, I'll add details about key people introduced in Part One who are also featured in Part Two, like my main character's boyfriend. Although The Touchers (Part One) is in much better shape than Part Two, it's not close to being finished. Getting these books ready for publication is a l-o-n-g process.
*            *            *              
Draft is (kind of) done – August 26, 2016
Except for the epilogue, I've finished the first draft of my doomsday novel, The Touchers (Part Two). I always have epilogues in my books to wrap up plot issues—and this book has many issues. After all, it is an end-of-the-world story. Does the world end or doesn't it? You'll have to read the novel to find out.
Even though this draft is just about done, the book is in pretty bad shape. Here are just a few of the many problems:
* Lots of minor conflicts remain unresolved. I've created situations and left them dangling. When I edit, I'll either have to resolve these open issues or eliminate them.
* The unnamed town where most of the story takes place has to be fully mapped out. I've got people driving through blank streets with parks and buildings. It's an important place so I need to fully create this fictional town.
* The times are unclear. I've got to work out dates so I know when events happen.
* The ending is flat. I was so glad to finally have an ending to this 92,000-word book that I rushed it. The conclusion needs to be fleshed out with more action.
And so it goes... After I write the epilogue, the hard work of editing begins.
*            *            *
Overcoming writer's block - August 22, 2016
I've only had real writer's block once. It occurred when I was working on my second novel, Peachwood Lake, and couldn't think of what was going to happen next. Instead of trying to force the action, I left the scene blank and moved ahead. Then, a few days later, I filled in the missing scene.
A similar thing happened this week as I wrote a scene in my doomsday novel, The Touchers (Part Two). A character was addressing a crowd--and I wasn't sure what he was going to say. I'm usually fine with writing dialogue because my characters take over the talking. But, this time, the man was speechless. Again I stopped writing the scene and left it blank. The next morning, when I returned to the manuscript, my character knew what he wanted to say and the dialogue flowed.
This strategy works for me. If I get stuck, I don't try to force the action because I know, if I'm patient, I will eventually figure out the problem.

*            *            *

Too much information – August 18, 2016
I'm so happy to be nearing the finish line of my never-ending doomsday novel, The Touchers (Part Two), that when one of my characters revealed some important information, I simply transcribed his words. My characters like to talk and I usually let them have their say.
But after rereading the scene, I realized this character had said too much and the revelation should be shown—not just discussed. I redid the scene so that the character hints about an important breakthrough—but doesn't mention what it is.
I'm in a hurry to finish this book, but I don't want to ruin the tension. As a result, I'm not rushing the ending, even though I'd sure like to.
*            *            *
The final chapter - August 14, 2016
I think I'm finally there—at the last chapter of my end-of-the-world novel, The Touchers (Part Two). It's taken such a long time to reach this point—and once I finish the first draft, I'll still have a ton of editing to do. But, accentuating the positive, I believe I'm reaching the conclusion of this never-ending two-part story.
Why has this novel taken me such a long time to write? I don't know. I shelved it for a year and, during that time, wrote and published a collection of short stories. When I reread the manuscript afterwards and still had no "Eureka!" moment, I wrote two more stories. However, when I revisited the book last month, I got a bunch of great ideas—including a handle on the ending.
That's the weird thing about inspiration. You never know when it's going to hit. I'm just glad it finally did.
*            *            *

Power in numbers - August 10, 2016
Selling books is a tough job for nearly every author (unless, of course, you're James Patterson or Stephen King). Online, I promote my books on Facebook, Twitter, and Pinterest and locally, I publicize my work at book signing events, usually with author Linda Griffin. Since Linda writes parenting and children's books, we call ourselves YIKES! & TYKES.
Recently, I joined Westchester Indie Authors (WIA), a county-wide writers' organization, whose objective is to share the costs of local events. So when I noticed a fall town festival with a fee that was too high even for two authors, I remembered WIA. I emailed the person in charge and, after she notified group members of the event, this author agreed to split the cost with Linda and me.
As a result, I will be participating in the Ferry Festa in Dobbs Ferry this October, dividing the fee three ways--or more if other WIA members join ius. And with at least three authors, our booth will offer a larger selection of books. That's another good thing.
P.S. I just found out that we're up to five authors!

*            *            *

A surprise compliment – August 6, 2016
A few days ago, I was down in the dumps for these reasons: A potential book-signing venue had fizzled out. Despite great reviews, my new short story collection, The Sea Crystal and Other Weird Tales, wasn't selling well. My fantasy baseball team had gone into freefall and my favorite player—(fantasy and real time)—Yoenis Cespedes, had just gone on the disabled list. (I know I shouldn't get depressed about baseball, but I love the sport—and the New York Mets.)
Just as I was feeling sorry for myself, I got a notification that a Facebook friend—someone I don't know—had mentioned me in a comment.
The following exchange on her Facebook page cheered me up:
Question: What kind of books do you like?
Friend:  It varies. I like James Patterson, Nora Roberts, Stephen King, Susan Berliner.
I may not on the level of those three fantastic best-selling authors, but I got equal billing in my friend's sentence.
And later that day, I even sold a couple of books.
*            *            *
Tooting my own horn – August 2, 2016
I find it hard to always stay positive about my writing. Although I put a lot of time and effort into my books, I'm not a best-selling author so I need reassurance from readers that my work is any good
That's why it's especially uplifting to get a glowing review from an independent blogger—someone who doesn't know me and who, until now, had never read any of my books. The new review from Jessica of Hopelessly Devoted Bibliophile made my day. She praised everything about The Sea Crystal and Other Weird Tales, especially the overall writing and character development.
Here's what Jessica said about the characters in my new short story collection:
"...it was wholly impressive that all of the characters were so well written. Despite the short amount of time I had to get to know each of them, I really did feel like I knew just who they were. It was a lot of fun to try to figure out where the twist in each of these stories would be. Honestly, most of the time I was completely wrong about where I thought they were going. Which, of course, made it that much more fun! It's always fantastic to be a little blindsided, especially when the story ends with a moment that makes your jaw drop a bit."
Those words brought a smile to this author's face. So did the rest of the review. Read it here.
*            *            *
Revising is hard – July 28, 2016
As I mentioned in my last post (see July 24 below), I'm back to working on my end-of-world novel, The Touchers (Part Two) and I finally have an idea for the ending. That's the good news.
The bad news is I can't continue to write the story until I make some important revisions—and that's a much more difficult task. I've made the main correction, but one change leads to another so I need to make additional repairs. Editing takes longer than writing—and it's not nearly as much fun.
I hope I'm able to finish these corrections soon so I can move forward with writing the book. The creative part of being a novelist is by far the best part! 
*            *            *

The birthday Muse – July 24, 2016
I had a wonderful birthday on Saturday—a quiet, relaxing day—and during that restful time, I came up with solutions to my major problems with The Touchers (Part Two), the doomsday novel I've been struggling with.
The last time I reread my manuscript, I came up with no ideas. As a result, I stopped working on the novel and started writing short stories. This time, however, I came up with several ideas, including a key plot correction. And, best of all, I figured out the ending—and I think I can end the book soon, which is wonderful news since The Touchers (Part Two) is already 90,000 words.
Why, after all this time, did I suddenly get a bunch of great ideas? I don't know. Maybe it was a birthday gift from the writing gods. But now that I have a plan, I'm anxious to get back to writing this book and finishing the first draft.
*            *            *

Entering my Twilight Zone – July 20, 2016
Before the Internet, cable, and video games, there was one main source of home entertainment: ordinary television. That's what I grew up with and one of my favorite TV shows was The Twilight Zone, the original black and white 30-minute episodes that aired on CBS on Friday nights in the late 1950s and early '60s.
As a result, I'm thrilled that so many readers of my new short story collection, THE SEA CRYSTAL and Other Weird Tales, say my tales remind them of Rod Serling's wonderfully creative series.
Here's what the latest reviewer said: "As I read, I kept thinking of the Twilight Zone, with offbeat stories that started out normal, but always had some strangely plausible but unsettling ending. THE SEA CRYSTAL is just like that. Normal people: a bride, an office worker, couples on vacation—what could be so strange about that?
"You are in for a real treat. It takes a special talent to be able to create a scene in a few pages, from beginning to end, and this is where the author excels. As soon as the story begins, you are thrust into a little microcosm where things look ordinary...mundane, even.
"But then...plants start talking, or someone disappears, or someone who is there turns out that they were never even there in the first place!"
That's Gimmethatbook's description of my weird world. But I owe a huge debt of gratitude to Rod Serling for letting me enter his magical realm so many years ago.
*            *            *
Something not so rotten – July 16, 2016 
Popular culture can motivate interest in learning. Years ago, I loved the Broadway musical, 1776. After seeing that play (three times), I read books and articles about the Continental Congress and the signing of the Declaration of Independence to find out how much of the show was true. And it seems the smash hit, Hamilton, is creating a similar buzz about our forefathers.
Although I haven't seen Hamilton, today I saw the Broadway musical, Something Rotten!, a spoof of Shakespeare, Elizabethan England, and musical theater. In the show, Shakespeare is a rock-star type idol (think Tom Jones), who steals other writers' ideas because, as he sings, "It's hard to be the bard."
The main character is a lesser-known playwright, Nick Bottom, who's jealous of Shakespeare's success. When Bottom consults a soothsayer to determine what Shakespeare's most successful play will be, he is given the name, "Omelette."
Since there are many references to Shakespearean lines, speeches, and plays, after the show, I wondered if this musical comedy will inspire theatergoers to read or reread Shakespeare's plays. If that's the case, then shows like Something Rotten! are more than escapist fun—they're springboards to learning.
*            *            *

Twitter twits – July 12, 2016
I'm quite clueless about Twitter. Although I'm on the site daily, I don't tweet often (usually writing quotes), and I only have about 800 followers, a small number compared to most Twitter users.
I don't look for followers, but if someone follows me, I almost always follow back. The only people I don't follow back are porn girls ("Wanna hit me?"), salespeople selling Twitter followers, and those who tweet in a foreign language I can't understand and can't translate.
A quick glimpse of my latest non book-related followers includes a gym equipment company, a San Diego realtor, a scuba gear firm, and towns in the U.S. (Del Mar) and the U.K. (Stockport).
Recently, a number of people who chose to follow me, and I followed back, have dumped me. If someone unfollows you, you don't know unless you check the people you're following and find out who's not following you anymore.
This sneaky unfollowing tactic annoys me. Once these twits have got you following them, they no longer want to follow you. Why? I search for the deserters and dump them. I may not use Twitter effectively, but I do know how to get rid of the twits.
*            *            *

Writing choices - July 8, 2016
It's decision time again. I've finished yet another short story ("Megan's Crows") and I'm ready to write something else.
Of course, I still need to finish my end-of-the-world novel, The Touchers, Part Two. I can reread the 80,000+ words I've already written and see if I'm drawn back into teenage Erin's post-apocolyptic world so I can continue her story. But that book has so many issues that have to be resolved, which is why I keep finding other things to write. (See The Sea Crystal and Other Weird Tales.)
Meanwhile, I'm completing a freelance writing project. It's a different type of writing--reading comprehension items for English Language Learners in Texas. But any kind of writing is a good thing.

What will I write next? I'm not sure, but I'll decide soon. Writers write.

*            *            *

Thoughts after rereading – July 3, 2016
This afternoon, I reread the finished draft of my short story, "Megan's Crows," for the first time and was pleasantly surprised: It's better than I'd thought.
Of course, I found lots of mistakes. For instance, I gave my main character two different last names. But the pacing of the story is good and the creepiness is sustained throughout. I think the setting has to be fleshed out and ending needs some work (more violence, actually). But for the most part, the first draft of "Megan's Crows" is in decent shape.
*            *            *
My very own bookstore shelf – June 29, 2016
An author friend sent me an email this week with a marketing possibility from a Florida indie-author bookstore: an opportunity to rent a shelf for four months, displaying my books in a "real" store.
"What do you think?" my friend asked.
After reading all the information, I decided the store had come up with a clever idea. You paid for your shelf, shipped your books, and, in return, the store paid you a hefty royalty on sales: 98%.
That number made me uncomfortable. If the store expected authors to sell lots of books, they wouldn't offer such a high royalty. That means they're making their money on the shelf rental; they don't care about selling your books because they don't make anything on the sales.
There's another thing I didn't like about the proposition: the distance. I live in New York, a long way from Florida. How can I check my shelf—to see where it is in the store and if my books are properly displayed? Also, what about returning the unsold books after four months? Do I pay for that? Books are heavy and shipping them is expensive.
Here's my conclusion: This idea would work well if I lived near the store. Then I could promote my books, check my shelf, do book signings (they offer them for a nominal fee), and bring/take books back and forth. But, as a long-distance client, I think I'll pass.
*            *            *
Be ruthless – June 25, 2016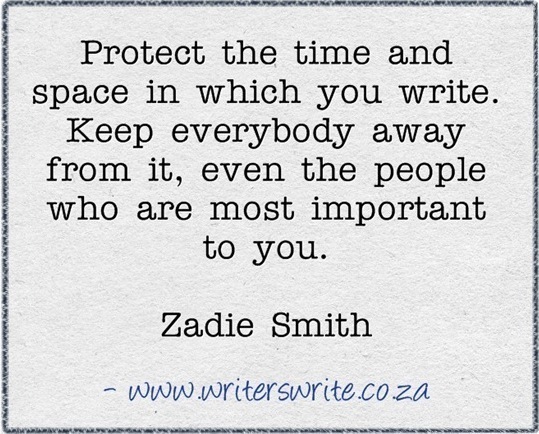 You want to be a writer? Then I've got one word of advice for you: Write! But it's not quite that simple. In order to write, you need the time and a place to do your work.
That's where Zadie Smith's right-on quote comes in. Just as she says, I've found I have to be firm—almost ruthless—in protecting my writing time and space.
Since I live in a hectic household, in order to write, I have to lock myself in the den, remove the phone, and keep my family away. Thankfully, they are supportive so, for an hour each morning, I get the quiet space I need.
To be a writer, you've got to be tough. But the results are well worth the effort.
*            *            *

Location! Location! Location! – June 20, 2016
On Saturday, I participated in an event at my local mall. I love signing books there because it's five minutes from home, indoors, and the marketing folks really support my efforts. I was given a table behind the elevator, near the stage. It's a location I've had several times and it allows me to hang my large banner on the wall. But it's not the greatest spot because it's not in a place where people can see me as they walk to a destination; they have to go out of their way to find my table.
This time, however, the location was really bad. Here's why: There were continuous performances on and in front of the stage—mostly dancing, but also singing, puppetry, and even a karate exhibition. During the performances, people watching blocked off all access to my area, making it impossible for potential customers to get through. And during the few breaks between acts, the sound system blared loud music, eliminating all conversation.
The vendors with tables away from the stage area had a better chance of success. For me, no traffic + no talking = no good.
For photos of Yorktown Community Day, see Happenings.
*            *            *

Review recap – June 16, 2016
Recently, I asked people who have read my new short story collection, THE SEA CRYSTAL and Other Weird Tales, to review the book. As a result, three readers posted Amazon reviews in the last few days, giving the book a total of 9 ratings—all 5-stars.
I've noticed many similarities in the reviews. Here's a brief summary:
* The stories remind readers of "The Twilight Zone."
* Readers find the stories unique, with surprise and twisted endings.
* A couple of readers said they're not big fans of short stories, yet still enjoyed the book.
What's most important, however, is that all the reviewers thus far have loved the book, called it a "great read," and recommended it highly. To read the actual reviews, please click here.
 *            *            *
Doctor call – June 12, 2016
I got a phone call last week from a friend who is reading and enjoying THE SEA CRYSTAL and Other Weird Tales. She had taken her paperback copy of my book to a doctor's appointment, figuring she would read some short stories in the waiting room.
A woman sitting next to my friend expressed interest in the book so, when my friend's name was called, she loaned the book to the woman so she could read some stories too.
My friend was in the examination room for 2 1/2 hours. When she finally returned to the waiting room, the receptionist had the book, and the pages—which had been in new condition—were now wrinkled and dog-eared. Apparently, the paperback had been handled (and hopefully read) by many other waiting patients.
My friend's suggestion: Market THE SEA CRYSTAL to doctors for their waiting rooms. So doctors, if you're viewing this post, how about taking my friend's advice and getting my book of short stories for your offices? It's a great reading option for your waiting patients.
*            *            *
Those story ideas – June 8, 2016
At last week's book signing, I was asked a question I've been asked many times: Where do you get the ideas for your books?
The answer: From everywhere. My novels and short stories are based on things I've read and also from watching people, places, and happenings. That's what writers do; we observe life.
Here's an example of how this process works. My young grandson is afraid of crows because they "caw" loudly early most mornings, waking him. Even though he knows the crows are just birds and won't hurt him, the noisy black creatures scare him.
I'm translating this real-life experience into a short story called "Megan's Crows," a horror tale about a little girl who's also afraid of crows. But in my fictionalized account, the birds really do hurt people.
Be careful if you're with a novelist. Everything we see and do is potential material for a story.
*            *            *

Marketing short stories – June 4, 2016
Saturday's book signing in Montrose marked the public debut of the paperback version of The Sea Crystal and Other Weird Tales. Although some people have seen the printed book, this was the first public event featuring the short stories and I was anxious to see the reactions.
Fair-goers loved the cover and several purchased the book. (See Happenings) More importantly, I learned a few things about marketing short stories:
* Some folks prefer short stories to novels because the tales are quick reads.
* Parents of young children generally don't have time to read novels. However, a book of short stories is a good option for them.
* Short stories are great reads for summer vacations. They're perfect for afternoons at the beach, shore, etc.
It was encouraging to find so much enthusiasm for my stories. I'm looking forward to the next two June events.
*            *            *

Metadata moves – May 31, 2016
At the suggestion of the moderator of last week's "Metadata Matters" webinar (see May 27 post below), I tweaked the descriptions for two of my novels, adding italics and/or bold to improve search results.
For the paperbacks, I had to insert html code and wait for the printer, Lightning Source, to make the changes. However, for the Kindle ebooks, I was able to add the bold and italics myself—and, even though Amazon said the changes would take 3 to 5 days, they were done almost instantly.
Here are my tweaks:
*For Corsonia, I used bold italic on the description's first line, which is the way it appears on the back of the paperback:
Can two teenage girls save a town?
* For The Disappearance, I italicized the first paragraph. This text is bold italics on the back of the print book, but I felt the bold might be too overpowering for so many words:
       When Jillian Keating is arrested for the murder of her missing boyfriend, Ryan Cornell, she has two immediate questions: Why did he frame her—and where is he hiding?
What do you think of these moves? I've linked both titles to the Kindle pages so you can view my handiwork.
*           *            *
Metadata Matters – May 27, 2016
For me, writing a book is the fun part of being an author. The tough part is the marketing, which has changed so much with the advent of the Internet. Now publicity is all about metadata—using the best key words, subject codes, and tags to get the book "discovered" in Google searches.
Because metadata matters so much, this week I participated in a "Metadata Matters" webinar given by Lightning Source, the company that prints my paperbacks. A lot of the information in the hour-long presentation was general and obvious (be specific, be clever), but I did get a good tip that I intend to use with at least one of my book titles: Incorporate bold or italics into the description to improve search results. I'm going to experiment with my blurb for Corsonia to see if that metadata tweak boosts sales.
*            *            *

Rereading and rewriting – May 22, 2016
I reviewed the first draft of my long short story, "The Imposters," and made many corrections and revisions. But before printing the new version, I decided to reread the tale again.
Why? I figured the story needed much more editing and I was right. During the second reread, I made tons of additional changes. The main problem is I'm still not sure if the story works. I had several possible endings in mind, but the ending I wrote veered off in an entirely unexpected direction. There's nothing wrong with that as long as everything makes sense. But does it? I don't know yet. I've got to read the story again.
*            *            *

Interview insights – May 19, 2016
A reporter from a local newspaper interviewed me this week about my new collection of short stories, THE SEA CRYSTAL and Other Weird Tales. As a former newspaper reporter/editor, I've had plenty of experience on his side of the notebook—asking the questions, rather than answering them.
However, as the interviewee, I can still make sure important information is covered by weaving my list of "talking points" into the conversation. These points include why I wrote THE SEA CRYSTAL and Other Weird Tales, the origins of some of the stories, who my books are aimed at, where people can buy the books, details about my website, and my upcoming book signings.
The reporter introduced some of my talking points and lots of background information. Hopefully, I covered the rest. He also surprised me by asking about my favorite TV shows—and I had to think about the answer because I thought all the series ("Falling Skies," "Continuum," "Wayward Pines") had ended. But the reporter told me a second season of "Wayward Pines" was starting soon—which I didn't know (and am now recording).
The interview is slated to run next week. I'm looking forward to reading it and posting it on the website.
*            *            *

Dialogue discussion – May 15, 2016
"Dialogue as part of an ongoing world, not just voices in a dark room.
Never say the obvious. Skip the meet and greet. "
—Janet Fitch
Authors use dialogue to express their characters' words. However, dialogue is not ordinary conversation. When real people talk to one another, they repeat words, mumble ("um," "huh"), and say a lot of unimportant things. Many of our conversations are mundane and uneventful.
That kind of talk would be boring in a book. As Janet Fitch explains, dialogue must eliminate the "meet and greet" part of conversation and concentrate on the significant points. That means the characters' words should either advance the plot or add insight to their personalities—explaining why they act the way they do. Although dialogue should sound like real people are talking, it needs to be a condensed version of their most important words.
*            *            *
Draft is done! – May 11, 2016
I've finally finished writing the first draft of the "Imposters," my nearly 10,000-word long short story/short novellette. I struggled with this story because it kept veering off in different directions and I couldn't figure out if the conclusion would be happy or sad.
The ending surprised me because it was totally different from anything I expected. But that happens sometimes, even with my books. The not-knowing is what makes writing fiction so entertaining.
Now the hard work begins: I have to reread the story and see if it makes sense (and if it doesn't, fix it so it does make sense). Then I have to edit it. But at least the story's written.
*           *           *

Contest fun – May 7, 2016
I've always loved making up fun contests. I was lucky enough to be able to create many contests in my job as Promotion Manager for a large chain of shopping guides, a position I held for nearly twenty years.
Now I devise fiction-related contests for my website. My new contest centers on one of the titles in my just-published short story collection, THE SEA CRYSTAL and Other Weird Tales. You have to change one letter in the story's title to create a totally different tale.
Want to check it out and enter? Go to the Contest page.
*            *            *

Leave a space - May 3, 2016
"Sometimes you'll just push through, indicate a scene or a character,
leave a space, then go back later and fill it in."
--Joan Didion
I'm quite fortunate. When I write, the words nearly always flow from my brain to my fingers so I can enter them into the computer.
One time, however, that trusty sequence failed. When I attempted to write a scene in Peachwood Lake, my second novel, nothing happened. As I sat at the desk, I couldn't figure out what my characters were going to do next. But instead of staring at the blank page, I followed Joan Didion's advice: I left a space and, several days later, went back and filled in the missing scene.
When people ask me how I deal with writer's block, that's the example I always cite. I think leaving a space and moving forward is the way to go because that's what worked for me.
*            *            *

"Twilight Zone" memories – April 28, 2016
I've always loved the old TV series, "The Twilight Zone." I loved watching the show as a child and I still enjoy it today, fifty-plus years later. Even though the original 30-minute episodes were black-and-white low-budget productions, the stories were creative and clever. And host, occasional writer, and show creator, Rod Serling, did a fabulous job of introducing each episode in his clipped theatrical voice.
As a result, I always take it as a compliment when someone compares my writing to "The Twilight Zone." That's what happened yesterday when a reviewer wrote that THE SEA CRYSTAL and Other Weird Tales "reminds me of the Twilight Zone." Calling the stories "readable and imaginative," the reviewer added, "I could see them on the screen as I read. Highly recommended."
*            *            *
Review recap – April 24, 2016
Now that my short story collection, The Sea Crystal and Other Weird Tales, has been published, I'm waiting anxiously for reader feedback. Although I think the fourteen tales are entertaining, I'm the author so I'm not objective. I need readers to post reviews, hopefully good ones.
The second five-star review of the book just went up on Amazon. The reader "loved" the short length of the stories, "which made them easy to find time to read." MS also praised the variety of the collection—"from magical to horror and even some humor."
So far, so good!
*            *            *

Word words – April 20, 2016
If you follow this blog, you know I'm currently writing "The Imposters," a short story that's already longer than I expected—35 double-spaced pages. When I mentioned this tidbit on Facebook, a friend asked the following question: "Has it reached novella length yet?"
Since I wasn't sure how many words constitute a novella, I googled "word count for short story and novella" and got these results: Most sources agreed that a short story contains 1,000 – 7,500 words. The next category, however, isn't a novella, it's a novellette, an uncommon literary form, with about 7,500 – 20,000 words. The novella is next with 20,000 – 40,000 words.
"The Imposters" now totals 6,500 words, and it's close to the end, so it will probably remain an oxymoron: just a long short story.
*            *            *

Deleting precious words – April 16, 2016
"That DELETE key is on your machine for a good reason."
-- Stephen King
The hardest thing for me (and for many novelists) is to throw away words I've written. I spent hours creating those words! However, sometimes even the most wonderful words just don't work.
That's what happened with "The Imposters," the short story I'm currently writing. The conclusion veered off in a strange direction with the heroine no longer in control of the action, so I highlighted the last five pages I'd written, hit the DELETE key, and trashed nearly 1,000 words
I don't have to do this often because my characters usually take me in a direction I approve of. Unfortunately, this time they made a wrong turn. Although I haven't finished writing "The Imposters," my new words are much better.

*            *            *

The final pieces – April 12, 2016
The Sea Crystal and Other Weird Tales is already available as an ebook everywhere and the paperback version goes on sale Wednesday, April 13. Today, the artist finished designing the bookmarks. Here's a peek: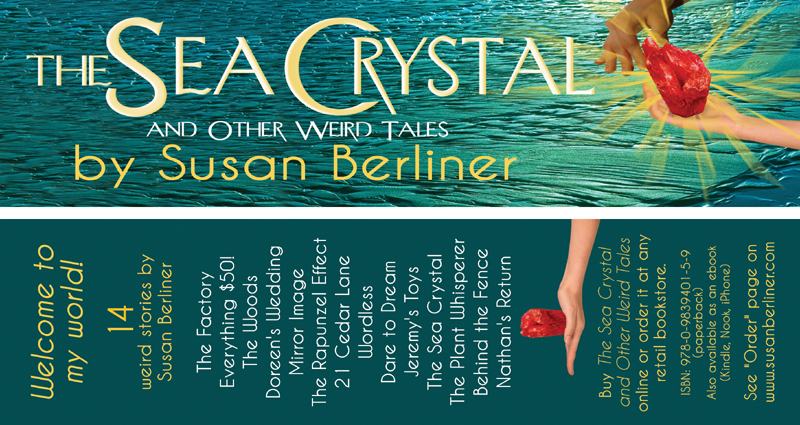 With all the components of this short story collection completed, I hope readers will sample these strange little stories and let me know if they enjoy them. Now it's your turn!
*            *            *
The last read – April 8, 2016
This is it—really. It's the final time I'm rereading THE SEA CRYSTAL and Other Weird Tales. The ebook is already available and I just received the paperback proof in the mail. The cover looks wonderful, but I have to make sure the interior is okay before it's published.
This is a scary situation. I'm reading the book, terrified I'll find a major error that will necessitate having the formatter redo the file. Fortunately, I've read two-thirds of the book and that hasn't happened. Everything looks really good.
The long journey of birthing this short story collection is nearly complete.
*            *            *

Giving birth – April 4, 2016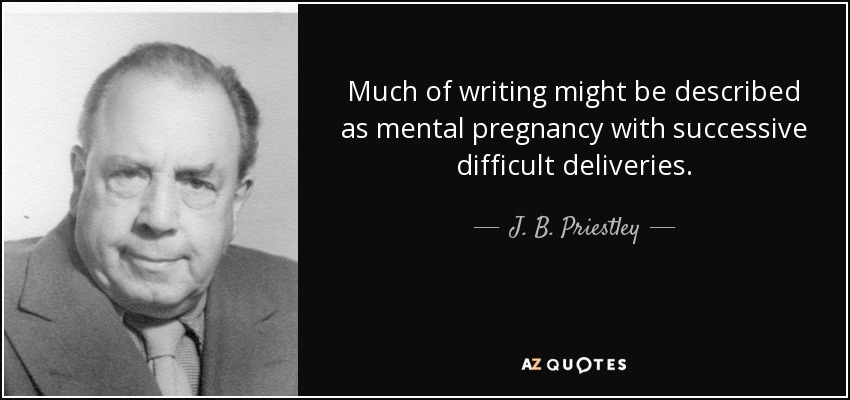 After more than a year of labor, THE SEA CRYSTAL and Other Weird Tales has been born. The delivery took place today when I uploaded the ebook to Kindle and induced the birth of the paperback version. For a change, it wasn't difficult; it was quick and easy, with no complications.
Here's a picture of my new baby, the fifth book I've conceived and delivered.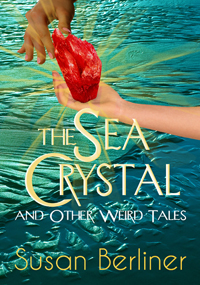 You can purchase the short story collection on Kindle and it will soon be available on other ebook sites and in print. You can be sure I'll announce the details.
*            *            *

Last call for entries! – March 31, 2016
Welcome to my weird world! Can you think of a weird short story idea and describe your concept in one sentence? That's all you have to do to enter my creative contest, which ends this Saturday, April 2nd.
My mind is focused on weird stories because I've been working on my short story collection, THE SEA CRYSTAL and Other Weird Tales, which will be published sometime in April.
In the contest, I'm giving away a $25 gift card to Barnes & Noble and two autographed copies of your choice of one of my novels: DUST, Peachwood Lake, The Disappearance, Corsonia—and, if you're willing to wait a few weeks—THE SEA CRYSTAL and Other Weird Tales. That's right: You can be one of the first to read my new book of short stories!
So think weird and enter now. Here's the link to the contest.
*            *            *

Just a page – March 27, 2016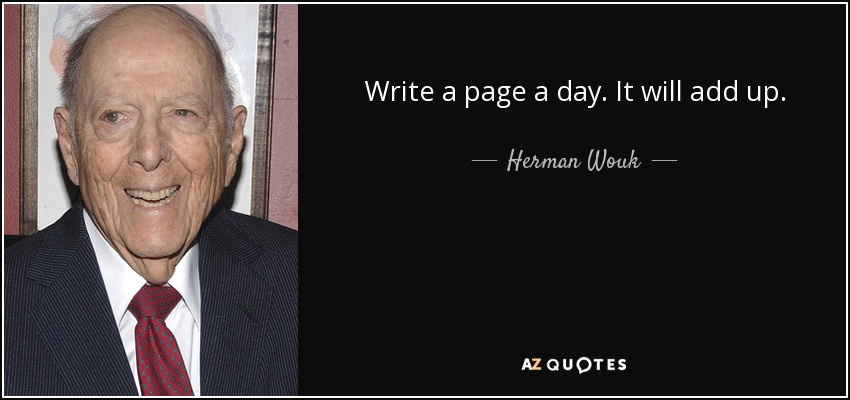 I've been preaching Herman Wouk's advice since I became a novelist in 2007: Writing a few words each day will eventually produce a book. You just have to be disciplined.
Although I only write for an hour each day, producing 300-500 words a session, I've published four novels, and my short story collection (THE SEA CRYSTAL and Other Weird Tales) will debut this spring. That's because the words do add up. Even writing 300 words a day totals 9,000 words a month and over 100,000 words a year—more than enough for a novel.
You want to be a novelist? Then follow this simple plan: Force yourself to write every day. Lock yourself in a quiet room for an hour—or even 30 minutes—and you'll be surprised at how quickly the words add up. Just do it!
*            *            *

Book is done (I hope!) – March 23, 2016
After five complete rereads by me, one read-through by my editor, and two skims (again by me), the formatted version of THE SEA CRYSTAL and Other Weird Tales, is finished.
It's a bit discouraging to keep finding little mistakes—a missing quote, double periods, an extra apostrophe and hyphen, a missing space, etc.—in pages I thought were error-free. The only consolation is that I found these mistakes before publication, rather than afterwards.
I haven't skimmed the "final" formatted pages yet, and I'm almost afraid to do so. What if I find yet another small error? I've thanked the formatter, paid her, and I'm working with the cover artist next week. It's time to move forward—finally.
*            *            *
The end game – March 19, 2016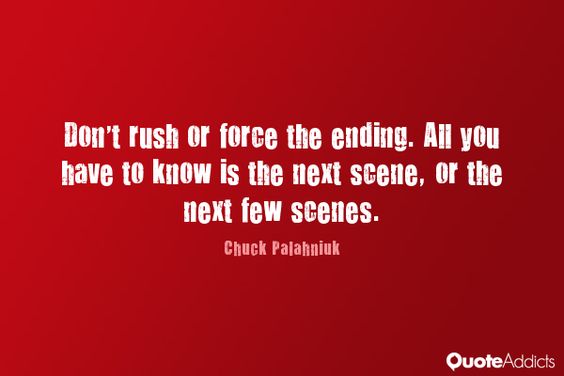 I found this timely quote as I near the end of "The Imposters," the short story I'm writing, not knowing how it will conclude. In fact, I'm not even sure if the ending will be a happy or a tragic one. All along, I've thought this story would end well—but now I don't know. I'd prefer a good outcome because I really like the young protagonist, but, as Chuck Palahniuk cautions, I can't force or rush it. 
Late in the story, I've introduced a character—and I don't know if her intentions are good or bad. But that's the wonderful thing about writing fiction. Like the reader, I get to enjoy the suspense of not knowing what's going to happen. I'm not even sure of the next scene. I'll have to wait until I start to write it.
*            *            *

Blurb words – March 15, 2016
I've been working on the blurb for my short story collection, THE SEA CRYSTAL and Other Weird Tales, for months and it's still not finished. The blurb is an essential element of any paperback or ebook. It's the description on the back cover of a paperback, or on a book-selling website like Amazon, that most readers consult before making a purchase. Obviously, every word in a blurb is important.
The blurb of a novel should contain two or three paragraphs that describe the book and entice the reader, without giving away the plot. However, a collection of short stories is different. My book includes fourteen tales and I don't have space to mention them all. I think I've found a clever way to solve this dilemma and you'll see my blurb soon. But, right now, I'm still perfecting it.
*            *            *
Punctuation problems – March 11, 2016
I've finished the fourth reread of the formatted version of my short story collection, THE SEA CRYSTAL and Other Weird Tales. In this round of proofing, I (and another reader) found seven mistakes.
After so many readings, that number is a little disheartening. The errors are all punctuation-related—small and sneaky—but they are still mistakes. Here are some examples: the same word is both hyphenated and unhyphenated, quotation marks are omitted after dialogue, quotation marks are included at the beginning of a description, and an apostrophe is included with quotation marks.
I'm hoping that the next reread will be the final one. That means I won't find any more mistakes. Wish me luck!
*            *             *

Write something! – March 7, 2016
I try to write everyday. Sometimes it's impossible, but most mornings I'm able to write a scene in my book or story. Of course, that's my favorite type of creative writing.
However, it's important to write—even if you're not creating the most fascinating stuff.  I've just begun an annual freelance writing assignment, a project I've worked on for many years. The job involves writing educational passages and questions for standardized tests given to students who can barely read or write English. Since I develop material for beginners, you can imagine how simple the words and sentences must be.
But it's creative writing—and that's what matters. Write! Write! Write!
*            *            *

Patterson pointers – March 3, 2016
I just read a 2010 New York Times magazine interview with novelist James Patterson, arguably the most successful author in the U.S. Although the article mainly details how Patterson transformed the publishing industry through his marketing methods and use of co-authors, it does touch on a subject of greater importance to me: his writing philosophy.
He criticizes his award-winning first novel, The Thomas Berryman Number, saying: "The sentences are superior to a lot of the stuff I write now, but the story isn't as good. I'm less interested in sentences now and more interested in stories."
Like Patterson, I'm more interested in plot than lengthy description, but I'm also interested in my sentences. I want my words to be the best they can be—without getting in the way of the action. A novelist has to perform this balancing act to maintain the reader's interest. Obviously, Patterson is a master of this skill.
*            *            *
Fiction magic – February 28, 2016
As I write this new short story, "The Imposters," I'm reminded of the joys of writing fiction. As I mentioned in my last post (see February 24th), I felt compelled to get the words transcribed. And, yesterday, as I wrote a scene, I realized why and how these strange things were happening.
It always amazes me when I have a "Eureka!" moment. Although I still don't know the ending of this story, I now understand the plot. Fiction writing really is magical because often I don't have elements figured out when I start and then, suddenly, everything makes sense.
*            *            *

Novel interrupted – February 24, 2016
I'm trying to finish my doomsday book, The Touchers (Part Two), really I am, but it's a never-ending job. In the meanwhile, without wanting to, I started thinking about a short story idea mentioned in my current creative contest. Titled "The Imposters," it's a tale about a brother and sister who wake up one morning to a strange new mother and father.
This story kept drifting through my head until I finally had to sit at the computer and begin to write it. Eventually, I will complete The Touchers series, but right now, the muse is forcing me to write this short story. And when my muse talks, I listen.
*            *            *

Fiction rules – February 20, 2016
One of the best things about being a novelist is that, as Doris Lessing says, there are no laws. Each author can write as he or she pleases.
Do you like to outline your story? Fine. You can outline. Do you like to write character descriptions before you begin? You can do that. Do you like to work the way I do—write your story as you go along and have the characters direct the action? You can do that too.
There are no rights or wrongs in writing fiction. Whatever works for you is the correct way to write—and don't let anyone tell you that you're using the wrong approach. No one cares what method you used to create your book. People just want to read it. The only necessity—or "law"—is to write your story.
*            *            *
Write! Write! Write! – February 16, 2016
"It is important that you write something,
   regardless of quantity, every day."
 -- B.F. Skinner
I'm on Twitter, but it took me a long time to figure out a tweeting strategy, since it's bad Internet manners to constantly chirp: "Buy my books!"
Finally, I hit upon a solution: Retweet motivational writing quotes and occasionally comment on them. Many of the quotes I choose, like the above lines by the famous behavioral psychologist, stress the importance of writing every day, something I've learned since becoming a novelist.
Pick a daily writing time, lock yourself in a room for that period, and just write. You'll be amazed at the amount of words you can produce. To be a writer, you have to keep writing. And don't worry if what you write isn't very good. You can edit it later.
*            *             *
That tricky possessive apostrophe – February 12, 2016
On Monday, we'll celebrate the most misspelled holiday on our calendar. It's the day we honor two great presidents who had February birthdays—George Washington and Abraham Lincoln. 
Since we're celebrating the birthdays of both men, the correct spelling of the holiday is Presidents' Day. If we were just celebrating one man's birthday, it would be President's Day. It can never be Presidents Day without a possessive apostrophe.
Each year at this time, I check ads to see how many Presidents' Day headlines are incorrect. In today's New York Daily News alone, I found numerous errors: BX Furniture is having a "Presidents Day Sale," while Corner Furniture, Forman Mills, and Furniture City are each running "President's Day" sales. (I wonder which president they're honoring—George or Abe.)
Car dealers have apostrophe mistakes in their ads every February. Lasorda Chevrolet and Star Cars are both announcing a "President's Day Savings Event," Milea Subaru promises "Presidents Day Savings," and Major World offers "Presidents Day Unprecedented Savings." I guess the latter headline is supposed to be punny, but I'd like the wordplay better if Presidents' Day was spelled correctly
How many misspelled holiday ads can you find in your local newspaper?
*            *            *
Formatting finds - February 8, 2016
I'm halfway through reading the first formatted pages of THE SEA CRYSTAL and Other Weird Tales. It's an exciting, uplifting experience to work on the short stories in book form. Even though this version always has major issues (spacing, headings, indents), everything is fixable and it means I'm one step closer to the finished book.
In addition to the formatting problems, I've found three of my own mistakes. I created this error when I made a change during my last reread: "Annie's enjoyed her daily lunchtime walks..."
The other two errors are smaller and sneakier: I had double quotation marks at the beginning of a dialogue and I inserted a period before another opening quote.
I hope the second half of the book is error-free.
*            *            *

Face off? – February 4, 2016
In one of my Facebook authors' groups, a novelist asked members for feedback on two potential covers for his urban fantasy book about Druids. One cover showed ornate doors and the other featured a sexy guy's face and bare chest, the latter with black tattoo-like squiggles.
Several people liked the door cover, feeling the picture conveyed more of a sense of mystery. Others liked the guy cover, but thought the man looked too much like a character in a romance novel.
One author wondered about the merits of using a person's face on the cover, saying readers should form their own images of what a character looks like. "Who are we to tell the reader what to imagine?" he asked.
I've often thought about that question. I have one novel (The Disappearance) that shows the main characters on the cover and I agree that it does take away the reader's opportunity to form his or her own picture of what Jillian and Ryan look like. However, many romance novels have their lead characters on the covers. Is it okay for that genre, but not for others?
What do you think? Do you like people's faces on the covers of the novels you read—or would you prefer to form your own impressions?
*            *            *
Some sneaky mistakes – January 31, 2016
The Sea Crystal and Other Weird Tales may not yet be ready for prime time. I just finished my latest read-through and found three significant errors. They were sneaky—but they were definitely mistakes that I should have identified and corrected earlier.
Here are the mistakes:
* A saleslady says "Good morning" to a customer. Sounds harmless, right? But later in the story, the customer mentions having been to the store in the late afternoon—not the morning.
* (I have to be vague on this one or I'll be my own spoiler.) In this tale, characters undergo significant physical changes and I misstated what happened to one of them.
* On a Tuesday, a character says two people came into an investment firm "a couple of days ago." That would mean the company would have been open for business on Sunday. Not likely!
I'm going to skim the short stories tomorrow and decide if they are finished. Still hoping...
*            *            *

Almost finished – January 27, 2016
The Sea Crystal and Other Weird Tales is nearly done. I make this statement because, in my last read-through, neither I (nor the proofreader) found any mistakes.
That doesn't mean I didn't make changes. I fleshed out details (see January 23rd post), eliminated minor repetitions, substituted synonyms, removed a bunch of commas (I always use too many commas!), and made other small tweaks.
Although these revisions improve the short stories, they're not significant upgrades. I'll read the manuscript one more time, and if all I find are synonym and comma issues, then I'll declare the book "finished"—and relinquish The Sea Crystal and Other Weird Tales to the formatter.
I hope this is my last reread before production. My fingers are crossed!
                                                        *            *            *

Naming people, places, and things - January 23, 2016
In my post of January 3rd, I wrote about naming specific movies and TV shows in my short stories rather than using vague generalities: "John was watching Jeopardy" instead of "John was watching TV."
In my latest reread of The Sea Crystal and Other Weird Tales, I've found other examples of vague language that can be made concrete. Here are some of the changes:
* Instead of drinking soda, a character now sips Pepsi.
* Instead of shopping in a supermarket, a character now goes to Acme Market.
* Instead of working for a local accounting firm, a character now is employed by Payne & Finch.
* Instead of sitting in a coffee shop, a character now eats in Carly's Coffee Shoppe.
* Instead of wanting to get off a highway at an unnamed exit, a character now sees the exit for Birchville.
These may be minor tweaks, but each adds a touch of reality to the short story.
*            *            *

Making It Right - January 19, 2016

I don't "write it right"—I wish I did, but my first drafts are never ready for prime time. As a result, I do what author Tara Moss suggests: "I just write it."
My short story collection, The Sea Crystal and Other Weird Tales is written and I've progressed to the "make it right later" editing phase. But I'm nearly done with the current reread and it's disheartening to still find errors I should have spotted earlier—like the misspelling of a character's name, not once, but three times! It's a sneaky one (Lisette vs. Lizette), but even so,  I should have caught the mistake before now.
I'll finish this read-through and start again. Eventually, I will succeed in making it right.
*            *            *

Plot fix – January 15, 2016
I've been mulling over a plot problem with one of the short stories in my new collection. The tale features a ghost who's transparent, without any substance. However, I need my ghost to write something. How can I get the ghost to do this?
I finally came up with the following solution: Another character—this one alive—is helping the ghost hold a pen. Who knows if a ghost can write (or do anything else), but, in this case, human intervention works for me.
Now that I've solved the issue, I'm going to reread and edit The Sea Crystal and Other Weird Tales yet again. Hopefully, I'll be finished soon. (See post below.)
*            *            *

When is a book finished? – January 11, 2016
I've started another round of editing my short story collection, The Sea Crystal and Other Weird Tales, which leads to the question I ask myself during each read-through: Is this book "finished"? 
Every writer will have a different answer to that most important question. Since I find fault with my book each time I reread it, I never think it's truly done. Nevertheless, I've come up with an answer that works for me. When I've read the manuscript a zillion times and the only changes I make involve commas, synonyms, or other stylistic improvements, then the book is done.
Since I'm still fixing small errors and making minor plot revisions, in addition to replacing numerous words, the book's not done yet. Besides, I've only read the short stories a half a zillion times.
*            *            *
Tell me a (weird) story – January 7, 2016
It's a new year and I've just started a new creative contest based on my short story collection, The Sea Crystal and Other Weird Tales, which will be published in the spring. My 14 stories cover many genres including thriller, horror, ghost, sci-fi, fantasy, and humor. Of course, nearly all have a touch of the supernatural.
I'm asking entrants to briefly describe an original weird short story by completing this sentence: My weird story is about _______________________________________.
I'm looking forward to reading all the terrific descriptions. To enter, click here—and good luck!
*            *            *

Lazy, hazy writing – January 3, 2016
Effective writing requires specific language—not abstractions. After recently rereading my fourteen short stories, I found several instances of lazy writing. I had characters watching TV or movies without specifying what they were viewing.
I added details to make the descriptions more concrete. Here are two examples:
A character who "watched TV, trying to concentrate on an old movie" now "found the Mets/Nationals game on TV...stopped watching the 1-1 game in the eighth inning, unable to enjoy it, and went to bed."
Another character who "watched a romantic comedy on TV" now "watched a DVD of Pretty Woman."
Small changes—but good ones!
*            *            *
Save
Save
Save
Save
Save
Save
Save
Save
Save
Save
Save
Save
Save
Save
Save
Save
Save
Save
Save
Save
Save
Save
Save
Save
Save
Save
Save
Save
Save
Save
Save
Save
Save
Save
Save
Save
Save
Save
Save
Save
Save
Save
Save
Save
Save
Save
Save
Save
Save
Save
Save
Save
Save
Save
Save
Save
Save
Save
Save
Save
Save
Save
Save
Save
Save
Save
Save
Save
Save
Save
Save
Save
Save
Save
Save
Save
Save
Save
Save
Save
Save
Save
Save
Save
Save
Save
Save
Save
Save
Save
Save
Save
Save
Save
Save
Save
Save
Save
Save
Save
Save
Save
Save
Save
Save
Save
Save
Save
Save
Save
Save
Save
Save
Save
Save
Save
Save
Save
Save
Save
Save
Save
Save