Events & Photos
The events below relate to Susan Berliner, author of the supernatural thrillers DUST, Peachwood Lake, The Disappearance, Corsonia, After the Bubbles and Soldier Girl, and two short story collections: The Sea Crystal and Other Weird Tales and George's Mother and Other Weird Stories.


Here are my upcoming book signing events:
MEALS, WHEELS & DEALS
Somers High School
Sunday, April 26
11 am - 4 pm
120 Primrose Street
Lincolndale, NY 10540
* * *
SPRING VENDOR FAIR
Buchanan Pavilion
Saturday, May 16
10 am - 4 pm
218 Westchester Avenue
Buchanan, NY 10511
* * *
BACK TO SCHOOL CRAFT FAIR
Dutchess County Gymnastics Center
Sunday, August 16
2 pm - 6 pm
986 Main Street, Suite 9
Fishkill, NY 12524
* * *
On March 4, I read stories to students in Grades 3 - 8 of St. Patrick's School in Yorktown Heights, NY. Here are some photos:
I read stories from The Sea Crystal and Other Weird Tales to the 3rd, 4th, and 5th graders in the cozy library.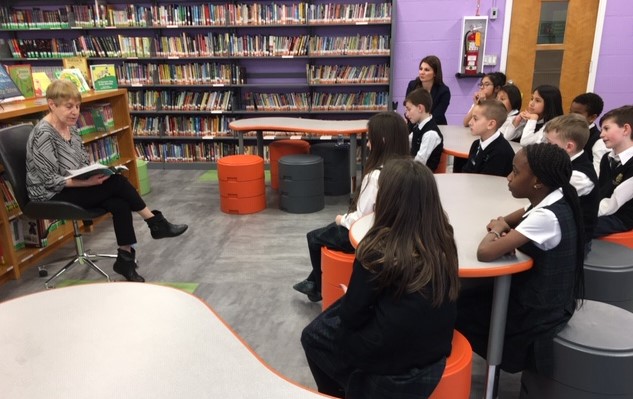 I read "Jeremy's Toys" to the 3rd graders, with Principal Rebecca Steck joining us. The students asked great questions about the story.
I read "EVERYTHING $50!" to the fourth and fifth graders, who were super-enthusiastic listeners. They too asked many questions about writing.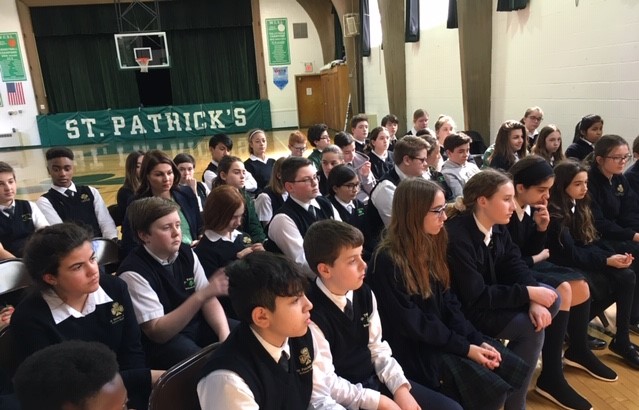 I moved to the gym to read "The Factory" to the sixth, seventh, and eighth graders. I was thrilled when the students asked me to read a second story! I chose "Dare to Dream."
* * *
Harriet loves my supernatural thrillers! I see her each February at a Military Bridge event in Queens, NY. Last year, she read After the Bubbles so on February 1st, she purchased the concluding book of The Touchers series: Soldier Girl.
On December 14, I participated in Deck the Mall at the Jefferson Valley Mall in Yorktown Heights, NY. Here are two pictures: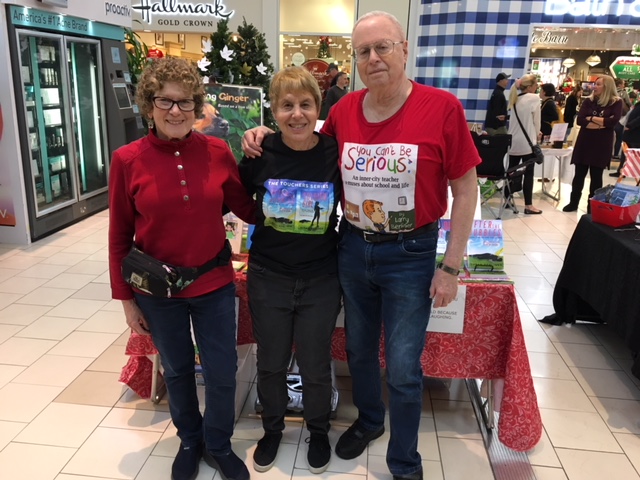 This was another YIKES! & TYKES & YUKS event so I shared a table with authors Larry Berliner and Linda Griffin. We were originally placed inside the back entrance next to Dick's Sporting Goods, but had little traffic even though the Mall was very busy because shoppers were either entering or leaving the Mall and didn't want to take time to look at books. When we moved near the second-floor escalator,  more people checked out our table, but few bought books.
Sue, an avid reader, purchased a signed copy of my short story collection, The Sea Crystal and Other Weird Tales.

* * *
On December 7, I signed copies of my books at St. Elizabeth Ann Seton School's Christmas Fair in Shrub Oak, NY. Again, we had perfect holiday weather (sunny and cold)--and lots of traffic. Here come the photos: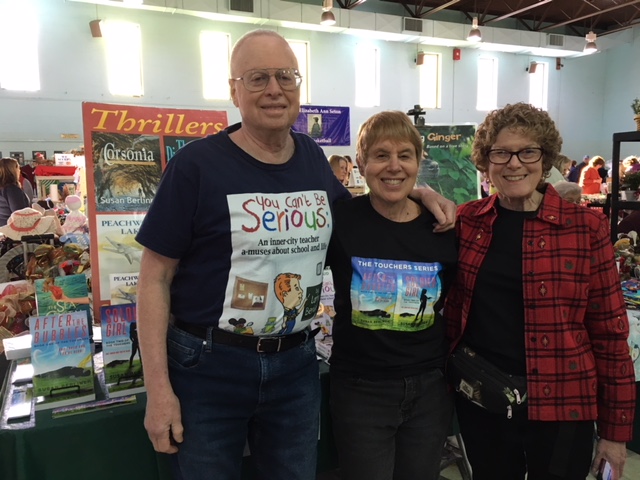 This was a YIKES! & TYKES & YUKS event so I shared a table with fellow authors Larry Berliner and Linda Griffin.
John and Susan, both Dean Koontz and Stephen King fans, already have Peachwood Lake, which they loved, so they opted for a signed copy of my King-inspired first novel, DUST.
After skimming through my books, 14-year-old Jasmin chose the mind-control thriller, Corsonia.
Mary Jane and her daughter, Susan, wanted a copy of Peachwood Lake as a gift for one of their younger relatives.