Events & Photos
The events below relate to Susan Berliner, author of the supernatural thrillers DUST, Peachwood Lake, The Disappearance, Corsonia, the short story collection, The Sea Crystal and Other Weird Tales, and the new dystopian series, The Touchers: After the Bubbles and Soldier Girl.
Here is my next event:
Black Friday Book Sale
Friday, November 29
11 am - 4 pm
Jefferson Valley Mall
650 Lee Boulevard
Yorktown Heights, NY 10598
* * *
On November 16, I participated in a Holiday Craft Fair at the VFW post in Brewster, NY. This was a small, cozy venue with many hand-crafted items. Here are a few photos: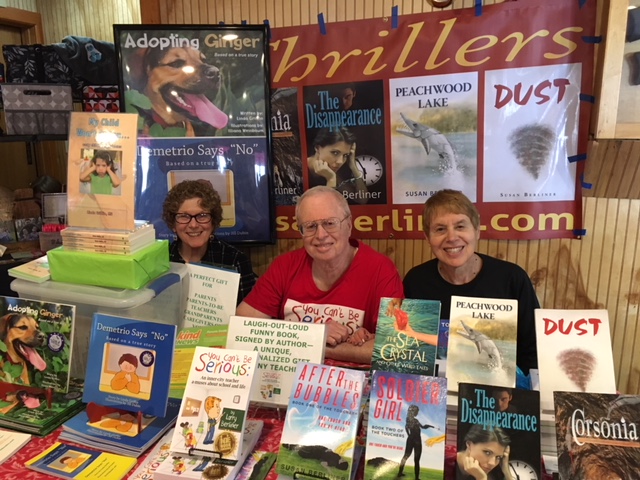 At this YIKES! & TYKES & YUKS event, Larry Berliner, Linda Griffin, and I were a bit squeezed for space. No room for posters--but I did get to display my banner.
After skimming through my books, 13-year-old Claire chose The Sea Crystal and Other Weird Tales.
April wanted a signed copy of DUST for her 10-year-old twin sons, Jack and Ryan.
Heather was looking forward to reading my time travel thriller, The Disappearance.
* * *
I signed my books at St. Patrick's Craft Fair in Yorktown Heights, NY on November 9. It was a frigid, winter-like day, but at least it wasn't snowing--and the weather put shoppers in a holiday-buying mood. Some pictures follow: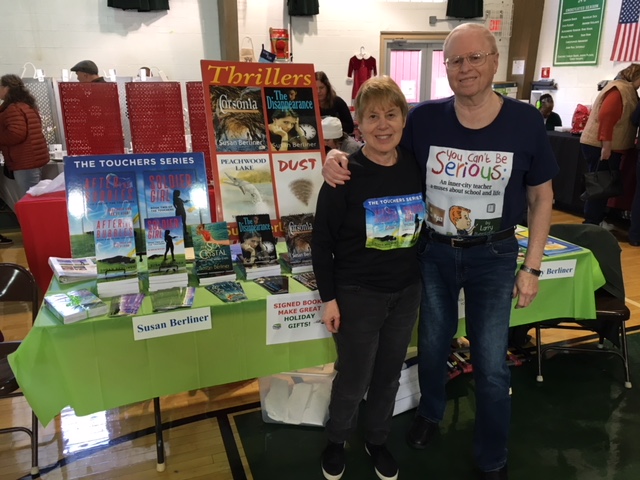 This was a YIKES! and YUKS event so I shared a table with fellow author (and husband), Larry Berliner.
Harold, a mystery fan, chose a signed copy of The Disappearance.
Sue wanted to read my mind-control thriller, Corsonia, and Larry's award-winning funny book, You Can't Be Serious: An inner-city teacher a-muses about school and life.
Last year, Kathleen purchased Peachwood Lake and The Disappearance for her granddaughter, who loved the books--so this year she's giving Madison (nearly 14), signed copies of Corsonia and The Sea Crystal and Other Weird Tales.