Blog
This blog is by Susan Berliner, author of the supernatural thrillers "DUST," "Peachwood Lake," "The Disappearance," "Corsonia," the short story collection, "The Sea Crystal and Other Weird Tales," and the new dystopian series, The Touchers: "After the Bubbles" and "Soldier Girl." This page contains blog entries from January 5, 2018 - December 27, 2018.

Perfecting the blurb - December 27, 2018
As I work on finishing Soldier Girl, Book Two of The Touchers, I'm also writing the back-cover blurb for this end-of-the-world thriller. The blurb is an important marketing tool because it's the short description prospective buyers read when they check out the novel on Amazon, Barnes & Noble, my website—any online site that features the book.
That's why the blurb has to be perfect: Every word should be necessary and meaningful.
I review the blurb-in-progress nearly every day and always make changes—some minor, some major. Until a few days ago, I didn't like what I'd written at all. But in Version 12, I had a "Eureka!" moment and made significant improvements. My latest attempt, Version 14, is even better (I changed two words) and now the blurb is almost finished. I wish I could say the same for the book itself.
*            *            *
Review request - December 22, 2018
"I just finished Dust & enjoyed it immensely.
I was drawn in immediately & didn't want it to end."
I received the above review yesterday in an email from a lovely woman (anyone who enjoys my books is lovely!) who purchased the novel at a recent holiday book-signing event at my local mall.
After signing a book, I always ask the customer—if he/she enjoys reading it—to please post a brief review on Amazon. Almost everybody says they will, but hardly anyone does.
Occasionally, someone like Toni emails me­—or praises one of my books on Facebook. I thank the person and ask again to please put the comments on Amazon. Toni said she would write a review of DUST—and to my surprise, she did! Here it is:
"This book grabbed me from page one! A quick read with relatable characters &
a weird but sometimes humorous tale that keeps you guessing til the very end.
I enjoyed this immensely & look forward to reading additional books by Susan Berliner."
Here's a holiday wish: If you've enjoyed a book of mine—or a book by another author­—please post a short review on Amazon. It really helps. Thanks and have a very Merry Christmas!

                                                   *            *            *
Baseball or books? - December 17, 2018
At last Saturday's book signing at my local mall (with authors Larry Berliner and Linda Griffin), I was surprised that we were surrounded by many tables of sports memorabilia. But the reason soon became apparent: Miguel Andujar, the talented rookie third baseman for the New York Yankees, would be appearing at the mall that afternoon.
As the day wore on, more and more shoppers drifted into the mall wearing Yankees gear—and most of them ignored our YIKES! & TYKES & YUKS book-filled table. In fact, the situation was identical to our Black Friday sale: We were just inside the mall's main entrance—next to the elevator—so people couldn't help notice our attractive book display. (See photos in Happenings.) Nevertheless, nearly all avoided our table.
It seems the majority of shoppers don't consider books to be a desirable gift. The sports memorabilia vendors, however, did very well. Baseball items are definitely more sought after holiday gifts than books. What a shame!
*            *            *
Editing update - December 12, 2018
I'm up to Chapter 23 (of 29) in my rereading of Soldier Girl, Book Two of The Touchers, my end-of-the-world series. The good news is that I'm not making any major changes. The bad news is that I'm making many minor changes.
It's disturbing that I'm still finding so much to change. At this point, I thought I'd be finished editing this novel--or at least, nearly finished. Yet, as I read, I continue to find unnecessary words, phrases, sentences, and even a few needless paragraphs. Also, there's an occasional error--like two minor characters sharing the same last name.
For some reason, The Touchers series has been a tough road, both writing and editing. And it's taking forever to finish. I'll be so relieved when Soldier Girl is finally done.
*            *            *
Word chopping - December 7, 2018
In my latest reread, I've gone through nine chapters of Soldier Girl, Book Two of The Touchers--about a third of the novel--and continue to follow William Strunk Jr.'s advice. So far, I've removed nearly 3,000 words--and that's without making any major cuts.
Here are a few of my latest chops:
...and bathrooms for men and women.
...and bathrooms.
(Obviously, the bathrooms are for both sexes.)
"He got hurt when we were fighting the touchers."
"He got hurt fighting the touchers."
Quickly, we ran to my porch...
We ran to my porch...
(Running is quick.)
...took out the map, and studied it.
...and studied the map.
All these word cuts should improve the novel and make it easier to read--I hope.
*            *           *
Book gifting (continued) - December 5, 2018
I've participated in two other holiday fairs since the post below and, for some reason, shoppers' interest in signed books as holiday gifts seems to be dwindling. Is it because fewer people are reading books--or maybe people are spending less money on gifts? I don't know the answer.
Both events this past weekend were with YIKES! & TYKES & YUKS fellow authors, Larry Berliner and Linda Griffin, who've written terrific award-winning books. And Linda and I have published books in 2018 so we offer a larger selection.
In the Friday night event, we had two tables, giving us lots of space to display our books--and I even got to hang my banner. In the Saturday event, we had one small table, but were in the cafeteria--next to cupcakes, donuts, and cookies--so lots of people saw our books. Some bought them, but not as many as last year. (Cake sales were much better!) Photos are in Happenings.
We have one more event, Saturday, December 15. I hope we attract more readers then.
*            *            *
Book gifting - November 27, 2018
On Black Friday, Larry Berliner and I had a book-signing sale in our local mall. We had a terrific location—two attractive tables near the main entrance—so people entering and exiting couldn't miss us. (See photos in Happenings.) And there were lots of shoppers. But we didn't do much signing.
I think books—especially signed books—make great holiday gifts. However, for some reason, mall shoppers weren't interested even in looking at our paperbacks. Most whizzed right by our terrific assortment of books for all ages. (We had signed copies of Linda Griffin's wonderful children's books too.) Yes, a few people did stop and one woman told us her husband loved receiving gifts of signed books. But that was the exception.
Are books now considered such a poor gift choice? I certainly hope not. We're going back to the mall with our YIKES! & TYKES & YUKS books in mid-December and maybe we'll have better results then.
*            *            *
Switching gears - November 22, 2018
I'm taking a break from editing Soldier Girl, Book Two of The Touchers, and rereading my next collection of short stories. As I read the thirteen tales again, I realize how much easier it is to edit them than the novel. Why? They're stories, not a book. It's simpler to keep track of the characters and actions. If there's a plot problem, it's also much easier to fix.
But even though I could finish editing the stories before the novel, I intend to publish Soldier Girl next because After the Bubbles readers deserve to know the conclusion of The Touchers series. I'm still aiming to have the book ready in early spring.
*            *            *
Where's the ending? - November 17, 2018
I just finished reading The Crooked Staircase, the third book in Dean Koontz's Jane Hawk series. Although Koontz is my favorite author and I loved the first two books of the series, I had a major problem with this novel.
The Jane Hawk series centers on mind-control, one of my favorite themes. In fact, my novel, Corsonia, deals with this subject. Here, a powerful quasi-government organization plants mechanisms in the brains of selected people that force them to commit suicide and/or murder—whatever the bad guys want.
My issue isn't with the lengthy, often flowery, descriptions or with the many pages devoted to a side story that doesn't factor into the main narrative. The action scenes are still terrific. My complaint is that this book doesn't end. It stops at a critical point—much like the cliffhanger in the first episode of a two-part TV drama.
In Koontz's previous two Hawk novels (The Silent Corner and The Whispering Room), Jane doesn't destroy the evil organization, but she does dispose of the bad guy (or guys). But in The Crooked Staircase, although Jane kills one villain, she doesn't even cross paths with the other very bad people and, at the end of the novel, a key character remains in mortal danger. Not fair to the reader! Every book deserves an ending.
I've written a series too. But Book One of the Touchers, After the Bubbles, has a conclusion. The Crooked Staircase should have one too.
*            *            *
Book report - November 12, 2018
Soldier Girl, Book Two of The Touchers, the conclusion of my dystopian series, still isn't "finished."
During my latest reread of the manuscript, completed last week, I found many more things to change--mostly removing unnecessary words, sentences, and even paragraphs. I also replaced words with better choices, rearranged sentences, and reorganized paragraphs.
On the positive side, the manuscript didn't need major changes. That means, after I resolve all the minor issues, the novel should be ready for publication, hopefully in early spring.
*            *            *
Monster magic - November 7, 2018
Since my new dystopian thriller, After the Bubbles, is about scary monsters—known as touchers—that kill people just by touching them, I created a fun monster-based contest. Each entrant must invent a monster, name it, and explain (in a sentence) how the monster kills people.
But this monster contest is almost over: It ends Friday, November 9th. So before it's too late, think of an original monster and submit your idea. You can win a $25 gift card to Barnes & Noble or an autographed copy­ of your choice of one of my books­.
To enter, click here and good luck!
*            *            *
Sleep scenario - November 2, 2018
I woke up at one a.m. Thursday and couldn't fall back to sleep. Usually when this happens, it's not a good thing. But as I lay there with eyes closed, I thought about a supporting character in Soldier Girl, Book Two of The Touchers, the dystopian novel I'm editing.
Rayna is a teen girl who becomes a good friend of the protagonist, Erin. In After the Bubbles, Book One of The Touchers, readers discover how Erin survived the bubbles, but I hadn't mentioned Rayna's means of escape. Thursday night, however, my restless mind came up with a number of scenarios, one of which I really liked.
Friday morning, before returning to editing, I added a short scene to the beginning of Soldier Girl in which Rayna explains how she lived through the bubbles horror.
If I can't sleep, at least I can be productive.
*            *            *
Review request - October 28, 2018
This week, I received another 5-star Amazon review for my new dystopian thriller, After the Bubbles, Book One of The Touchers. Here's a segment of Michael Nail's review for Gimmethatbook:
"Unique science fiction flair with feisty characters! A quiet town is disrupted by floating bubbles that transform people into zombie-like creatures with a deadly secret – they can kill merely by touch. This twist provided a spine-chilling effect, sort of like a game of tag where you are no longer "it," but "dead."...AFTER THE BUBBLES is written in a slightly different style than the author's other books. It has a slightly YA flair to it, yet it will appeal to readers of all ages...The cover states that this story is "Book One" so I know there is more action to come in the future. I will definitely be looking for the second book in the series to find out what happened!"                        
Several readers have told me After the Bubbles is one of their favorite books—or even their absolute favorite—which, of course, is great. As I've mentioned here before: Good reviews are incredibly important to authors, especially indie authors like myself. They validate my work and encourage me to keep writing.
If you enjoy one of my books, or another author's work, please take a moment to write a review on Amazon. It doesn't have to be lengthy like the example above—just a sentence or two is fine. Thanks and happy reading!
*            *            *
More unnecessary words - October 23, 2018
In my last post, I wrote about issues I'm finding during my new reread of Soldier Girl, Book Two of The Touchers. One of the problems I mentioned was unnecessary words, especially at the end of scenes and chapters. However, as I continue to read, I'm finding sentences everywhere with extra words or phrases.
Here are a few examples, followed by my revisions:
...and a few of the older soldiers I knew...
...and a few older soldiers I knew...
"Want to play some pool?"
"Want to play pool?"
I took a bite of my bread...
I took a bite of bread...
...Manny did nearly all of the talking.
...Manny did nearly all the talking.
Although these are minor fixes, each makes the book tighter and better, which is what I want.
*            *            *
Yeah, yeah, yeah - October 18, 2018
I just finished my latest reread of Soldier Girl, Book Two of The Touchers, my dystopian series, and printed the latest revision. Then, instead of taking a break, I decided to read the paper version again.
Of course, this method of editing is inefficient because I have to make corrections on the paper and then transfer them to the computer. But I needed a break from spending days staring at the computer screen.
After reading the first three chapters, here's what I've found:
* Too many "yeahs."
Yes, my characters are mainly teens and they take over the action, speaking their conversation to each other. But even though characters say "yeah" all the time, I don't have to include the word so frequently. Dialogue in a novel isn't ordinary conversion; it's condensed speech that moves the plot forward--and all those "yeahs" don't accomplish that goal.
* Too many short, choppy sentences.
Again, I can attribute some of the simple sentence structure to my chatty characters, but some of it is my description. Although I like short sentences, too many of them are not effective so I've made some compound or complex.
* Unnecessary words:
I sometimes end scenes or chapters with one or two sentences that are repetitive or unnecessary. In Chapter 2, I eliminated "Yeah, we sure are" at the end of a scene.
But the good news is that this version of Soldier Girl is better than the last one and most major issues have been corrected (I hope!). Eventually, this book will be finished. 
*            *            *
Fading celebration – October 13, 2018
Today was Indie Author Day, an annual mid-October library holiday started in 2016, that's meant to celebrate the efforts of the nation's independent authors. In 2016 and 2017, I participated in the event in the Eastchester (NY) Library with Westchester Indie Authors, a local group disbanded this year.
In 2016, nearly 300 libraries across the country joined in Indie Author Day, along with thousands of authors. The event featured local writing panels and a national telecast, broadcast live to libraries.
In 2017, fewer libraries participated, there was no national interaction, and our local library event attracted hardly any people. Although we had panel discussions about writing issues, the audience was mostly our author group.
This year, North Castle Library in Armonk, NY was the only Westchester County library that celebrated Indie Author Day. Our event featured four authors, one of whom was traditionally published, i.e. not an indie author. Our turnout was too small for writing panels or workshops so we spoke individually to visitors. (See Happenings for photos.)
What did the four of us do? Mostly, we spent the day talking to each other about our writing experiences, which was fun and informative. Although we all write in different genres, we still have a lot in common. And we came to the conclusion that Indie Author Day is a nice idea that's not working.

                                                       *            *            *
Blurb blab – October 8, 2018
While rereading Soldier Girl, Book Two of The Touchers, I've started writing the blurb for this doomsday book. The blurb is a hugely important marketing tool. In addition to being the back-cover text, it's the book description readers see on Amazon, Barnes & Noble, my website—and everywhere else the novel is sold.
A blurb is always difficult to write because every word matters. I must have written at least twenty-five versions of the back-cover text for After the Bubbles, Book One of The Touchers. And this blurb is even more difficult because I have to decide how much of the first book of the series to reveal. Of course I have to mention the falling bubbles and the aftermath. But do I give away important plot details?
What if someone wants to read the second novel without having read the first? Maybe that person will want to read the first book afterwards so I don't want to mention every important thing that happens. It's a puzzlement—one I have to figure out.
*            *            *
Location! Location! Location! – October 3, 2018
Last Saturday, I had a book-signing event with fellow YIKES! & TYKES & YUKS authors, Linda Griffin and Larry Berliner, at Marymount Sisters Fall Festival in Ossining, NY.
I was a bit worried about how my supernatural thrillers and Larry's humorous essays would be received in this religious setting and the results showed I was right to be concerned: Larry and I didn't sign many books. However, our TYKES partner, Linda, did extremely well with her two children's books.
We discovered that the people attending this event were mostly resident Sisters or families with young children—and both categories favored Linda's terrific books. Although the Sisters were friendly, sweet, and kind, they weren't interested in reading or gifting secular novels or books of humor.
Here's my favorite exchange:
Me: Would you like some bookmarks?
Sister: No, thank you. I have more bookmarks than rosary beads!
Larry and I will be skipping this lovely festival next year.
*            *            *
Ready—or not? – September 28, 2018
When I started this reread of my doomsday sequel, Soldier Girl, Book Two of The Touchers, I'd hoped the manuscript was in good shape, just needing a few little tweaks before it was finished. (See September 19th post.)
But that's not happening. In an early chapter, I found a plot problem: One of the monsters (called touchers) escapes—and the characters do nothing about it. I can fix this issue several ways: destroy the toucher, eliminate it from the scene, or send people back to kill it. (I haven't yet decided which choice I'll make.)
On a lesser note, I found a minor character who's similar to a later character. Instead of having two such similar people, I combined them into one person.
So far, I've reread about a third of the book. Hopefully, the rest of the manuscript will have fewer issues.
*            *            *
Photographic memory – September 23, 2018
Last Saturday, I had my first fall book-signing event—the Fall Festival in Cortlandt Manor, NY—and I must have been a bit rusty because I forgot to take a photo with the first person whose book I signed. Pat bought a copy of After the Bubbles for her mom, Emily, because she recognized the cover picture from the story about my new novel in last week's Yorktown News.
After that experience, however, I remembered to photograph the other book-buyers and it was fun to again talk to people about my novels and short stories. You can see some of the pictures I did take in Happenings.
*            *            *
Back to the book – September 19, 2018
After letting Soldier Girl, Book Two of the Touchers, sit for nearly a month, I'm rereading the manuscript again. Having made numerous changes—including adding details and correcting errors—I'm hopeful the book is now in good shape.
What does "good shape" mean? To me, it means the novel is in the final stages of editing, needing only some fine-tuning before it's ready for publication. That means I can double-space the manuscript (I write novels single-spaced with extra lines between paragraphs—a pain to fix) so it can be more easily formatted.
Since I've just started this reread, I can't really judge the state of the manuscript yet. But so far, it looks pretty good.
*            *            *
Spreading the word – September 13, 2018
To an author, publicity is a wonderful thing. That's why the past two days have been great for me.
On Wednesday, I was a guest on Vinny Dacquino's cable TV show with my husband, Larry. During that half-hour, we talked about our books--how we wrote them and what they are about. What could be better than that? Here's the YouTube link.
Then on Thursday, I got a terrific surprise: An article about my new novel, After the Bubbles, along with a large color photo of the book's cover, greeted me on page 15 of the Yorktown News, my local paper. Although I had sent the newspaper information about the novel in early July, I'd given up on seeing a story. But there it was.
The more times people see and hear about a book, the better the chance they'll want to read it. The last two days of publicity certainly can't hurt.
*            *            *
Reader reaction – September 8, 2018
It took me more than seven years to write, edit, and publish After the Bubbles – Book One of the Touchers. During the months before publication, I read the manuscript so many times that I practically memorized the 75,000 words.
That's why it's hard for me to tell how "good" this book is and why it's so important for me to have feedback from readers. So far the reviews on Amazon have all been 5-star and this week, someone who's currently reading the book told me (without being prodded) that After the Bubbles was the best science fiction story she's ever read.
It's great to hear such positive comments, especially since I'm now editing Soldier Girl, Book Two of the Touchers, which I expect to publish next year. Readers who enjoyed After the Bubbles want to know the story's conclusion. Hopefully, they'll like it.
*            *            *
Review request - September 3, 2018
"Authors put their Heart & Soul into their books.
Show you care.
Please write a book review."
I saw the above quote on one of my Facebook writers' groups last month and thought the message was simple and clear: If you read a book and enjoy it, please leave a short review on Amazon.
Authors--especially independent ones like myself--need reviews to prove that our books are worth reading. But most readers don't understand the importance of reviews.
Very often a reader will email me or leave a short Facebook message or post saying how much he or she enjoyed one of my books. However, if I ask the person to put that information on Amazon, the reader rarely follows through.
Even famous authors need reviews. But indie authors need reviews more. So you can do an author a huge favor by writing a review for a book you loved.
*            *            *
Story time - August 29, 2018
I just finished rereading Soldier Girl, Book Two of The Touchers, my doomsday series. The novel is in pretty decent shape, but I have to so many details to research. That's why I decided to take a break and reread my next collection of short stories.
What a difference! Although the thirteen stories aren't ready for publication, they're much closer than Soldier Girl--and I don't have a million details to fact-check. That's the beauty of short stories: Besides being quicker to write, they involve less research. But I want to publish the sequel to After the Bubbles in 2019 so, next week, it's back to the novel.

                                                   *            *            *
Idea inspiration - August 24, 2018
"Where do you get your ideas for books and stories?"
I'm asked that question a lot. Here's the answer:
Sometimes ideas come from my imagination. Other times they come from things I read. And on occasion, ideas come from talking to people. For instance, a friend recently told me about a man who cheated on his wife and even bought his girlfriend the same jewelry he gave his wife.
This concept became the basis for the story I'm now writing, titled "Mr. Perfect." Of course since it's my interpretation, the tale isn't about a husband cheating on his wife. It's much weirder.
*            *            *
The not-so-fun part of writing - August 19, 2018
As I've mentioned here often, writing fiction is a lot of fun for me. It's like telling myself a story because much of the time I don't know what's going to happen next.
Editing, however, is another matter. And that's what I'm up to now with Soldier Girl, the conclusion of The Touchers series. As I reread the 90,000-word manuscript, I wrote little notes every time I came across something that had to be checked. I have about thirty of those comments.
This week, I'll research all these points and incorporate my findings into the book. I'm not looking forward to this part of the writing process because I'd much rather create. Fortunately, I've just begun a new short story so I that'll be my entertainment. Editing is my work.
*            *            *
Phone-y Business - August 14, 2018
I'm a technophobe so it should come as no surprise that until this week, I've owned a flip phone (which I rarely used) instead of a smartphone. But last weekend, friends finally convinced my husband, Larry, and me to trade in our stupid phones for smart ones.
One friend researched the best phone plans and directed us to T-Mobile. After Larry confirmed that this was the best deal, on Monday we went to our nearby T-Mobile store and purchased shiny new iPhones.
Although the salesman gave us a quick lesson, we left still knowing very little about these amazing gadgets. Too many passwords, codes, icons—too much technological gobbledygook for my liking. Then later at home, of course we encountered problems.
My phone wouldn't let me connect to WiFi and when the thingy wouldn't stop spinning, I called the T-Mobile store.
"If my phone acts stupid, I shut it off and then turn it on again," Brianna told me.
I laughed. Apparently the smartphone wasn't so smart.
When I posted about my dislike of cell phones on Facebook, one friend wrote, "Give it time. It will grow on you."
"Like a tumor," I replied.
*            *            *
Monster moniker - August 9, 2018
I love creating contests—especially book-related ones—and I've just introduced a fun monster-themed contest related to my new doomsday thriller, After the Bubbles.
In my novel, falling bubbles spawn monsters (my heroine calls them "touchers") that are able to kill people just by touching them.
For this contest, you have to create an original monster, give your monster a name, and briefly describe how it kills people.
Sound like fun? If so, click here to read the details and enter.
*           *           *
Review recap - August 4, 2018
Most readers don't realize how important positive reviews are to independent authors like me. Those 5-star Amazon reviews validate our work, letting people know our books are worth reading.
I'd been waiting anxiously for the first review of my new doomsday novel, After the Bubbles. After so many rereads of the book, everything gets blurry, so I wasn't sure people would like it. Then last week, I got two reviews--both 5-stars.
The first review, by GrannyLindySue, calls After the Bubbles "a beautifully horrific concept," adding, "She [the author] masterfully portrays her characters' moods, thoughts, feelings, interactions and needs while they're ensconced in a situation of nightmare proportions."
The second review, by Nolimits4me, says After the Bubbles "had a lot of suspense from start to finish. The author did a great job with making me feel like I was there fighting off the Touchers."
Now I feel less anxious and look forward to the next reviews.
*            *            *
Library lesson -July 30, 2018
On July 21, I joined my husband, Larry Berliner, and about a dozen other writers in a "Meet the Local Authors" event at our town library.
Since this event took place in a library--a place where readers borrow books rather than buy them--we didn't expect to sell many of our paperbacks. And we didn't. Nevertheless, the afternoon was worthwhile.
First, the event gave me a chance to showcase my new dystopian thriller, After the Bubbles. Secondly, the library director told me my first novel, DUST, was so popular that she had ordered a second copy and "mainstreamed" the book from the "Local Author" shelf to general fiction. (Of course, this news doesn't increase sales, but it did make me feel good.)
However, the main benefit Larry & I derived from the afternoon was an invitation to guest on author Vin Dacquino's cable TV show. We'll appear on his weekly program, "One on One," either together ("Two on One"?) or separately, sometime this fall. We're taping the show(s) in mid-September.
*            *            *
Computer magic - July 25, 2018
My local newspaper, the Northern Westchester Examiner, has a terrific story about my new dystopian novel, After the Bubbles, in this week's issue.
Since most people who read my books don't live in northern Westchester, I wanted to post the article in Facebook and on my website. However, I didn't want to scan the newspaper story because it's fuzzy and hard to read so I asked the paper for a photo form, called a JPG. Instead, the artist sent me a PDF, which I can't post.
I asked again for the JPG, but newspaper folks are busy and I'm not their main priority: i.e. nothing happened.
This afternoon, I visited Ed, the computer maven, for help with another technical matter, which kind of resolved itself (for now, at least). Then I mentioned my problem with getting the newspaper article online and he showed me how to turn the PDF into a JPG.
Poof! Like magic, the article morphed into a photo that could be displayed on Facebook, my website, Pinterest, etc.
You can read the story on the Happenings page. Check it out!
*            *            *
Novel similarities - July 20, 2018
I just finished reading The Whispering Room by Dean Koontz. I really enjoyed the novel, as I do nearly all Koontz's books—and I especially love mind-control stories.
But I found something strange while reading this novel: Two instances were similar to works I have written, even though I didn't steal Koontz's ideas and, of course, he didn't steal mine.
Here are the similarities: In both Corsonia, my published mind-control novel, and The Whispering Room, children are endangered by mind-tampering techniques scheduled to be performed at specific ages.
In my not-yet published short story, "The Imposters," the teen girl protagonist realizes her parents have changed drastically and attempts to run away. In The Whispering Room, a teen boy minor character calls his parents "imposters" and tries to run away.
Great (and not-so-great) minds think alike.
*            *            *
Spreading the word - July 15, 2018
After the Bubbles, my new doomsday novel is done: the paperback and ebook versions are both available on Amazon, the bookmarks are finished (see July 10 post below) and will be delivered tomorrow.
I was worried about receiving copies of the paperback in time for my Meet the Local Authors event next Saturday (see Happenings), but the books are being shipped from Ohio tomorrow so they should arrive in time.
So what's left?
Spreading the news. Getting readers to know the book is out there. That's always the hardest part because there are so many good thrillers available. But I'm hopeful readers who enjoy dystopian stories will give After the Bubbles a try. I'm looking forward to the feedback.
*            *            *
Bookmark battle - July 10, 2018
Between proofing the printed and ebook copies of my doomsday thriller, After the Bubbles, I created bookmarks for the new novel. The artist did a really nice quick job on the bookmarks and I wanted to get them printed now because I have a local library event on July 21st (see Happenings)--and then no book signings until late September.
However, with me and technology, nothing is ever easy. The problem with all my bookmarks except one is that the fronts are horizontal and the backs are vertical--but you have to choose either a horizontal or vertical template, not one for the front and another for the back. So I chose horizontal, which was fine for the front, but not for the back and I wasn't able to rotate ithe artwork to fit. I gave up and called the print company's help line.
Jane was terrific. She told me I had to "design" the bookmark because that would allow me to make the vertical side horizontal. I started working with her, but then saw that I had effectively rotated side two and made it horizontal. I thanked Jane, told her I could now upload the bookmark the simple way, and hung up. Bad move! When I uploaded the back, it came in vertical.
So I called the help line again and got Melissa, who was neither good nor helpful. Thanks to Jane, I knew more than Melissa and when I couldn't stretch the back enough to fit into the template, I hung up, annoyed and frustrated. (Advice: Never hang up on a helpful customer service person!)
I was about to give up when I tried again and--I don't know what I did differently--but this time, side two of the bookmark fit into the template.
I ordered the bookmarks--and even had trouble with that: The damn site insisted that my name appear exactly as it appeared on the credit card. (I had to include my middle initial--no period--and type everything in caps, which is never required.) But the bookmarks are done and being printed.
Here's a sneak preview:                                                                        


Reading the ebook - July 5, 2018
I'm "finished" with the paperback version of After the Bubbles, my new doomsday thriller. It's at the printer and I'm just waiting for the proof copy to make sure everything is all right--that there are no major errors.
In the meantime, I'm checking the ebook. But I have to resist the strong temptation to "fix" the manuscript because I want the two versions to be as identical as possible. That means forcing myself to ignore many unnecessary commas, missing commas, and repeated words.
It's a challenge because every time I read the book, I find things to change. So far, I've proofed half of the ebook and only made one small correction--inserting a question mark. Hopefully, that's the only revision I'll make.
*            *            *
Cover story - June 30, 2018
The cover of After the Bubbles is done. If you follow this blog, you know that the graphic artist who designed my last three covers (The Sea Crystal, Corsonia, and The Disappearance), passed away suddenly in late April, shortly before I was scheduled to work with her.
My new designer is quite talented, but very different. She is much younger, with other jobs and a family that demand her time. As a result, this cover-art experience has involved fewer phone conversations and more emails.
But the designer listened to my input and did an excellent job. Here's the cover: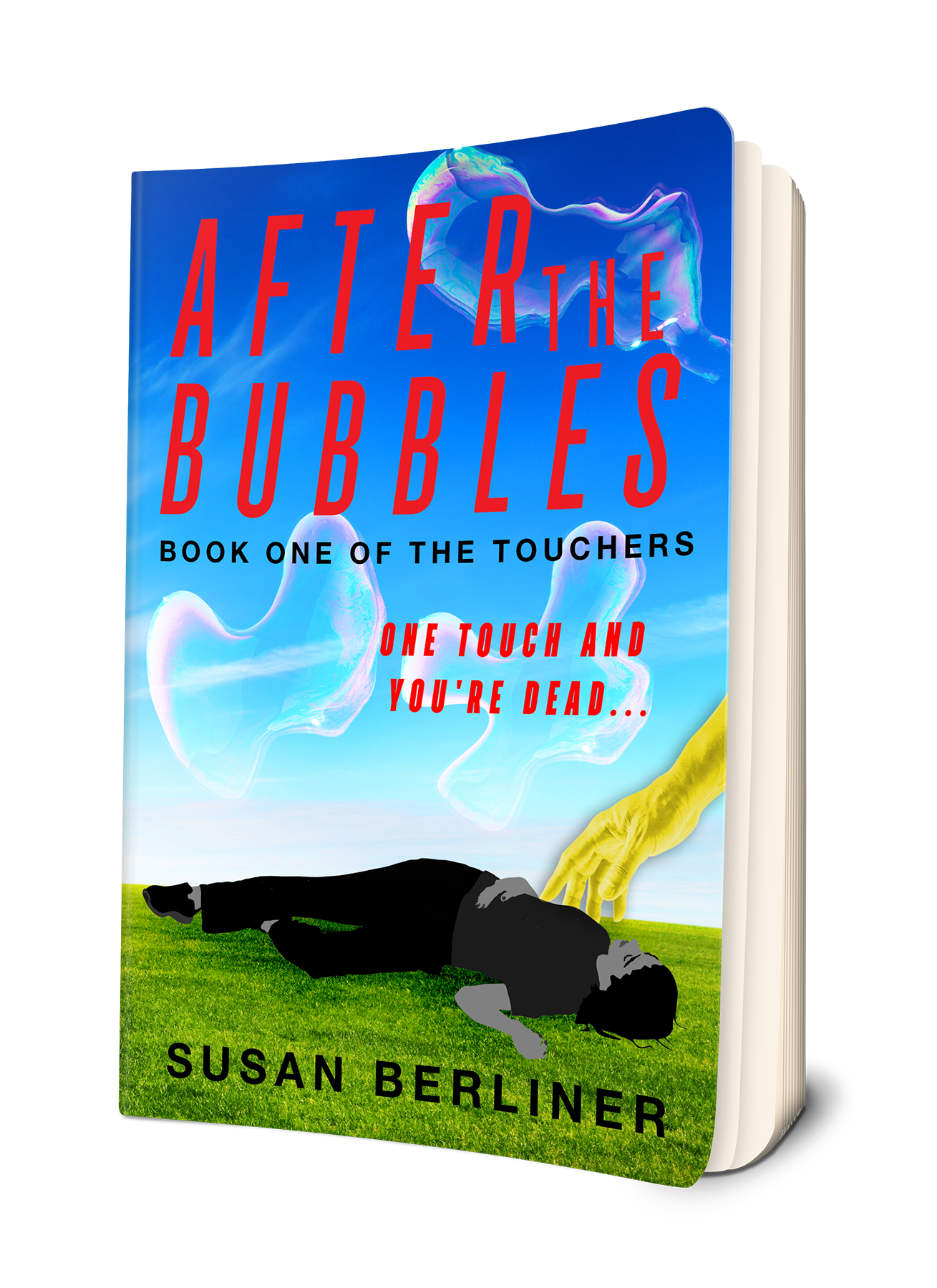 And the read goes on -June 25, 2018                             
I thought I was finished with proofing my doomsday novel, After the Bubbles. But I'm not.
I just finished a quotation check to make sure all the quotes are in place. They weren't. I found four errors: one ordinary (missing quotation marks) and three subtle (extra space, extra apostrophe, and opening quotes next to the wrong word).
During this read, I've also found the usual comma issues (the need to add one and subtract another), a couple of repeated words, and a missing page number. All this and I've only reread a quarter of the book. Eventually, I'll be finished--but not yet.
(Update on the post below: I just received my printing discount.)
*            *            *           
Tech no-how – June 20, 2018
If you follow this blog, you know I'm not a fan of technology and this week, I had to fill out forms to qualify for a discount with the company that prints my books. It hasn't been easy.
First, I had to sign a contract. Thankfully, the company provided a video with instructions—so I just made one mistake that I had to redo.
Then I needed to price my books in all the company's markets. For this step, they provided a second video. This video featured a woman advising publishers to set low prices to entice buyers. Big help—not!
When I checked the five books the company has printed for me, I found all had international prices. But, no, the rep wrote back. Two books needed prices in three of their newer markets, which hadn't been offered when the books were published. But although I asked, he didn't tell me how I was supposed to add prices to markets that weren't shown in my listings. Instead, his email directed me to the woman-talking-low-prices worthless video.
After two more emails asking for specific directions on how to add the prices, the rep finally gave me the necessary information—and it was very simple. So why couldn't they have explained this in a video—or told me in an earlier email?
Now let's see if I get the discount I've been fighting so hard for.
*            *            *
Saying it again – June 15, 2018
Even though After the Bubbles is "finished" and being formatted, I still find things to change every time I reread the book. At this stage, it's mostly punctuation marks (commas and omitted quotation marks) and words or phrases that I unintentionally repeat in the next sentence or two. It amazes me that these repetitions got past me the other zillion times I read the manuscript.
Here are a few examples:
* She'll just move to another side of the house. Then I had another thought...
* The small street was full of smashed cars...Blaine navigated his way past a smashed gray truck...
* It was too late...It was too late for second thoughts.
How did I revise these repeated words and phrases? To find out, you'll have to read the book.
*            *            *
A sad farewell – June 10, 2018
I was looking forward to working with Dawn, my graphic designer, on the cover of my new doomsday book, After the Bubbles, starting Monday, June, 11th. But that's not happening.
A few days ago, I learned that Dawn passed away in late April. I knew she was disabled and had serious health issues, but her death still came as a shock.
Although Dawn and I never met and came from diverse backgrounds—she was from West Virginia mining country and I'm from the Bronx—she was more than a terrific cover designer; she was my friend.
That's not to say we always got along. We argued often about elements for my covers (she designed The Disappearance, Corsonia, and The Sea Crystal and Other Weird Tales)—which pieces of art to use, which fonts, which colors. Dawn could be stubborn about a cover, but as I sometimes had to remind her, it was my book.
She was an intensely private person. I knew her for six years and have no idea what she looked like. When I called her cell phone, her raspy voice told me to "Please leave your message for private residence."
But thanks to the Internet, everyone can still see many of Dawn's wonderful covers on her website and Facebook page.
I've hired a new cover designer, who I'm sure will do a great job with my book. But I'll always remember Dawn. R.I.P.
 *            *            *
The book is finished, but... – June 5, 2018
I sent After the Bubbles, Book One of The Touchers, to the formatter, which means the doomsday book is finished. I'm now proofing the first formatted version, looking for errors.
However, as I read the book, in addition to typos, I found other things to change. Most of the revisions were minor—repeated words, unnecessary words, comma additions or subtractions.
But something bothered me: I felt one of the minor characters needed more description. Although he makes a brief appearance early, his scene is integral to the story, and yet I say very little about him. However, after mulling it over, I decided to leave the scene alone because I think the reader will be able to figure out the character's essence without the additional words.
*            *            *
Is the book "finished"? – May 31, 2018
The simple answer to the question above is "No." Most authors will tell you that a book is never really done because it can always be made better. A word, a phrase—
something can be improved. But if authors waited until their books were perfect, we'd never have anything to read so, at some point, authors have to say, "Enough!"
I've reached that point. On my last (and final) reread, I changed some repeated words, found stronger synonyms, added or removed commas, fixed a few typos—but didn't make any important revisions. That means After the Bubbles, Book One of The Touchers is basically finished.
It's about time!
*            *            *
Getting it right – May 26, 2018
I woke up at 3:30 am Saturday and couldn't fall back to sleep because I kept thinking about a scene in After the Bubbles, the doomsday novel I'm readying for publication. The scene has been bothering me for a while: Something about it just didn't feel right. It's a small but significant early incident, involving my heroine's neighbor and a rifle. But I was having trouble figuring out what was disturbing me.
Finally—at about 5 am—I realized the problem, a subtle one—and later in the morning I fixed it, reversing some of the action and dialogue.
This is the kind of thing that nobody else would probably notice wasn't logical. But even so, I needed to get it right.
*            *            *
Finding sneaky typos – May 21, 2018
I'm in the final reread (I hope!) of my doomsday thriller, After the Bubbles, Book One of The Touchers series. Happily, I'm not finding many changes to make or many mistakes to correct. But I am finding sneaky typos.
Why do I call these typos "sneaky"? Because they're subtle—the kind that fool your eyes into thinking they're not mistakes. Here are three examples:
"or let any anyone from outside touch you."
(I missed this typo many times, ignoring "any" and just seeing "anyone.")
""Please stop," he whispered.
(The double quotation marks are obvious here—but much harder to spot when they're camouflaged in lots of text.)
"If no one here, then..."
(My eyes assumed "one" was the possessive "one's.")
*            *            *
Switching to Plan B - May 16, 2018
I'd planned to blog about my progress with After the Bubbles, my soon-to-be-published doomsday novel, but life got in the way.
Yesterday afternoon, we had a severe thunderstorm--heavy rain, wind, thunder, and lightning. During an intense part of the storm, our power went off. Since this happens frequently in my neighborhood, I figured it was just a routine outage. However, when I checked outside, I discovered this was not the case.
Lightning had struck a foundation maple tree, slamming a huge limb onto part of our driveway and our neighbors' lawn--and taking all our electrical wires down with it. The situation could have been worse. Our new Subaru is usually parked in that spot, but my husband had driven the car to the gym that afternoon.
Now we wait for the electric utility (NYSEG) to reattach our wires and the landscape company to remove the tree limb. But with many outages affecting more people than just one family, we're not at the top of the utility's to-do list. At least our downed wires aren't posing a hazard. A NYSEG worker passing our house this morning said the wires aren't live. But he didn't sound optimistic about our power being restored any time soon. Fingers crossed he's wrong.
(I'm writing this post at the computer center in town where Ed, the computer maven, is still helping me set up the new laptop.)
*            *            *
Computer concerns continued – May 10, 2018
So I purchased a laptop from Office Depot, a company I'd never ordered from before, because they offered the model I wanted at a good price. The deal got even better when a 20% off digital coupon flashed on the screen while computer maven Ed (see May 5 post), was checking out the model with me and he emailed me the coupon.
However, when I was ordering the laptop, Shane, the Office Depot rep, told me the coupon wasn't valid for that particular model. "It makes no sense," I complained. "How can't it not be valid for this laptop, since the coupon appeared while I was checking out this model?" After I argued more and got nowhere, I demanded to speak to a supervisor (always a good tactic), and finally got the coupon. Shane told me the laptop would be delivered Tuesday, May 8—and that information was confirmed via email.
Unfortunately, Office Depot doesn't use a major delivery service like FedEx or UPS. They have their own trucks. On Tuesday morning, I checked the shipping notification and my laptop was supposed to arrive between 8 am and 7 pm. When I didn't receive the computer—and the delivery time wasn't updated—I called customer service and Queenette (love that name!) attempted, without success, to reach the drivers. After I explained I had an appointment to set up the laptop on Wednesday, Queenette left an "urgent" email for me to get delivery Wednesday morning by 10 am.
When I didn't receive the computer, I called Office Depot Wednesday morning at 10:15 and Rachel told me the deliverers "ran out of time yesterday" and the laptop would be delivered by noon. Of course, that didn't happen. Karen, the next rep I spoke to, told me the drivers had "attempted to deliver Tuesday, but the building was closed."
"Closed!" I shouted. "It's a home, not a business—and the front door was open!" Again, I asked for a supervisor.
Supervisor Mary told me delivery was scheduled for Wednesday, but she couldn't speak to a driver, just the dispatcher, who promised a 2 pm delivery, which would give me just enough time to rush to town and work with computer maven, Ed.
But the computer wasn't delivered at 2:00. The next rep I spoke to was Phil ("Are you located in the Philippines?" I couldn't resist asking. "Yes.") Phil from the Philippines checked with a supervisor and was told my computer would be delivered between 2 pm and 4 pm.
It came at 4:15, delivered in a small unmarked white van. The deliverers, wearing Office Depot tee shirts, said they weren't the Tuesday crew, just rectifying the situation. The computer was in a huge beat-up carton, but the manufacturer's box inside was fine and the laptop seems to work.
I had complained to Phil from the Philippines that I deserved some compensation for Office Depot's delivery foul-up and he called me back Wednesday, promising a partial refund. I'm not holding my breath, but will mention it here if I get it.
*            *            *
Computer concerns – May 5, 2018
I need a new computer. Although I love my Dell XP, it's 12 years old and obsolete. It's also slow and crashes all the time. And in mid-June, the company that prints my books will no longer support my browser—just when I'll be working with the cover designer on After the Bubbles.
But for me, buying a computer is scary. What model I get? How do I set up the computer? How do I save and transfer my programs?
A friend suggested I talk to Ed, who runs a computer lab in town. So I talked to him and he was wonderfully helpful, giving me specifics to look for. He suggested I get a laptop because they are so portable. But I like a desktop because of the bigger keyboard and monitor. Although Ed explained that I could use a laptop as a desktop—with my old keyboard and screen—I insisted on a desktop and researched models.
Then I had lunch with my author friend, Linda, and she said I was crazy to buy a desktop. She had a new laptop, used it as a desktop, and loved it. "When it crashed, I just picked it up, and brought it in to be repaired," she explained.
Deciding she and Ed were right, I changed direction and researched laptops, finding a computer that perfectly matched Ed's parameters. When Ed approved of my choice, I purchased it and he will help set up the laptop and transfer my programs. I only hope I can still use Word 2000.
*            *            *
Revising the book—again – April 30, 2018
I just received feedback from a pre-publication reader of After the Bubbles, the first book of my two-part doomsday series, The Touchers, and the reader had some excellent suggestions. Unfortunately, whenever I make revisions to improve the manuscript it means that the book still isn't "finished."
This reader felt the characters didn't show enough fear in scary situations or enough empathy at tragic events. So today I added tears and dialogue to better express these feelings.
The reader also questioned other behaviors that I didn't agree with after rereading the scenes. But it led me to reanalyze various plot points—and that's a good thing.
This reader did make one small, but important, correction: I carelessly wrote that Star Trek's Mr. Spock had big ears and, of course, the Vulcan's ears were pointy.
*            *            *
If it sounds too good to be true... – April 25, 2018
I recently received an email from a "Senior Business Development Associate" who wanted to discuss a "partnership" involving my first novel, DUST.
I've been contacted many times about "wonderful" marketing opportunities—and when I checked them out, they've always been scams. But this one was different. Although I searched, I couldn't find any scam connection. The Business Associate's email address linked to a new literary emagazine that looked quite good—and the emagazine was owned by a reputable company.
Of course, the woman wanted money from me for our "partnership." But in return, she would purchase copies of DUST and my other four books (that her researchers had deemed "sellable") and place them in 5 retail book stores—on my own shelf with a nameplate (a nice vanity touch) promising to sell 200 copies per store in 5-6 months, for which I'd receive all the profits. I'd also get an ad in their magazine and a personal publicist to handle interviews, signing events, etc.
But wait, there's more! As part of our "partnership," she would create a new website for me—transferring everything from my existing website (a lot of stuff!)—and I would incur no additional fees ever for maintenance or hosting. Wow!
Here's the kicker: If they didn't hit their "forecasted numbers"—or if I wasn't satisfied—I would get a full refund.
"What's there to lose?" the woman asked.
It did sound wonderful, especially when she made every change I requested and sent me revised proposals.
So why didn't I accept this "partnership"?
I asked for references—both for the ad campaign and website design. She gave me a few links to websites (very basic ones with no proof her company had designed them) and books, but I could find just one author's email address. I contacted the woman, a poet and discovered that this company hadn't done an ad campaign or a website for her. The emagazine had accepted some of her poems—and hadn't paid her.
I told the Business Associate about this reference and she mentioned a problem with the poet's PayPal account, which she said had been rectified. However, the poet told me today that she still hadn't been paid.
When I repeated my request for references, the Business Associate simply emailed me the same worthless links again. So I rejected the "partnership." If it sounds too good to be true...
*            *            *
Making improvements – April 20, 2018
I'm taking another short break from editing my doomsday thriller, After the Bubbles, while I await feedback about the book from a valued reader. During the interim, I'm working on peripheral material for the novel, the most important of which is the back-cover blurb. (See April 15 post)
Every day, I reread the blurb, trying to determine how I can improve it. I knew something was missing, but I didn't know what it was. Yesterday, however, I finally figured it out: The blurb needed a middle paragraph—sandwiched between the brief plot summary—to describe the catastrophe.
Since this is an end-of-the-world story, the reader should have a general idea of the disaster—and the newly-inserted second paragraph provides that information. But the blurb's still not done.
*           *           *

Perfecting the blurb – April 15, 2018
In addition to rereading and editing After the Bubbles, Book One of The Touchers, my doomsday series, I'm doing the other necessary things to prepare the novel for publication. This weekend, I worked on the book's blurb.
Other than the novel itself, the blurb—the back-cover copy—is probably the most important element. In addition to appearing on the back of the paperback edition, it's the book description readers see when they check out the novel on Amazon, on my website, or on other Internet locations. That brief summary had better be good because if it doesn't grab readers, they won't grab the book.
I've been perfecting this 150-word blurb for months and it's still not finished. But it is getting better.
*            *            *
Repetition removal – April 10, 2018
I'm again rereading and editing After the Bubbles, Book One of The Touchers, my doomsday series. Although the manuscript is getting better, I'm still finding many things to change.
In addition to typos, other mistakes, and awkward phrasing, I've noticed some unnecessary dialogue repetition. Too many of my characters say, "Look!" or "Yeah" when they start to speak. Instead of "Look!," the character can sometimes point to what he or she sees; instead of "Yeah," the person can occasionally just nod.
I don't mind reusing important words or phrases in dialogue, but when I become conscious of repetition, I know I'm overusing the terms. Yeah, I am.
*            *            *
Back to the book – April 5, 2018
Letting the book sit worked for me. In my previous post (March 31), I wrote that I was taking a little time off from editing my end-of-world thriller, After the Bubbles, Book One of The Toucher series, in order to approach the novel from a new perspective.
I'm nearly finished with this reread and I've noticed several plot errors that I missed the first 20+ times I've read the manuscript. These aren't major errors; they're small, subtle mistakes. Nevertheless, they are things I should have seen and corrected in one of the previous rereads. But at least I saw them now.
And although After the Bubbles isn't "finished" yet, it's greatly improved. That's encouraging.
*            *            *
Letting it sit - March 31, 2018
If you follow this blog, you know I've been working on After the Bubbles, the first book of my doomsday series, The Touchers, for many years. Since I hope to finally publish this novel in late spring/early summer, I've been editing it nearly full-time.
However, reading the same thing over and over becomes tedious and isn't always effective. So after my last reread, I decided I needed a break. As the quote says, I let the manuscript sit while I did something else: I reread my short stories. Although I won't be publishing this collection until late 2018 at the earliest, I was anxious to reread and edit the 13 stories, organize them, and write a rough introduction.
It was a good break. I'll have a fresh perspective next week when I return to After the Bubbles.
*            *            *
Contest comments – March 26, 2018
I just entered my short story in an online contest. It's the first time I've written a story specifically for a contest and, even if I don't win, it's been a worthwhile experience.
Why? I liked the discipline of having to write a story under 1,000 words, something I haven't done. All my published stories are at least 2,000 words, some much longer.
I also liked the topic—a horror tale about a sole survivor on a deserted island. And even if I am a contest winner, I can still publish the print version of the story so "The Island" will be in included in my next collection. (And if I don't win, the little horror tale will be part of my ebook too.)

                                                         *            *            *
Multitasking – March 21, 2018
Currently, I'm juggling three writing-related projects. First, I'm making corrections/
revisions in my doomsday manuscript, After the Bubbles, the first book of The Touchers series. Although the novel is much improved, it still isn't "finished."
Now that I've written my twelfth short story, I'm arranging the dozen tales into a workable order. Unlike The Sea Crystal and Other Weird Tales, these stories can't be presented in the order in which I wrote them. Why? Because I have two long tales—nearly novellas. One will lead off the book and the other will be the closing story. Also, I want to separate genres so that tales of horror, humor, sci-fi, time travel, etc. don't follow each other. It's like piecing together a jigsaw puzzle.
Lastly, I've written a little horror story for an online contest. I've completed and edited the first draft, but the story needs some fine-tuning.
*            *            * 
Change of direction – March 16, 2018
A few days ago, I wrote the first scene of a short story I intend to enter in a fun contest. But that night, I woke up realizing my opening didn't work: This is supposed to be a horror story and my opening was mild, not at all horrible.
So I changed direction, rewriting the opening scene to make it much more gory. This change doesn't impact the rest of the story since my premise (a gruesome twist) remains the same. But the new horror in the beginning makes this tale truly horrible.
*            *            *

Deleting the boring – March 11, 2018
Between power outages caused by Nor'easters, I've been editing the manuscript of After the Bubbles, the title of Book One of The Touchers series. As I've posted before, it's disheartening to find so many problems with this doomsday thriller, especially since I've been working on it for a zillion years.
A major issue is my tendency to end scenes with unimportant, unexciting, and often repetitive text that doesn't move the story forward. I've been crossing out these boring passages, which may be the result of having taken such a long time to write this book. Whatever the reason, I'm ruthlessly deleting those dull portions and, hopefully, improving the novel.

                                                        *            *            *
Frost bytes – March 6, 2018
Take it from me: Living in a house with no power in 20-degree temperatures is no fun. Thanks to Nor'easter #1 last week, I experienced frozen life from Friday night to Monday night. You can imagine how thrilled we East Coasters are that we've got Nor'easter #2 on Wednesday, which means many of us could easily lose power again.
During the outage, I wasn't able to get on the Internet because I don't have an iPhone. Why don't I have this wondrous communications device? Because I'm kind of a technophobe. In fact my hospitable daughter—who took our cold family into her warm home—chastised me for my phone-avoidance, calling me a kind of an "Amish person."
One thing I learned from my Antarctic experience (we slept in our unheated house Sunday night when the thermometer dipped to 45 inside) is that it's difficult to be creative (write, edit, etc.) when you are freezing. I got nothing done until I went to my daughter's house. There I was able to do a little work on my new freelance project.
I hope I—and my neighbors—don't have to relive this frozen tundra experience in the coming days. But if you don't see me online, you'll know why.
*            *            *
Contest creation – March 1, 2018
I've got a new contest on the website and this one is linked to my forthcoming doomsday novel, After the Bubbles, the first book of The Touchers series that I've been working on forever.
I've been holding off with this contest until now because I'd like it to coincide with the publication of the novel—and After the Bubbles isn't quite finished yet. However, I've just reserved a week with the graphic artist to work on the cover and am (sort-of) confident the book will be ready in late June.
Despite the topic, my new end-of-the-world contest isn't depressing; it's fun and simple. To check it out, please go to the Contest page.
*            *            *
The muse hits – February 24, 2018
I'd been thinking about entering a short story contest, but couldn't come up with a clever concept—until I took a shower yesterday morning. I don't know about everyone else, but I get some of my best ideas while showering—probably because no one bothers me there.
Now all I have to do is write this very short story (1,000 word limit). That's the next hurdle; all my stories are longer than 1,000 words so this little horror tale has to unfold quickly. But I'm looking forward to the challenge when I write the story, hopefully next week. Before that, maybe I'll get additional inspiration in the shower.
*            *            *
The dreaded apostrophe – February 19, 2018
If you read this blog, you know that each year at this time I write an apostrophe-related post because of many misspelled headlines in holiday sales ads.
But first, a short history lesson: When I was a child, in February we celebrated the birthdays of two presidents: George Washington's Birthday (February 22) and Abraham Lincoln's Birthday (February 12), with a day off from school for each holiday. However, in 1971, to provide 3-day weekends, a new holiday was created on the third Monday of February to honor Washington and in most states, Lincoln.
This redesigned February holiday has became known as "Presidents' Day," the apostrophe signifying that we celebrate more than one president (not President's Day, which would honor just one leader). It's also not "Presidents Day" because it's a "Day for the Presidents," which requires the possessive apostrophe.
Every year, I check newspapers, the Internet, and TV to see which companies have misspelled Presidents' Day in their ads. This February, I noticed a major improvement in the number of "President's Day" misspellings. I only saw a few smaller retailers like Corner Furniture in the Bronx, advertise a "President's Day Sale."
However, major companies still leave out the apostrophe. Shame on Dell Computers ("Presidents Day Deals") and Macy's ("Presidents Day Sale"), along with Hyundai with its prime-time TV commercial for "Presidents Day Sales Event."
There's a clever way for advertisers to avoid the apostrophe issue altogether: Change the headline wording. In the metro NY area, many car dealerships take this approach by offering a "Presidential Savings Event!" or "Presidential Price Bash" or "Presidential Weekend Specials!"
I'll look forward to next year's holiday headlines. (Notice the apostrophe placement because I'm just referring to one year.)
*            *            * 
Setting scenario – February 14, 2018
Most of my stories are set in the real world, but occasionally one of them involves a mythical place. That's the case with "Wrong Road," the story I'm currently writing.
Sometimes the location isn't important, but in a story like "Wrong Road," it's crucial. Since the protagonist travels from a real place to mythical Bench Corners, the real location has to be believable. This week, I researched roads and locations and changed a vague highway reference to Route 35 and chose Jamestown, Ohio, a small village near Dayton, as the character's home.
The story works better with Wendy traveling from a "real" place, even though she winds up in an unreal location.
*            *            *
Killing my darlings – February 9, 2018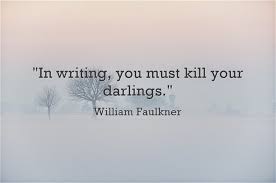 Like all novelists, I often have to kill off characters I like or even love. But my "darlings" are not just the characters I create—they're also the words themselves.
When I write material that I keep, I either like what I've written or rewrite the words until I like them. And when I'm editing a manuscript that I've read many times, I'm familiar with the words and fond of them. That's why it's so difficult to destroy those words.
I've just finished rereading The Touchers (Book One), the first part of my doomsday series and so far I've deleted nearly two thousand words because they're repetitive or unnecessary.
But now I'm making a big move—deleting an entire scene of nearly five hundred words. Why? Because words in a novel should either propel the action forward or develop characters and this scene does neither. It simply reviews the events of the previous scene without adding anything new. So goodbye precious words, aka my "darlings."
*            *            *
Dialogue deletions – February 4, 2018
"Dialogue...should eliminate the routine exchanges of ordinary conversation.
– Twitter quote
I retweeted the above quote because it's true: Dialogue is not conversation. Although the words people speak in books should mimic conversation, real speech tends to be rambling, repetitive, and include meaningless words and phrases like, "well," "you know," "um," and "er."
Dialogue should either further the action or provide insight to a character's personality. It doesn't need extraneous words. That's why I've been deleting snippets of my characters' dialogue in my doomsday manuscript, The Touchers (Book One). (See January 30th post)
As I write, my characters take over and speak their dialogue to me, which I then transcribe. But when I reread what they've said—and I've written—I often have to delete words because the characters talk too much, if like you know what I mean.
*            *            *
Word weeding – January 30, 2018
I'm currently editing my doomsday thriller, The Touchers (Book One). In addition to making major fixes (see January 25th post below), I've been weeding out unnecessary words—lots of them.
It's disturbing that a manuscript I've worked on for so many years still contains so many extraneous words—mostly in dialogue. Although we use unnecessary words in our conversations, characters' dialogue shouldn't mimic real speech. Here are some examples of my changes:
Before: "You're going to have to talk."
After: "You have to talk."
Before: "Erin, please go do your assignment."
After: "Erin, please do your assignment."
Before: "I'm going to write down everything we have to get and make a map of the layout of the store..."
After: "I'm going to write down everything we need and make a map of the store..."
Before: "I'm going to get a couple of big garbage bags..."
After: "I'll get a couple of big garbage bags..."
Before: "I just need enough time to be able to get inside the kitchen..."
After: "I just need enough time to get inside the kitchen..."
Before: "Do you think they could've walked through the woods?"
After: "Could they've walked through the woods?"
All this (and more)—and I haven't even reread half the book!
*            *            *
Backstory solution – January 25, 2018
In my last post (January 20), I wrote about an objective reader's analysis of the first book of my end-of-the-world series, The Touchers. One valid criticism was that I don't provide enough information about my heroine's boyfriend, Blaine. However, I wasn't sure which details I wanted to add—and where I wanted to insert them.
This morning, while taking a shower (a great place for ideas for me!), the entire backstory popped into my head: The two characters would talk about where Blaine was when the cataclysmic event occurred and how he was able to escape. I found a good place to add the 250 words, a quiet scene near the end of the book when Blaine and Erin are walking together. I think the backstory works—and now I'm onto the next fix.
*            *            *
The objective reader – January 20, 2018
Until now, my end-of-world series, The Touchers, has been read only by me and a few people close to me. This kind of subjective reading results in lots of praise and not much criticism. However, in order to improve these two books, I need objective criticism.
I've spent the past week reviewing a beta reader's analysis of The Touchers (Book One), and in most cases, I agree with the comments. The reader pointed out times where I've lost my narrator's voice (The series is told in the first person by Erin, a teenage girl); several plot issues; and a number of mistakes, both minor and major.
I've been working on The Touchers series for years—especially Book One, which has taken forever—and even though I've read this manuscript many times, I've missed lots of things. That's why, before a book is published, it has to be read by objective readers.
*            *            *

Plot problem – January 15, 2018
I'd just finished editing 11 short stories and patting myself on the back because they're in pretty good shape. However, shortly thereafter, I realized that the story I'd just finishing reading, "The Imposters," had a major plot problem.
"The Imposters" is about a young teen who realizes her parents have changed in a major way—not outwardly, but personality-wise—and it dawned on me, after all this time (it was the first story I'd written of this new batch) that my explanation for this change didn't make sense.
Today I thought of a way to correct the problem and started deleting dialogue and rewriting scenes, not thrilled at having to remove lots of good stuff. But as I was ripping this story apart, I came up with yet another way to fix it—a much easier solution that didn't involve rewriting half the story. In fact, my new fix required just redoing a few paragraphs. And I think my changes work.
*            *            *
Book talk – January 10, 2018
I love talking about my writing and today I had the opportunity to do so as a guest speaker at the Yorktown Rotary Club's weekly luncheon meeting in Kirby's Grill & Bar.
I always begin by explaining how I got the ideas for my first two novels, DUST and Peachwood Lake, since both were inspired by newspaper articles (the former a tiny Internet post and the latter a front page story in the Sunday New York Times).
My next three books, however, came entirely from my imagination—The Disappearance (time travel), Corsonia (mind-control), and The Sea Crystal and Other Weird Tales (a mixed bag of supernatural short stories—everything from humor to horror).
I also spoke briefly about the creative writing process—and then we ate lunch—delicious burgers. I could do this every day, the writing part especially. (I'd weigh 400 pounds eating the food!) And I will be attending the Rotary Club's next meeting because Larry Berliner will be the guest speaker. Photos from today's meeting are in Happenings.
*              *            *
Too much information – January 5, 2018
"Write out of the reader's imagination as well as your own.
Supply the significant details and let the reader's imagination do the rest."
--Patrick F. McManus
I thought of this quote, which I had seen on Twitter a couple of months ago and retweeted, as I edited my latest short story, "George's Mother." When I reread this tale about a woman who claims to be a man's dead mother, I realized I was giving the reader too much information—explaining clues that a competent reader should be able to figure out without my help.
I eliminated two unnecessary details: an early conclusion that is now implied and explained at the end of the story and an obvious clue that I had needlessly spelled out. Both these omissions improve the story, making it more challenging for the reader.
*            *            *
Save
Save
Save
Save
Save
Save
Save
Save
Save
Save
Save
Save
Save
Save
Save
Save
Save
Save
Save
Save
Save
Save
Save
Save
Save
Save
Save
Save
Save
Save
Save
Save
Save
Save
Save
Save
Save
Save
Save
Save
Save
Save
Save
Save
Save